Hikvision video recordings might often get corrupted due to improper transfer of data or interruption during the data transfer process. Luckily, you can repair corrupt Hikvision video recording by renaming the video file, repairing the video file header, and trying other methods mentioned here.
Hikvision is one of the most popular brands of Ultra High-Definition Cameras that provides a premium quality video recordings as well as images for security systems or surveillance. It is also well known for making a great hardware & its CCTV cameras are also dependable.
In spite of having countless excellent features, sometimes you may face video corruption issues on Hikvision due to several unexpected reasons.
Therefore, today in this post, I will show you how to repair corrupt Hikvision video files along with the most common causes of Hikvision video file corruption.
However, while trying these fixes, if you come across through video file corruption issue then you can use our recommended Video Repair Tool.
To fix corrupted, choppy, pixelated, jerky or grainy videos, we recommend this tool:
This software will repair flickery, stuttery, jerky, unplayable videos and supports all popular video formats. Now repair your corrupt and broken videos in 3 easy steps:
Download this Video Repair Tool rated Great on Pcmag.com.
Click Add File to add the video you want to repair.
Select Repair to start the repair process and save the repaired video on the desired location after the repair is done.
So, let's move ahead!!
Common Causes for Hikvision Video Recording Corruption Issue
Improper handling of the device.
Improper transferring of the video files.
Sudden Interruption during video transferring process
Due to the hardware malfunctioning
Presence of virus/malware in data storage device (SD card) can corrupt the video recording
Having issue on video file codecs
If the video file header is corrupted or damaged.
Software Error or bugs can cause this issue.
After knowing the causes, now it's a time to learn the solutions on how to repair corrupt Hikvision video files.
[Video Guide] Repair Corrupt Hikvision Video Recording
How to Repair Corrupt Hikvision Video Recording Manually?
Here is the list of the solutions that can help you to fix corrupt Hikvision video recordings. So, let's go through them.
#1: Rename Your Hikvision Video File
Many times, the Hikvision video file won't open in the media player because of the problematic naming conventions. Renaming the corrupted video file can help you to fix this issue.
Make sure not to use any special characters or spaces in your file name (use a simple file name).
Here's how to rename your Hikvision video file:
Firstly, you need to open your Hikvision video file.
Select the Corrupted Video File & make a right-click on it.
Finally, click on the Rename option and rename your corrupted video files with any simpler name.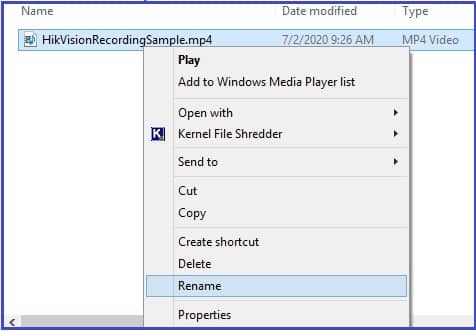 #2: Play Hikvision Video Using Different Codec
Video codecs are generally used by the developers to compress a video file. No video or audio files can be played in absence of these codecs. To play any of your video files, you will need a codec that supports the playback of your video files.
If these codecs are not supported by the media player or if the required codecs are not available, you can't play the video files. In such a situation, you can use different video codecs to play your corrupted video file again.
Also Read – How to Repair Corrupted Video Files in 5 Easy Ways?
#3: Repair the Header of Your Video File
Video File Header contains a data related to the live streaming or video transmission. It also have your vital information such as the date, time & duration of the transmission, sender of stream etc.
In case, the file header of the video gets corrupted, you can't open and play the video clip anymore. To play the video file again, you will need to repair your video file header.
Note – Make use of VLC Player or Hex editor program to repair the file header issues of your video.
Best Way to Repair Corrupt Hikvision Video Recordings [RECOMMANDED SOLUTION]
Even after trying the above listed solutions, if you are still unable to play your corrupted Hikvision video recording, it simply indicates that there might be some severe corruption.
In such a situation, using the best Video Repair Tool can help you to fix your corrupted video recording. It is an advanced repair software that has an ability to repair all kind of corrupted, choppy, damaged, grainy, jerky, & other video-related issues.
Besides that, it eventually repairs the video file header corruption issues & make your video playable. You don't require any kind of technical knowledge to use this software.



* Free version of this program only previews repaired videos.
So, what are you waiting for? Just download & install the Video Repair Tool on your PC and repair corrupt Hikvision video recording issue with ease.
Step 1: Download, install and launch Video Repair software on your system. Click on 'Add Files' to add corrupted video files.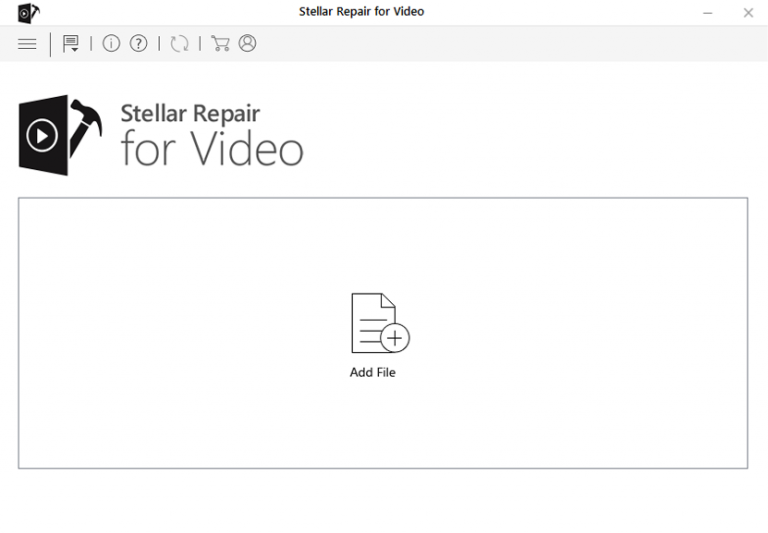 Step 2: Click on 'Repair' button to begin the repairing process. This start repairing your added video files one by one.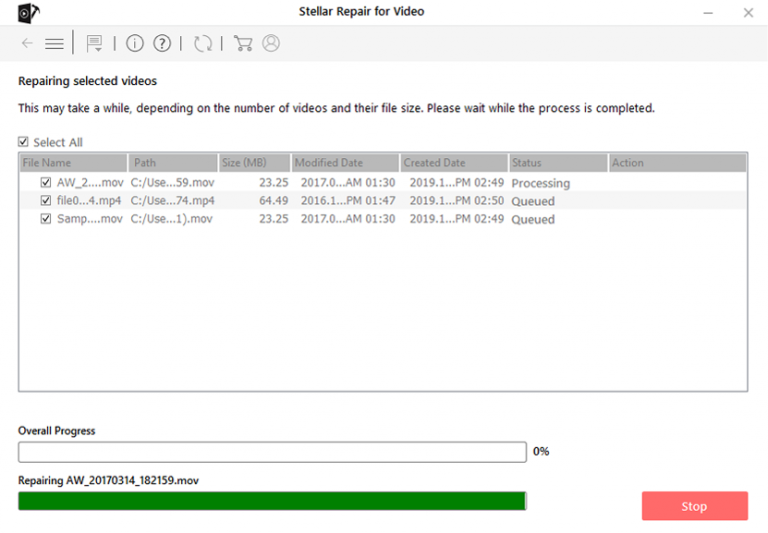 Step 3: You can click on 'Preview', in order to preview the repaired video file within the software and click on 'Save Repaired Files' button to save the repaired videos at desired location.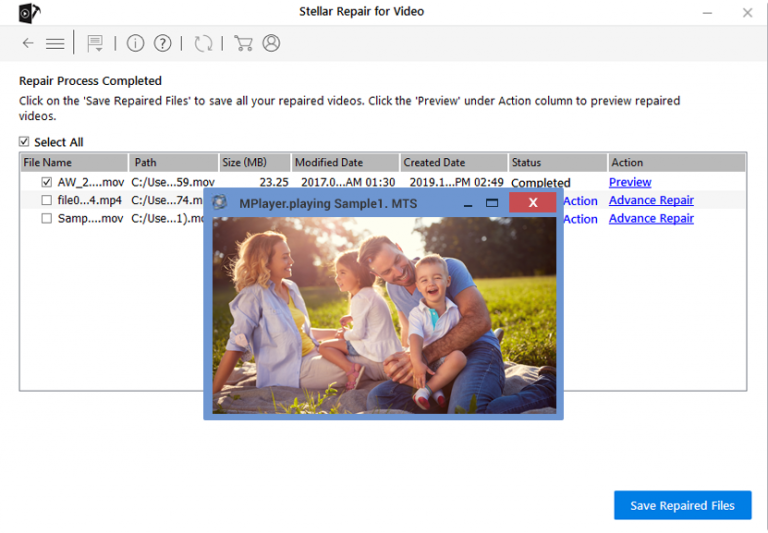 Also Read – How To Repair Corrupted & Damaged H.264 Video Files
FAQs [Frequently Asked Questions]
Where Does Hikvision Save Recordings?
Hikvision saved all the captured pictures and recorded videos in its external storage device (SD card) inserted into the camera.
Can I Use Hikvision Camera Without DVR?
Of course YES! The Hikvision camera can work without DVR or NVR. Since the DVR/NVR is specially designed to store a security camera footage, the IP cameras can work independently even without DVRs or NVRs.
How Long Does Hikvision Store Footage?
Generally, the Hikvision stores footage up to 30 to 90 days. But the critical data have been retain up to 3 to 5 years.
How Can I Recover My Hikvision DVR Data?
You can simply recover your Hikvision DVR data by using the most reliable Video Recovery Tool. It is an advanced recovery software that can help you to recover all kinds of video file formats.
What Format Does Hikvision Use?
Normally, the Hikvision cameras use 264 (AVC) to MPEG2 format.
How Do I Pull Footage From Hikvision?
Here's how you can pull footage from Hikvision:
Firstly, you need to enter into the Remote Playback Page.
Then, simply select the camera in order to start playback.
Make a right click upon the image & click Download.
Now, set the beginning and ending time of your video footage in order to download it.
Enter the name for a video footage and click OK.
That's it! Now your video footage will started downloading to your local PC.
Conclusion
Repairing a corrupted or damaged video files might seems difficult but it isn't so. In this blog, I have presented 4 simple ways to repair corrupt Hikvision video recording issue.
So, if your Hikvision video recording gets corrupted or damaged due to any unexpected reasons then you must try out the afore-mentioned solutions.
Besides that, for quick and instant result, you can also try our recommended software – Video Repair Tool. It is an advanced repair tool that has the ability to repair all sorts of video playback
Taposhi is an expert technical writer with 5+ years of experience. Her in-depth knowledge about data recovery and fascination to explore new DIY tools & technologies have helped many. She has a great interest in photography and loves to share photography tips and tricks with others.