SD card stores a lot of valuable data such as images, audio, videos, etc in it. Sometimes, you may have noticed that as you insert your SD card in Android phone, you are not able to access the stored content. Do you know why it happens? The reason behind this issue is, your Android phone or PC isn't recognizing the SD card anymore.
To identify, SD card is working properly or not, you keep on inserting and ejecting the SD card, again and again, restart your Android phone and even connect the SD card to your PC, as you find out that your "SD card won't mount" error, you started searching for the effective solutions to fix unmounted SD card error. Thus, if you are one who is also facing this same issue, then read this post and fix it by yourself.
Besides, if somehow your crucial data gets deleted from the SD card, then you can try the versatile SD Card Recovery software mentioned in this post.
Rated Excellent on

Trustpilot
Free SD Card Recovery Tool.
Recover data from corrupted, damaged, & formatted SD cards of all brands on Windows. Try now!
So, here is the list of the error messages, after reading all these you can easily identify that your SD card is mount or unmounts.
List of Error Messages SD card won't mount to your Android Phone & PC
When you connect your SD card to PC or Android phone then you must see the below-given errors:-
SD card won't mount
SD Card Not Mounted
CWM can't mount SD
Can't mount an external micro SD card
Can't mount Sdhc card
Can't mount sdxc card
Can't mount emmc
Can't mount external microSD card
F: Can't mount /sdcard/
F: failed to mount /sd card (no such file or directory)
F: failed to mount /sd card (file exists)
F:Can't mount /cache/recovery/command last_log emmc external micro sd-card
How To Fix SD Card Won't Mount Error?
In order to fix 'SD card won't mount' error, thus, it is very important for all of us to know the reasons why the SD memory card is throwing such SD card error messages. Once you will detect the reason, you can easily proceed to fix the problem.
So, let us know the reasons and their respective solutions for the Unmounted SD Card.
Note: Before you perform any solutions you must create a backup of your contents, data, files stored within the SD card on your PC.
Causes and Solutions For Unmounted SD Card
There could be several reasons for SD cards not mounting on Android devices and PC. It can be due to one or more reasons as mentioned below:
Causes: For SD Memory Card Problems
If your Android is not able to read your SD card, then there is a problem in the SD card and not on your phone. Maybe your:
Solutions: For SD Memory Card Problems
In above situations, you can follow these things, maybe this can fix the SD card not mounting issue:
First, insert the card in another phone and check for the error.
Second, use a card reader and connect it with PC and check whether your PC is able to read your SD card.
If both solutions fail, then there is a high chance that your SD card has got corrupted and you have to replace it with a new one. But before that, you can check below causes and solutions.
Causes: For Hardware Issues
The occurrence of SD card won't mount error could be due to hardware failure.
Maybe your SD card is fine, and the card reader you are using is damaged, or the USB cable you are using to connect a phone to a PC is broken or USB port of your computer is broken, or the card slot got squeezed.
Solutions: For Hardware Issues
To solve the above hardware problems, follow:
Remove the re-insert the card and make sure that you have installed it correctly and properly. If it is not correctly inserted then, SD card will stick out and will not snap into its place. And if it is inserted correctly, then SD card will fit properly at its card slot.
Check card reader, USB cable and USB port and make sure they are not damaged or broken.
Now, hope your SD card gets recognized by the device.
Causes: For Software Problems
Software issues with operating system will also avoid your Android Phone and PC from recognizing the SD card.
Solutions: For Software Problems
There are three solutions that you can follow to fix SD card won't mount on Android or PC.
Solution #1: Fixing SD Card won't mount on an Android Phone
If you are receiving SD card won't mount error on Android smartphone, then below follow the steps to fix it:
Switch OFF your Android phone. Remove the SD card and re-insert it back into SD card slot on the phone.
Switch ON the phone. Go to Settings>Storage. Find the "Unmount SD card" option and tap on it to unmount SD card.
Once, the phone completes the process of unmounting SD card, you can then tap on the option "Mount SD card".
Hopefully, this will fix your problem.
Solution #2: Fixing SD Card Won't Mount On PC
If you are receiving SD card won't mount error on PC, then below follow the steps to fix it:
With the help of card reader connect SD card to computer.
Open "My Computer" and right-click the removable drive that shows your SD memory card and select "Format" option.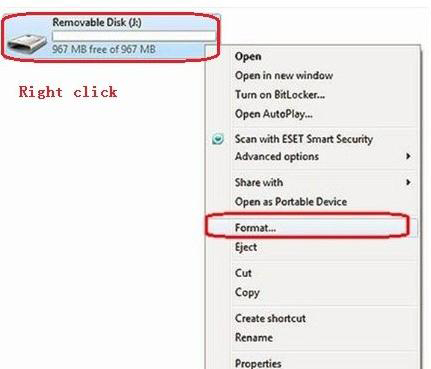 A new window will open, click on "File System" and select "FAT32", or "exFAT" or "NTFS" and then click on 'Start" button.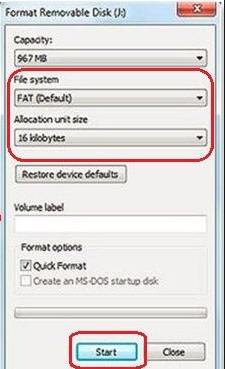 All done! Now insert the card back to phone and check if problem is solved.
Solution #3: Use Disk Management Utility
You can use the Disk Management utility to access the SD card on your android phone or PC. Generally, It is used to manage the installed drivers like internal and external hard drives, flash drives, delete partitions, assign drive letters, change a driver's file system, etc.
If you choose to change the drive letters associated with it or you choose to format, in such case your uncounted SD card may work.
How to do so:-
Connect your SD card to the system.
Now, open Disk Management utility and then locate your SD card.
Make a right-click on the card and then click on Format. To assign a new drive letter, choose "change drive letters and paths" and then assign a new drive letter to your SD card.
You are required to re-Insert the SD card into the device, now it will start working.
Solution #4: Use SD Card Recovery Tool
As mentioned above, you must take a backup of your data and store it in your SD card before performing any solutions to fix SD card won't mount the SD card issue.
But if you have not kept the backup and if you have lost important photos, videos, and audio files from the SD card that want to recover, then you can use SD Card Recovery Tool to restore various files formats of pictures, songs, movies, videos and audio files from the SD card.



* Free version of the program only scans and previews recoverable objects.
Below follow the steps to recover multimedia files from SD card showing SD card won't mount error message by using SD card recovery software.
Steps To Recover Multimedia Files From SD Card Showing SD Card Won't Mount Error Message
Step 1: Select Desired Location
Firstly, select the drive, external media or volume from which you want to recover deleted media files. After selecting, click on 'Scan'.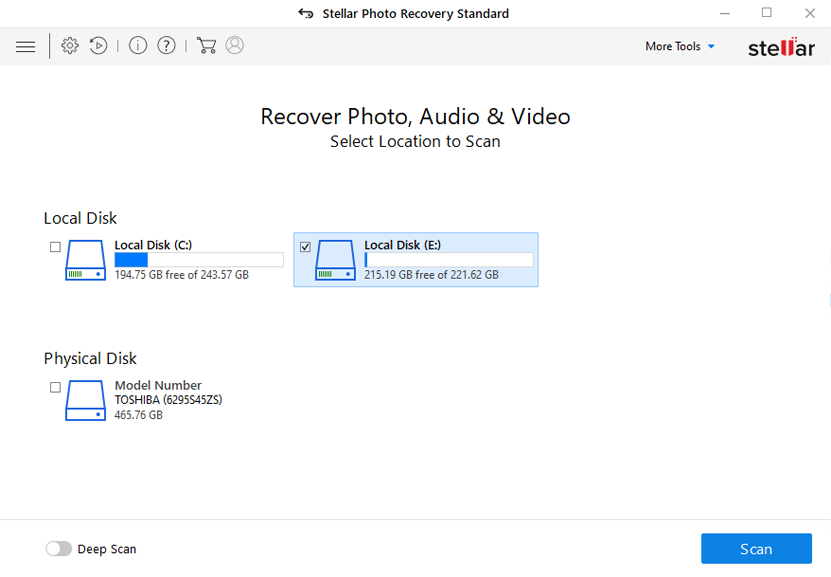 Step 2: Preview Recovered Media Files
Next, you can preview the recoverable media files after the scanning process is completed.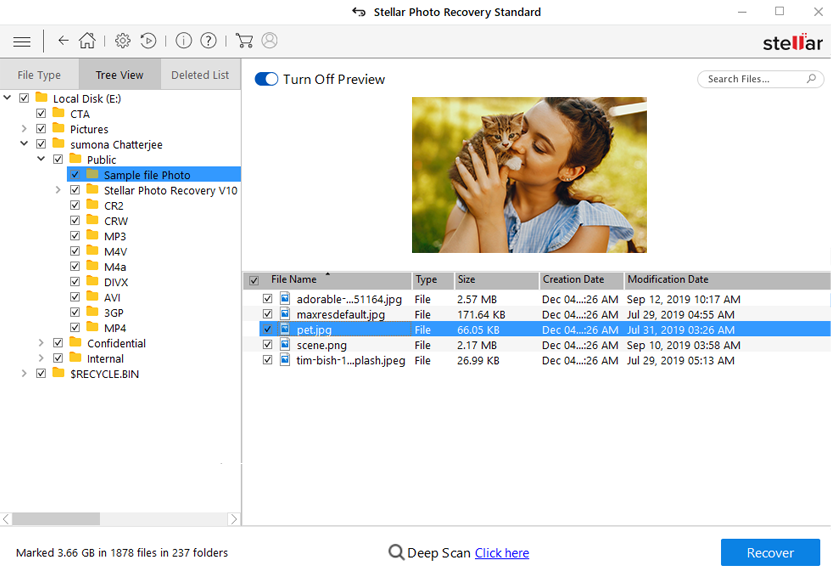 Step 3: Recover Media Files
Lastly, you can select the images, audio, video files you want to restore and click on 'Recover' option to save them at the location you want.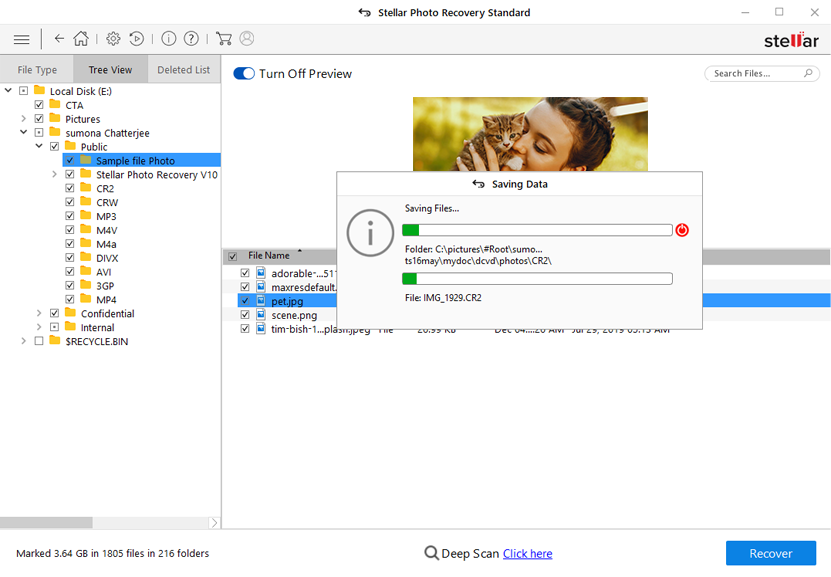 Related SD Card Won't Mount and Unmount FAQs:
How Do I Mount My SD Card On My Android?
Many people have found that their new SD card won't mount on their Android phone. But you don't need to worry at all. Simply follow the below steps and your problem will get fixed.
Insert your SD card into the Android phone's SD card slot.
Now go to Settings>SD and Phone Storage.
Now Tap on Reformat/Format in order to format your card for mounting.
Once, the format process gets complete, tap on 'Mount'.
What Does It Mean To Unmount Your SD Card?
Many users do not have knowledge about what does unmounting SD card means?
Well, I have already discussed what unmounting and mounting SD cards means at the beginning of the post.
Let me describe it once again in other words – Unmounting SD card simply tells your phone or digital device toot read or show an external SD memory card attached to the phone, thereby the phone stops showing data from the memory card.
It is suggested that whenever you remove a card from your Android phone, you must either Switch OFF your phone or Unmount or SD card. It will not result in any kind of data loss or anything saved on your SD card.
How Do I Unmount My SD Card?
Many people do not have any idea on how to unmount their SD card from the phone?
Well, below follow the steps to unmount SD card on Android phone:
Make sure SD memory card is inserted in the SD card slot on your Android phone.
Go to Settings>SD and Phone Storage.
Tap on 'Unmount'. On confirmation tap OK.
After this your SD card will unmount and a notification will appear saying 'SD card safe to remove'.
Safety Tips For Using SD Card
In order to avoid SD card error again, you must follow these tips:
Always handle and use your SD card properly and carefully.
Do not use the same memory card on different gadgets.
Always keep backup of important files from your SD memory card to PC.
Whenever you connect your SD card with PC, always scan it with updated anti-virus.
Conclusion
Unmounted Sd card Issue is very common issue that can occur due to many reasons. I hope, now you will be able to fix the unmounted SD card and recover data from SD card by applying the above-mentioned solutions.
Besides that if you have lost, deleted or formatted your SD card that was not mounting then in that case if you want to recover multimedia files from it, then it is highly recommended that you must use the SD card data recovery tool.
If you have found this post helpful and useful, then please do not forget to share it.
Also like and follow us on Facebook, Twitter, and Pinterest to get the latest updates.
Taposhi is an expert technical writer with 5+ years of experience. Her in-depth knowledge about data recovery and fascination to explore new DIY tools & technologies have helped many. She has a great interest in photography and loves to share photography tips and tricks with others.