To unlock the full gaming potential with Xbox, its seamless integration with external hard drives is very important. However, if external hard drive is not performing to its fullest then it can be frustrating. So, in this post, we'll navigate you through the troubleshooting steps to fix Xbox external hard drive not working issue and ensure your gaming momentum remains uninterrupted.
Let's gets started…….!
Rated Excellent on

Trustpilot
Free Hard Drive Data Recovery Tool.
Recover data from USB drives, Pen drives, SSDs, HDDs, and other devices on Windows. Try now!
Why Is My Xbox External Hard Drive Not Working?
Well, there can be a number of reasons that can cause Xbox external hard drive not working issue. Some of them are shortlisted in the below section:
Having loose connections between Xbox and the hard drive.
Due to damaged or faulty USB port on the Xbox.
External hard drive is not compatible with the OS.
External hard drive doesn't meet the Xbox requirements
Insufficient power supply to the external hard drive
Hard drive failure or due to hardware issues.
Because of outdated or corrupted drivers
After knowing the causes of Xbox one external hard drive not working issue, now it's a time to walk through the fixes.
Basic Steps to Fix Xbox External Hard Drive Not Working
Before trying any complicated methods, firstly you should perform these easy and basic tricks to resolve Xbox external hard drive not showing up.
Check for loose connection between Xbox and external hard drive.
Restarting the Xbox helps to resolve various kind of issues.
Try different USB ports or USB cables.
Connect your external drive to the PC to check if it's recognized or not.
How to Fix Xbox External Hard Drive Not Working?
#1: Check the Xbox Hard Drive Specification
Firstly, you should check whether your external hard drive meet the following Xbox requirements or not.
It should contain 256GB or above storage capacity.
There should be partition on your external drive.
Make sure your Xbox and USB hub both should have USB 3.0 connection
Avoid connect more than 3 hard drives to the Xbox.
#2: Power Cycle Your Xbox Console
Performing a power cycle often helps to resolve "Xbox external hard drive not recognized" issue by fixing the technical glitches.
Check out the below given steps carefully to know what you need to do:
Disconnect the hard drive from your Xbox console.
Then, press & hold the Xbox power button for at least 10 seconds to turn it off.
Now, turn on the console by pressing the Xbox Power button again.

At last, connect the external hard drive back to the console.
#3: Update The Xbox One
Additionally, you can check if any latest updates for the Xbox is released or any update is pending due to which your Xbox hard drive is not working.
In such a case, you should try updating the firmware of your Xbox console to overcome this issue. Here's how you can update your Xbox console manually:
Open the guide menu by pressing Xbox
Then, you need to select System -> Updates under the guide.
If any update is available for the console, then simply install it.
Once the installation process is over, go back to 'System' and choose 'Storage' to check if the hard drive shows in the storage list or not.
#4: Adjust the Storage Power Management
You can also try to fix Xbox external hard drive not working issue by adjusting the storage power management.
Open the "Guide" menu by pressing "Xbox button" then choose "System."
Then, go to "Settings." & choose "Power & startup."
Next, select "Power mode & startup." then > "Power mode." and set it to "Instant-on."
Now uncheck the option "When Xbox is off, turn off storage."
Also Read – 5 Easy Ways To Fix Xbox USB Port Not Working
#5: Reset the Xbox OS
Sometimes, the problems related to the Xbox's OS can also lead to "Seagate external hard drive Xbox one not detected" issue. So, here I will suggest you to reset your Xbox console.
Simply follow the below given instructions to know how to reset the Xbox console:
At first, press the "Xbox button." in order to open the "Guide" menu.
Then, go to "Settings" & choose "All Settings" > ""
Next, go to "Console Info & updates." and choose "Reset console."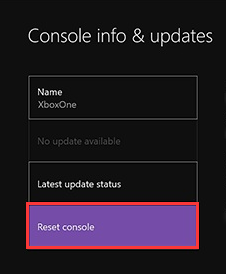 Once prompted, select an option "Reset and keep my games & apps."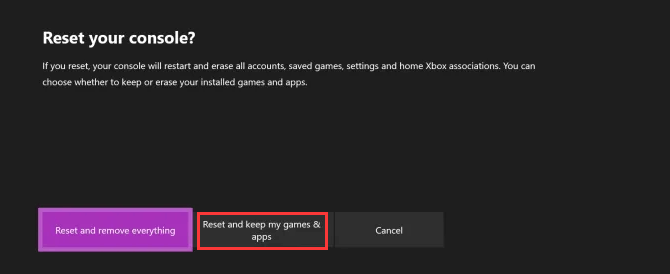 And you are done! Now, the Xbox operating system will reset but it'll not delete the console data.
#6: Format Your Xbox External Hard Drive
Even after trying the above methods, if you are still not able to fix Xbox one external hard drive not working issue, then one and last option left for you that is, formatting the external drive.
Though, this method will delete everything from your external drive including all apps, games and others on your console. Therefore, you need to create the backup of your hard drive first then you can format your drive.
Important Note – Format your external hard drive to a file system – FAT32, this is because this file system is compatible with Xbox console.
How to Recover Data From Xbox External Hard Drive?
When it comes to recover data from any data storage devices such as –internal/external hard drive, USB drives, memory card etc., you should always choose the best Hard Drive Data Recovery software.
This tool is specially designed to rescue deleted, lost, missing, erased or inaccessible data from all data storage devices. It comes with an advanced scanning algorithms that deeply scan your full hard drive and extract the data from it effectively.
It has a user friendly interface and is 100% safe and secure to use. Moreover, it is available for both the OS – Windows & Mac.
So, what are you waiting for? Quickly download & install this program on your PC and perform External Hard Drive Recovery in no time.



* Free version of the program only scans and previews recoverable objects.
Here is the step-by-step guide of this tool that you need to follow to recover data from an external storage drive.
Verdict
I just hope after going through this post, you have learned several ways to fix Xbox external hard drive not working issue. If you ever come across through a situation where your Xbox external drive won't work or recognized by your PC then you can try any of the aforementioned fixes carefully.
However, in case of any data loss, you can try the most recommended Hard Drive Data Recovery tool. It will help you retrieve your files within few clicks.
Hope you like this post….!
Taposhi is an expert technical writer with 5+ years of experience. Her in-depth knowledge about data recovery and fascination to explore new DIY tools & technologies have helped many. She has a great interest in photography and loves to share photography tips and tricks with others.