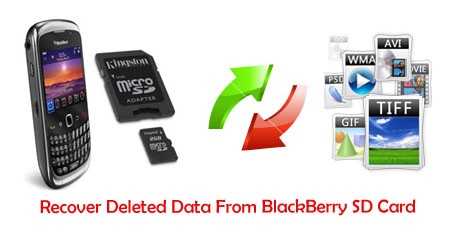 Learn step by step guide on how to restore Media Files from Blackberry SD card!!!
Overview – Deleted your Media files from your BlackBerry SD card? Then find out how to retrieve files that has been deleted from memory card via Blackberry smartphone. Well, SD Card Recovery Software is suitable Blackberry Card Data Recovery software that will help you to:
Restore deleted photos, videos and audio files from BlackBerry memory card
Supports recovery of media files from BlackBerry Playbook, Curve, Bold, Note, Torch, etc
Easily rescue data from formatted, virus infected, unreadable, corrupted BlackBerry SD card
Also support recovery of media files from memory cards used in Android phone/tablet, (Samsung, HTC, Google Nexus, Lenovo, Panasonic, LeEco, Oppo, etc) iOS devices (iPad, iPhone and iPod)
Retrieve media files from other card like miniSD card, microSD card, SDHC card, xD card, MMC card, XQD card, TF card, CF card and many more
Undelete Photos, Video and Audio Files From BlackBerry SD Card Easily



* Free version of the program only scans and previews recoverable objects.
Let Us Take Practical Scenario
Help please! My 8GB micro SD card inserted in my Blackberry phone stops working normally. The card shows raw file system. Connecting it to my computer, Windows system says that the card needs to be formatted before I can use it. Can I recover pictures after formatting memory card in Blackberry? How to get memory card to work in the Blackberry without formatting? Or is there any way to access the card without formatting?"
If you have encounter from above mentioned cases, the immediately stop using the SD card to avoid further problems. After this you can use SD card Recovery Software to restore deleted pictures from the BlackBerry SD card. But before that let us know what are the reasons for the lose data.
Scenarios that can cause loss of data from BlackBerry SD Card
However it is the responsibility of user to handle their data properly but unfortunately they fail. Due to mishandling, they lose their crucial data. Losing data from BlackBerry SD card is never expected but this is true. So here mentioned are some of the reasons for your data loss from SD card. Go through them:
The memory card gets infected from virus which corrupts the card and data gets lost
Accidentally erasing the files which includes videos, audios and photos etc from Blackberry's SD card
Formatting the SD card without keeping a backup
Some error messages pop-ups when the device is connected to computer
Using the same memory card more than one operating system for moving the data
During transfer of files from SD card to system, removing the SD card without any intention
So these are some of the common reasons that can lead to data loss from Blackberry SD card. So better note the causes properly so that whenever you face such situation again then you don't suffer from difficult situation.
Things to do after data is lost from BlackBerry's SD card
Well very important thing which every users should do after losing their data from SD card is not to use the memory card. Even don't store any data on it otherwise new data will get overwritten. This is followed strictly so that the data which is lost can be recovered. If new data takes the place of old data then there will be no chance to restore the deleted files.
One thing you should know that once the file is deleted is not permanently deleted. But it stores on the device itself. The files can be easily retrieved with the proper methods.
Best solution to Recover Deleted Photos From BlackBerry Sd Card
When time comes to restore the lost files from BlackBerry's SD card then it is important to know how to recover those. Well you don't have to worry much as you will get the best way to retrieve the lost files.
First rescue lost files from backup– The very first thing that you should do is access your backup files. If you have created a backup file and the data is stored on it then you don't have to worry much. Simply you can get the lost files of BlackBerry's SD card from backup files.
Retrieve files using recovery software– If you don't have backup of your lost files then it is recommended you to go for recovery software. A powerful recovery tool like SD Card Recovery software is the best to use. This software will recover all those data which are deleted which includes audio, videos, photos etc. The software scans the SD card completely to retrieve the erased files. It supports all types of memory card which include SD card, CF card, XD card, etc.
You Might Also Be Interested In:
Steps to Recover Deleted Photos From BlackBerry SD Card
Step 1 – Install "SD Card Recovery' tool and launch it. Click on "Recover Photo, Audio & Video" tab to recover images, songs and videos files from any SD card, external USB drive or computer hard drive. Connect the media to your computer and then perform the process.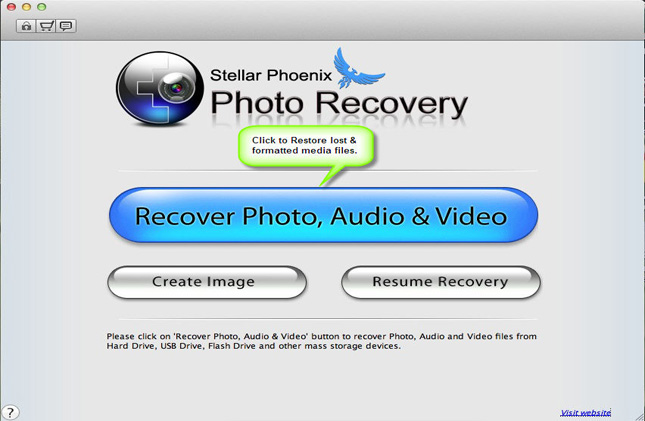 Step 2 – Select the drive from which you want to recover files. The external media will be shown in the list, if not then click on "Refresh Drive" button. Now select the desired drive to scan and then click on "Scan Now". If you want to customize the recovery on the basis of file types then click on "Advance Scan".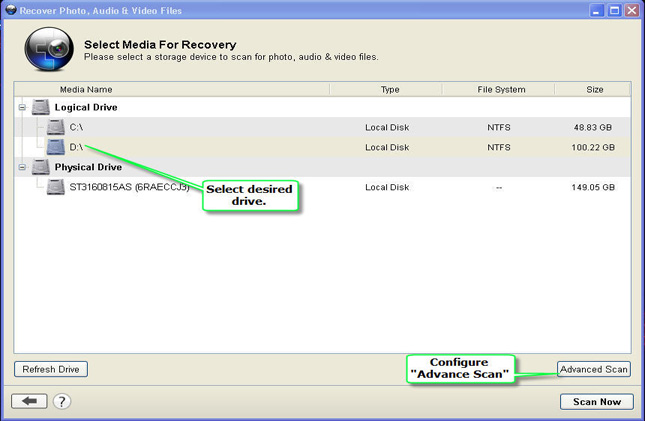 Step 3 – In the Advanced Scan you will have the option to scan as per to the file list, such as Photo, Video and audio or you can also select the data range from the storage device. This option reduces the scanning process time.
Step 4 – Once you click on "Scan Now" button the software will show that scanning is in process. The recovered files listed in a tree structure on the left side of the window panel.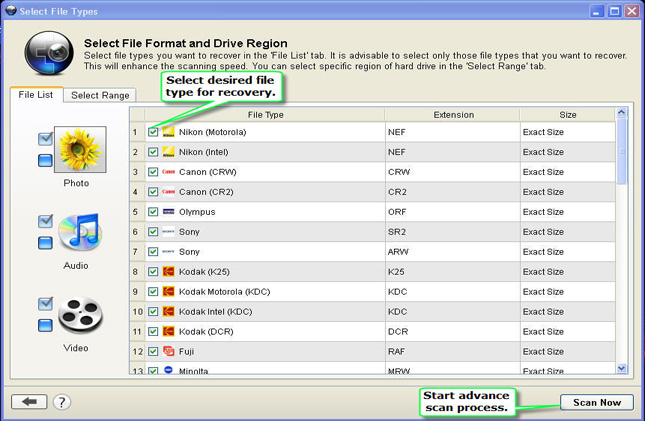 Step 5 – After scanning, you can select the files to preview them and then you can click on "Recover" button to finally save them on your computer.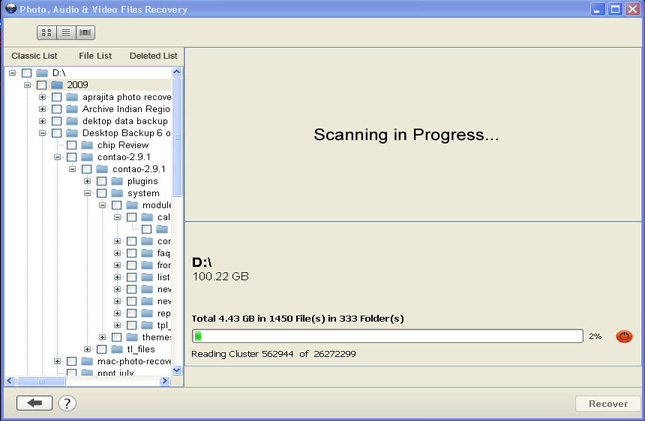 Step 6 – Select the desired location on your computer to save the recovered files. The screenshot shows that the recovered files are being saved.

conclusion
Don't panic whenever you lose your essential data. This is a common situation that will appear some or the other day to almost every one. So whenever you feel that you have lost your data from your SD card then read the above blog. It has some unique ideas which will help you to rescue your deleted files from any storage device.
If you have found this post helpful and useful, then please do not forget to share it.
Also like and follow us on Facebook, G+, Twitter and Pinterest to get latest updates.
Summary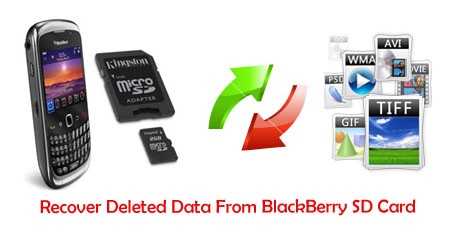 Article Name
How to Recover Lost Data from BlackBerry's SD card on Windows/Mac?
Description
In order to recover lost data like photos, videos from BlackBerry phone's Memory Card, you will need the help of SD recovery software.
Author