Easily Restore Deleted CR2/CRW RAW Files from Canon Camera In Just  Few Simple Clicks
Want to recover CR2/CRW raw files from your Canon camera? Have you mistakenly lost such files due to unexpected reason? Are you looking for a way to get back deleted or lost raw images from Canon camera? Are you looking for Canon Photo Recovery software Well, if this is the case then do not worry if you want to recover deleted/lost Canon raw .CR2/.CRW photo files then you can use Photo Recovery software. With the help of this tool, you will be easily able to:
Restore Deleted, formatted, erased or missing CR2/CRW raw image  files from Canon digital cameras

Also recover various format of videos and photos file format
Apart from CR2/CRW files, it also recovers other Camera RAW  files like ARW, ARI, Bay, CAP, DCS, EIP, ERF, PEF, SRF, SRW etc.
The software is compatible on both Windows and Mac
Easily recover media files from several media storage devices such as memory cards, smartphones & tablets, memory sticks, hard drive, pen drive, external hard drive, digital cameras, USB drives & camcorders, etc
It is read-only program and 100% risk-free & easy to use
Rescue CR2/CRW RAW File Formats From Canon Easily



* Free version of the program only scans and previews recoverable objects.

Stellar Phoenix Photo Recovery is definitely a utility-oriented program. I wouldn't describe its layout as elegant, but it is easy to navigate. I see the simplicity as a positive — it doesn't require much effort from the user. Software is not my strong point, so I like to see that a useful program like this is also easy to understand. ——— Review By Photography Life
Photography is becoming popular nowadays and it has become a part of our life. People like taking picture as it is the best way to capture and store their precious memories. In today's date one is very familiar with digital camera and digital camcorders. Canon is the most popular brand for digital cameras all around the world. All images and videos are captured and stored in external media device.
There may be circumstances in which the pictures from digital camera will deleted accidentally or it has been carelessly formatted from memory card and all precious pictures are lost then there is an urge to get back all the deleted pictures as soon as possible. Here is the solution for this problem, Canon Photo Recovery; it will help to get back the entire deleted or lost picture from the digital camera.
Additional Reading: Sony Camera Photo Recovery – Rescue ARW Raw Files of Sony Camera
Reasons for the loss or deletion of Canon RAW CRW/CR2 pictures
Let us take on real example:
I was wondering if there is a free recovery program for cr2 files that recovers them as cr2 files and not tiff. Every one I've tried recovers them as tiff. Thanks.

                – Original Post from Digital Photography Review Forums
There may be several reasons for loss of pictures from digital camera. Some of the common reasons are given below:
Virus attack: Viruses are the major fear which is responsible for data loss from digital camera. If memory card gets infected with this then it corrupts or damage the file system and make the memory card inaccessible.
Human errors: when one is deleting unwanted pictures or junk files from the digital camera then there may be chances of accidently deleting of some important photos. And if one is browsing through the options of camera then it may happen that one may press format option which results in deleting of photos from memory card.
Power failure: If one is transferring pictures from digital camera into the computer then there may be chances that the system may shut down suddenly and it will result in loss of important pictures that obstructs in the transfer procedure. Another case is, if pictures are taken from the camera having low battery then there are chances of losing important pictures if they are not saved properly. 
Formatting: The photos taken are stored in memory card of digital camera where it is most liable to corruption. And also when the camera is connected with the system then it may happen that it may ask to format it. Then there is no option left rather than formatting it. This results in serious loss of photos.
These are some of the common reasons for the loss of photos from Canon digital camera but the list doesn't ends here. This can be avoided if one takes some precautionary measures in order to avoid photo loss. But still if one encounters such situations then Canon Photo Recovery software can be used to get back the lost pictures.
Additional Reading: Nikon Camera Photo Recovery – Rescue NEF Images from Nikon Camera
How to Recover Canon Camera RAW CRW/CR2  Image Files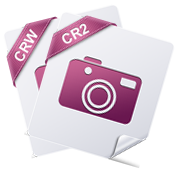 Raw file is the single file format that contains the unrefined and undeveloped data from the image sensor of a digital camera. Canon has CRW and CR2 file formats which provides non-destructive photo editing results. But this format also suffers from loss or corruption of pictures and they can be restored by the help of this photo recovery software.
Photo Recovery is a suitable Canon Photo Recovery software for Windows/Mac that is designed to restore all lost photos from the canon camera memory card that includes .crw recovery and .cr2 recovery. It is easy and powerful recovery software which is particularly created to restore lost data from digital cameras like Canon EOS 50D/60D/5D/7D/Rebel T3/Rebel T3i, G1/SX30/SX150/A1200, IXUS 220/230/1100. It not only retrieves photos in JPG (JPEG), PNG, GIF, TIFF and several other formats but also recover numerous audio and video file quite effectively.
You Might Also Be Interested In:
Steps to recover loss or deleted Canon RAW CR2/CRW pictures
STEP 1: Download and install Canon Photo Recovery software on computer. And then connect the camera to the computer by USB cable or card reader.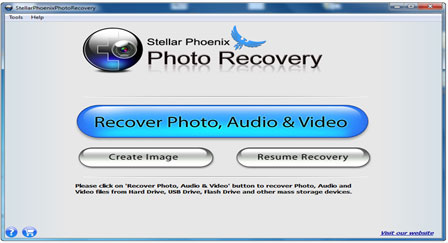 STEP 2: Choose the drive and select the file type of the photo that you want to recover from the "Advanced Scan" option. Then click "Start Scan" to proceed to scanning procedure.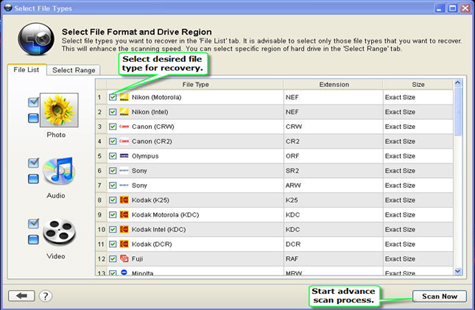 STEP 3: Preview and recover the found images. When the scan is over then preview those found photos and evaluate if they are the same which were deleted. Then click "Recover" to get them retrieve.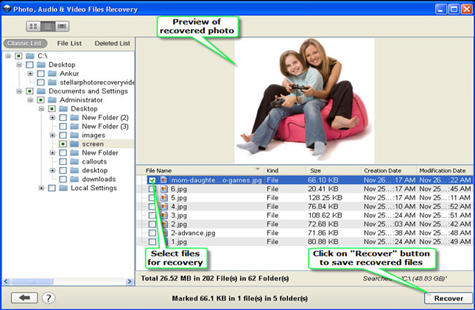 Free download software to recover lost, corrupted, deleted, missing and formatted digital media contents like photos, videos, music or audio files for Windows & Mac system. Rescue digital media from memory cards, digital cameras, mobile phones and other devices.
Additional Reading: Olympus Camera Photo Recovery – Rescue ORF Images from Olympus Camera

Tips to remember
After losing your important data from your storage device, it is very much important to remember some useful tips which can help you to avoid data loss in future. Some of the tips are mentioned below:
Always make a backup of all your important files or folders so that it can help you in future when any data loss situation happens.
Use some reliable power source which can help your system from sudden shutdown
Before formatting, check your storage device at least two to three times
Never use any digital device when its battery is low
Don't remove the files when file transfer process is on progress
Before removing the device from computer or from any other system, eject it properly
Avoid using the same device when it is already used and it is full. Keep it on safe place and do not save any new media files otherwise the previous data will be overwritten
Always protect your device from any virus or malware attack by using the perfect antivirus program
Before deleting any files, just be sure of what you are selecting and what you are deleting
Never avoid any type of warning message because this can also be the reason for data loss
If you have found this post helpful and useful, then please do not forget to share it.
Also like and follow us on Facebook, G+, Twitter and Pinterest to get latest updates.