Summary: Your Windows PC or Android phone throwing error message "SD card is damaged. Try reformatting it". This article provides the solution on how to fix damaged SD card without formatting and recover files from the corrupted SD card.
If your SD memory card hold lots of important photos, videos or audio files that you do not want to lose, then my suggestion would that you must use Photo Recovery software to recover media files from the SD card displaying error message – SD Card is Damaged. Try Reformatting it.
With the help of photo recovery software, you can:
Restore inaccessible images, mp3 songs, movies and other videos and audio files from damaged SD card.
Retrieve almost all format of photos (jpeg/jpg, png, tif, bmp, gif, etc), videos (mp4, avi, mkv, HD mov, xvid, etc) and audio (mp3, amr, wav, m4a, etc).
Also get back files from encrypted, locked, virus infected, write protected, Blank & dead SD card.
Support all types and models of SD card such as miniSD, microSD, SDHC, SDXC, XD, TF, MMC, SmartMedia, etc.
100% read-only program. Safe, secure and easy to use.
Recover Data From Damaged SD Card In Just Few Clicks!



* Free version of the program only scans and previews recoverable objects.
About SD Card Error "SD Card is Damaged. Try Reformatting it"
Corruptions, damage and errors might occurs on SD card as there are various reasons that could make your memory card inaccessible. One of the major errors is Damaged SD card on Android phone. Many users have been found reporting about this error. We have also done some research and found that many users are asking about help on several forums and community site – on how to get rid of SD Card is Damaged. Try Reformatting it.
Additional Reading: Learn To Fix/Remove/Format "Write Protected" USB Drive
Below you can find one example.
User Example – Encountering SD card is damaged. Try reformatting it Error Message
SD Card is Damaged. Try Reformatting it.

Anyone else getting this with their S4? I bought my S4 two weeks ago and a Sandisk 64gb card to go with it and started seeing this error about twice a day. I returned it for a Samsung SD and didn't see the error for almost a week until today.

The card actually appears to be fine, all I have to do is remount it after seeing the message and all is good, it's just worrisome cause I store all my photos on there. I'm wondering if it could be the phone itself? I have one day left to exchange it, but it's rooted.

                                                                – Original Post from XDA Forums
However, this SD memory card error can also be seen on Windows PC when connecting card to PC.
Should We Select Format Option to Fix Damaged SD Card?
Of course, the answer would be NO – because formatting the card will erase entire data stored on the card and hence you will lose all data from it.
To be honest, if you tap the notification, Android will inform you that "Format SD card? All data on your card will be lost".
And many users here will not select the format option to confirm because they know that they will lose all important files saved on the card that they cannot afford to lose. However, you can confirm the format option, if you do not have any important data on your card that you really do not want it anymore.
Luckily, there are solutions available that you can follow to fix damaged SD card without reformatting and use third-party software to recover files from damaged SD card.
Additional Reading: How to Fix "Seagate External Hard Drive Not Recognized" Without Losing Data
General Troubleshooting To Fix Error Message "SD Card is Damaged. Try Reformatting it"
1 – Clean Memory Card and Make Sure It is Connected Properly
If you are using your Android phone from a long period of time, it is possible that it awfully get dirty from inside. We tend to keep our phone in pocket or in our hands and dues to this they collect both dirt and moisture. So, you must remove that dust. Open your phone back cover, eject memory card and clean both card (clean the metal part properly) and its slot and then re-insert it back.
Now switch on your phone and see if your problem is solved. If not then try next solution.
2 – Reboot Your Android Phone
Sometimes, memory card becomes temporarily inaccessible due to some incomplete file operations. So, you can try this solution and hope it could fix your problem. Simply, reboot your Android device and see if problem is fixed.
Additional Reading: How to Fix "SD card won't Mount" Error on Android Device & PC
Use CMD Command To Fix Damaged SD Card Without Reformatting
Remove the card from the phone and with the help of card reader connect SD card to your PC.
On PC click Start and type cmd in search bar and hit ENTER. Alternatively, Click Start> All Programs> Accessories> Command Prompt.
Command prompt window will get open. Now in the command line, enter the following command – chkdsk [sd card drive letter]: /r (For example: if your SD card drive letter is E drive then enter – chkdsk E: /r)
The chkdsk will start to scan your damaged SD card for any type of card errors and it will repair it.
Once the scanning process completes, you can then check to see if "SD card is damaged. Try reformatting it" problem is solved or not.
In most of the cases, the above solution work great and users are able to access data saved within the card. But if in your case, following the above solutions does not work, then you can use suitable SD card recovery software to restore inaccessible media files from damaged SD card.
Additional Reading: [Solved]: "Blank SD Card or Has Unsupported File System" Error
Recover Data From SD Card Displaying "SD card is damaged. Try Reformatting it"
One of the most suitable and perfect SD card recovery tool is Photo Recovery that has the capability to restore photos, videos and audio files from damaged SD card. This software not only recover damaged card, but it also retrieve data from corrupted, locked, write protected, virus attacked SD memory card.
This damaged SD card data recovery software is very powerful as it can recover files from various SD card throwing different kind of errors such as – read-only error, formatted error, SD card showing o bytes and more.
You Might Also Be Interested In:
Steps to Recover Data from Damaged SD Card without Reformatting it
Step 1 – Install "Photo Recovery" software and launch it on your computer. Click on "Recover Photo, Audio & Video" tab to recover photos, videos and audio files from any SD card, external USB drive or computer hard drive. Connect the media to your computer and then perform the process.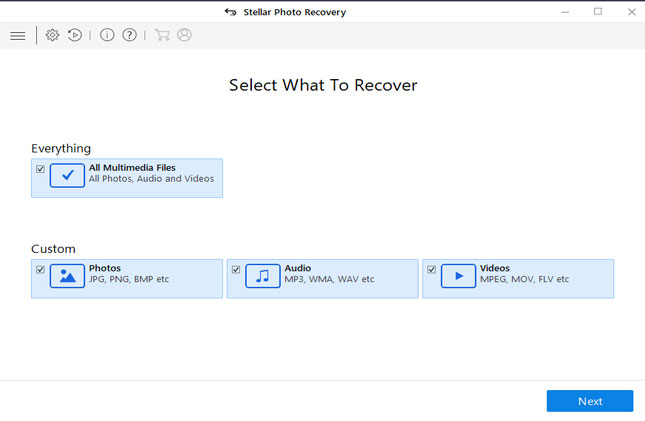 Step 2 – Select the drive from which you want to recover files. All the hard drive and external media will be shown in the list. Now select the desired drive to scan and then click on "Scan" button.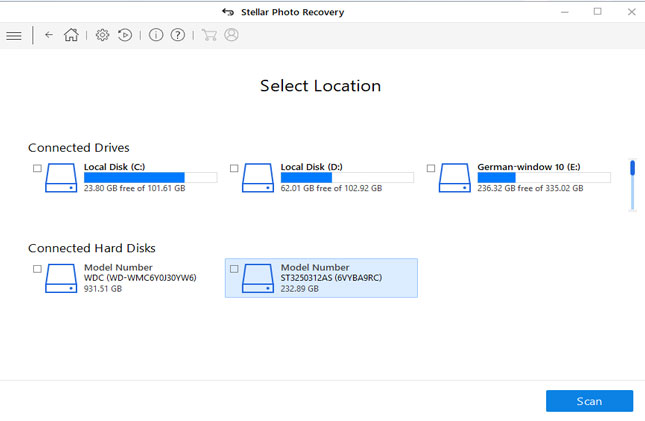 Step 3 – Once you click on "Scan" button the software will show that scanning is in progress. The software will search for all multimedia files from your selected drive or attached media.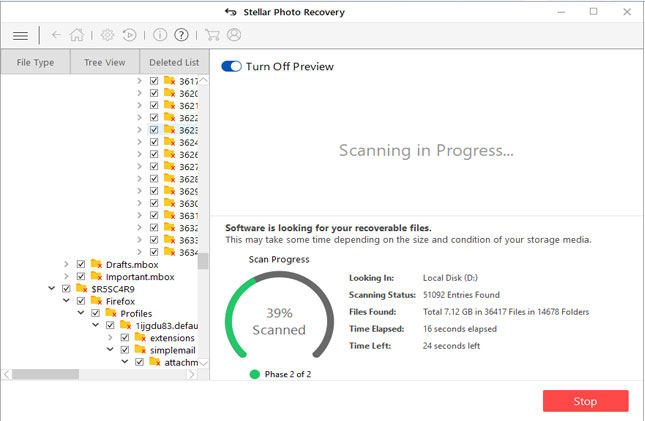 Step 4 – After scanning, all the files that are found in the selected volume, hard disk or other storage media devices are listed. You can now select the files to preview them and then you can click on "Recover" button to finally save them on your computer.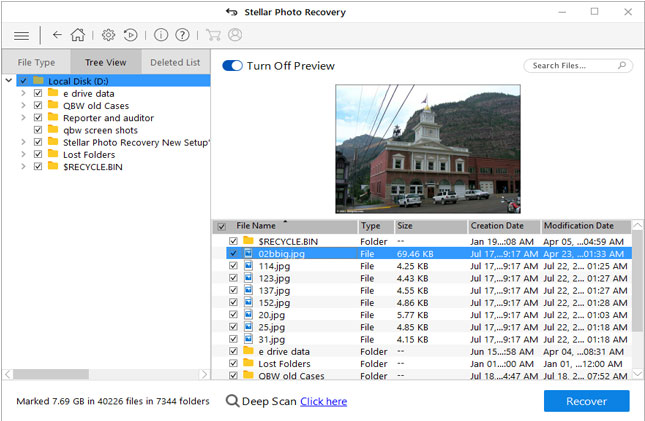 Format the Damaged SD Card To Re-use It
Once, you recover your important files from the damaged SD card, you can then format the SD card to re-use it. You can either format the card within the Android device or you can format the card on your PC.
Conclusion
The error message – "SD card is damaged. Try Reformatting it.", does not always mean that the SD card is actually damaged and you must not try to reformat it. As you know that formatting the card will delete all data from your card. Instead try the solutions mentioned above and recover files from the card first and then format the card.

If you have found this post helpful and useful, then please do not forget to share it.
Also like and follow us on Facebook, G+, Twitter and Pinterest to get latest updates.
Summary
Article Name
Solved: SD Card is Damaged. Try Reformatting it.
Description
Solved: SD Card is Damaged. Try Reformatting it. General Troubleshooting To Fix Damaged SD card. Use CMD Command To Fix Damaged SD Card Without Reformatting and Recover Data.
Author
Publisher Name
Publisher Logo