Retrieve Deleted/Lost/Corrupted or Damaged Photos and Videos From Canon EOS 80D Easily
If you are using Canon EOS 80D camera and you have lost all your photos and videos from this camera and want to retrieve them back then you can try Canon EOS 80D Camera Media Recovery Tool. Using this effective professional tool, you will be able to:
Recover deleted photos from any digital camera memory card
Get back deleted or lost photos and videos from camera memory card of different brands like Toshiba, Strontium, Kingston, Kingmax, Verbatim, Transcend, etc
Recover deleted or lost photos from other camera brands as well. For example, Panasonic, Sony, Canon, Fujifilm, Nikon, etc
See preview of all deleted photos and select the photos you want to retrieve.
Retrieve Deleted Photos and Videos From Canon EOS 80D Camera



* Free version of the program only scans and previews recoverable objects.
Practical Scenario
"Hello!!! I am Ruskin I am using Canon EOS 80D camera and I have lost all my photos and videos from my camera due to unexpected reasons. How can I retrieve them back from my camera? Is there any way to get them back instantly?"
Canon EOS 80D is a newly launched camera from Canon and its outstanding features have won lots of hearts. Features like 24MP APS-C CMOS sensor with Dual Pixel AF, 3″ 1.04M-dot articulating touchscreen, 45-point AF system with all cross-type points, etc are just so amazing. Sometimes, you may lose data from it due to unexpected reasons which are quite disappointing.
Errors related to digital media loss
Many times improper way of handling the digital media may be the reason for your data loss along with some other issues. This situation may corrupt high capacity data storage media and make your important data inaccessible. However there are some errors which may lead to digital media loss.
Format error– After you connect your digital media to computer, sometimes you get an error messages "Disk needs to be formatted". This error may force you to format the entire drive which may lead to data loss.
Human errors– This is one of the common errors which occur and data loss happens. This may happen accidentally or unintentionally deletion of data from various digital devices by selecting "Delete All" option at the time of previewing or while deleting other files by pressing Shift + Delete keys from computer
Exploitation of memory card– Taking out the card from digital media when it is in use or saving data in memory when it is full can also results loss of data
Corruption of file system– File system in hard disk may become corrupt which can lead to inaccessible of files and loss of data. Even corruption may occur because of various reasons like sudden shutdown while file transfer, virus infection etc.
Transfer error– When there is a sudden power surge while transferring of data from digital devices then the data may get deleted.
Know how deletion takes place
There are lots of causes that can delete data or files from memory card or any other storage device. Some of the common causes are given below:
Improper formatted SD card, if your memory card is partial formatted then you will never use them appropriately.
Because of the damaged/Infected file system or the Raw property of the file system
Using damaged or defective card reader and trying to transfer data can also affect the stored information.
Connecting to an infected computer can make the memory card infected too.
Malfunctioning in the Disk structure of the memory card
Power cut while transferring files from system to SD card or Card to system.
Ejection of the memory card from on device.
Ejecting memory card from PC/system without using safely removal process.
Capturing images/ doing read or write process in low battery can also generate data loss situation.
Hardware malfunction of the device while the read or write process.
Improper shut down of the device.
Using a same memory card in different devices.
Best solution to Recover photos and videos from Canon EOS 80D
Manual Tips:
Restore backup- With the help of backup of your files you can restore all of your inaccessible data with ease. Simply restore them on memory card and all the backup will be restored easily. But make sure that backup is updated, not corrupted or damaged, the backup is not partial as this type of backup can generate data loss situation.
Command Prompt: Using command prompt you can easily restore corrupt or old data from memory card.
Open command prompt with admin privilege
Connect your Memory Card via a branded card reader.
Run a command: Chkdsk e: /r
In the command prompt type Chkdsk e: /r –
A warning will appear press Y for continue.
System will ask for saving the data and press Y.
That's all, you can access your lost data once again.
Automatic Recovery Software
In automatic recovery you need to download and run Cannon Eos Data Recovery Software for Windows/Mac. After downloading install and run them, now you need to simply follow the on screen instruction and with few clicks your data will be saved.
With the help of this data recovery software one can easily get back their lost or deleted data back. It is an advance way to get back your data, and you don't need to do anything manually so you don't need any professional skill.
You May be Also Interested In:
Steps to retrieve lost/deleted data from digital device
Step 1 – Install "Photo Recovery" software and launch it on your computer. Click on "Recover Photo, Audio & Video" tab to recover photos, videos and audio files from any SD card, external USB drive or computer hard drive. Connect the media to your computer and then perform the process.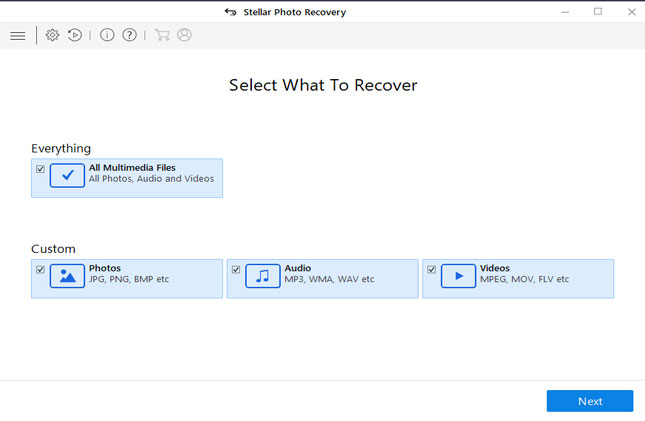 Step 2 – Select the drive from which you want to recover files. All the hard drive and external media will be shown in the list. Now select the desired drive to scan and then click on "Scan" button.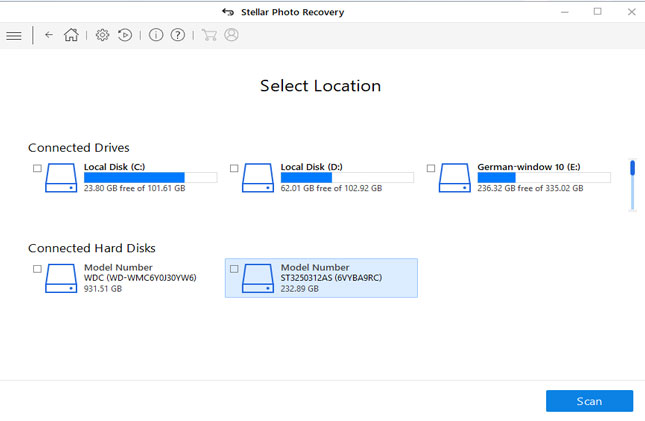 Step 3 – Once you click on "Scan" button the software will show that scanning is in progress. The software will search for all multimedia files from your selected drive or attached media.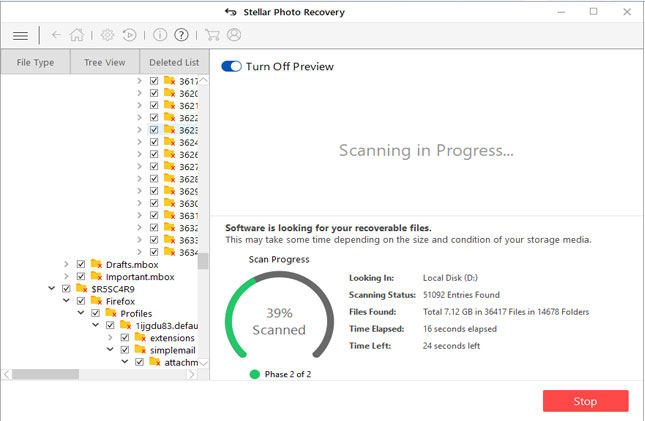 Step 4 – After scanning, all the files that are found in the selected volume, hard disk or other storage media devices are listed. You can now select the files to preview them and then you can click on "Recover" button to finally save them on your computer.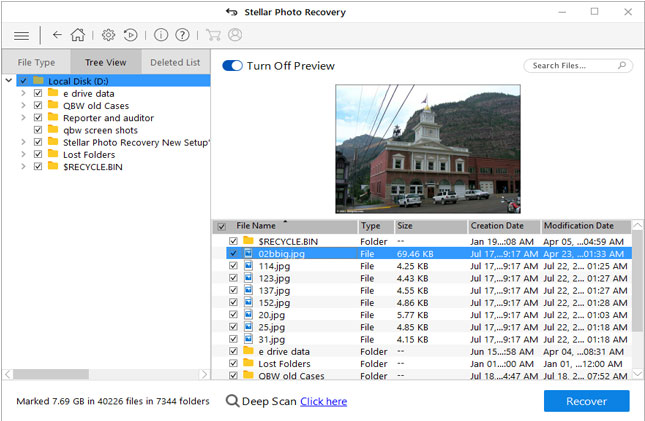 Tips to remember
If your SD card becomes full then you should eject them properly from the device and connect with your PC or Laptop in order to move the stuff out of it. After making a complete backup into another place format it and then start using it again.
Direct ejection of SD card is one of the common scenario of data loss, so it is recommended to always remove memory card or any other removable drive with the help of safely removal option. If you want to eject storage media from PC then use safely remove, remove memory card from camera or phone after turning them off.
Avoid connecting the memory card with every computer, it is because some systems are infected with virus and when you connect storage device via USB or card reader then they also infect the stored files. Always connect with the virus and/or malware free computer system. You should also install an efficient antivirus/antimalware on your computer.
SD cards and other data storage devices must be handled with lots of care in order to avoid scenarios like data corruption, damage, and data loss. So it is recommended to place them at safe places and also keep them away from water and heat to avoid serious damages.
Conclusion
That's all you don't need to visit any other webpage because this blog contains the complete recovery process of Camera SD card. After recovering all of your inaccessible data you should also go with the above given prevention and tips to avoid any type of data loss in future. You can also visit the official discussion site of Canon Camera and participate in any discussion.

Also like and follow us on Facebook, Twitter and Pinterest to get latest updates.
Summary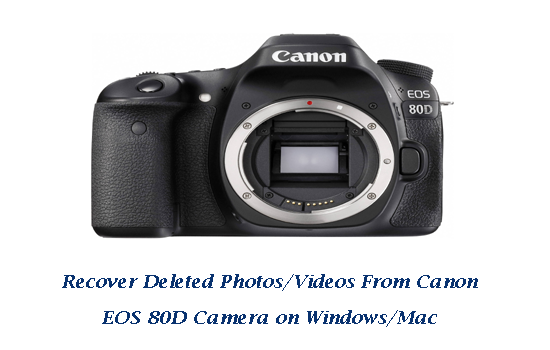 Article Name
Recover Deleted Photos/Videos From Canon EOS 80D Camera on Windows/Mac
Description
Want to recover data from Canon EOS 80D Camera card then simply follow the given manual and automatic data recovery solution and get your data back.
Author
Publisher Name
Publisher Logo