Summary: In my earlier posts I have discussed about few memory card errors and their solutions such as How to Fix SD card Unexpectedly Removed error, How To Recover Deleted Files From CF Card With A Not Formatted Error, Recover Photos/Videos from Overwritten Micro SD Card, etc. But after doing some research I have found that there is another memory card error which is "Blank SD Card or Has Unsupported File System" encounter by users and I have also find that this topic is also very hot in several forum and community websites. So here I have decide to provide few solutions on how to fix Blank SD Card or Has Unsupported File System Error and also how to recover data from memory card after such memory card error.
Well, below you can find the several solutions to fix "Blank Memory Card or Has Unsupported File System" but before that let us know about the recommended solution that is using Digital Media Recovery Tool, that will help you to retrieve inaccessible media files from memory card.
With the help of Memory Recovery Tool, one can:
Effectively restore deleted, lost, missing, formatted, inaccessible photos, videos and audio files from memory cards.
Support recovery of media files from different memory cards such as SD card, microSD card, miniSD card, SDHC card, CF card, TF card, xD card, etc
The software offer preview feature that allow user to view the recoverable files within software before final recovery
The software is available for both Windows and Mac users
Read-only program, 100% clean, safe & easy to use
Recover Media Files After Blank SD Card or Has Unsupported File System



* Free version of the program only scans and previews recoverable objects.
Let us take real example:
I am using Samsung Galaxy Android Smartphone and I don't know why it is displaying error message "Blank SD card or has unsupported file format" while I am trying to access memory card and it is asking me to format the SD card. However, when I proceed further to format SD card nothing happens. Now I am not able to access any data that is stored on my SD card. So, please help me to fix this problem or help me to restore inaccessible data from SD card.

                                                                                                           -Andrew
Well, as we all know that memory card is small piece of device that is used to store large amount of data and it is used in several gadgets like digital cameras/camcorders, mobile phones, tablets, mp3 player, iPods, etc. But while using SD card, we may face several problems, issues and errors related to SD card such as damaged SD card, unreadable SD card, corrupt SD card and many more.
And the one that we are going to discuss in this post that is – how to fix "Blank SD card SD card is blank or has unsupported file system" error message?
Reasons Why We Get SD Card Is Blank or Has Unsupported File System
There could be several reasons behind the card is blank or has unsupported file system. It can be due to improper ejection or memory card, virus attack, physical or logical damages, mobile phone file system, RAW file system, etc. The above error message could also occur, if you:
Used the same SD card on any other gadgets or computer that is infected with virus
Removed the card unsafely, pulled out the card without turning of the mobile phone/camera
Used the card on another operating system such using the card on Windows and again back to Android
Ejected memory card from computer or laptop without using "Safely Remove" option
If you have done any of the above mentioned things, then it is obvious you may get this blank SD card error message. So, if you really want to avoid such error in future then you must properly use and maintain your memory card. It is also suggested that you must keep the backup of your important files in order to restore files from backup when you get errors like this.
Solutions To Fix Blank Memory Card or Has Unsupported File System
Finally, here find out few solutions that you must try to fix the above card error message. There are users out there who think that SD card is not detectable by the phone, but they are wrong, because if that would be case then the phone would not throw the error message. So, if your SD card is detected by computer then you can easily if it by following the below mentioned solutions.
Solutions #1: Switch OFF or Reboot the Phone
Though phone ask you to format the blank SD card, but do not format it at once, try few solutions to fix it first or at least try to recover files from it. The first thing you must try is that Turn OFF the phone or Reboot the phone and check whether your problem is solved or not. The same thing applies with other gadgets, if you are getting any card error message in camera, then switch it off and then check.
Solutions #2: Pull out the SD card and Re-Insert It
Remove the card from the devices such as mobile phone, digital camera, etc and then re-insert it. Do this for several times and hope that your device would finally read the card.
Solutions #3: Apply CHKDSK to Solve The Error
This is another very effective solution that you can try, because this solution has helped many users to fix this error. Follow the instructions mentioned here: How To Recover Media Files From Memory Card Using CMD?
Once, you complete CHKDSK process, now put back your SD card back to phone and check problem is solved or not.
Solutions #4: Check For Hidden Files on Memory Card
You can also check your blank SD card by checking if it contains any hidden files. Sometimes the card comes with or carried some "special files" that create problems and you have to delete them in order to get rid of the problems.
It is very simple to check hidden files on memory card.
Connect your SD card with PC and make sure it is detected by Windows.
Now run Control Folder in order to open File Explorer Options.
Now go to View Tab and check mark the box Show hidden files, folders and drives and click on Apply.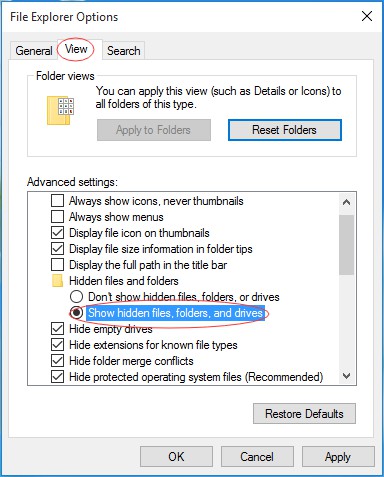 Alternatively, you can also try the instructions mentioned here: How To Recover Hidden Media Files In Memory Card.
Solutions #5: Use Digital Media File Recovery Tool To Restore Media Files From Memory Card
If none of the above mentioned solutions helped you in fixing the "Blank Memory Card or Has Unsupported File System" error message, then you can take help of Digital Media File Recovery Tool for Windows/Mac to only restore inaccessible photos, videos and audio files. The software also restore media files from digital cameras/camcorders, smartphone's memory card, USB flash drive, hard drive, external hard disk and from other media storage devices. The software also offer preview features that will allow you to view the recoverable files within the software, before you save them on your PC. Below find out step by step guide on how to recover media files from memory card using the software.
You Might Also Be Interested In:
Steps to Recover Media Files from Memory Card After Blank Memory Card or Has Unsupported File System error
Step 1 – Install "Digital Media Recovery' tool and launch it. Click on "Recover Photo, Audio & Video" tab to recover images, songs and videos files from any SD card, external USB drive or computer hard drive. Connect the media to your computer and then perform the process.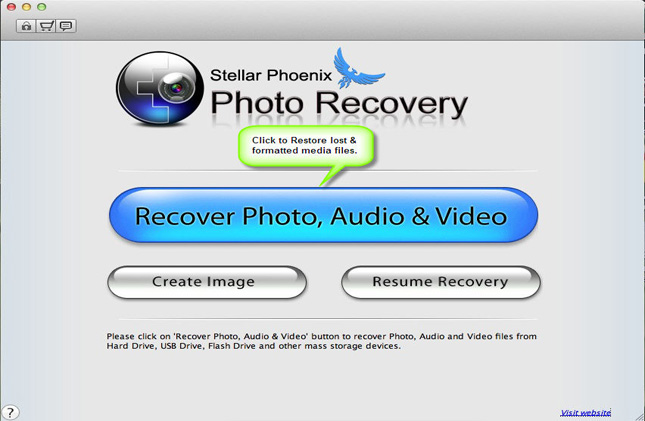 Step 2 – Select the drive from which you want to recover files. The external media will be shown in the list, if not then click on "Refresh Drive" button. Now select the desired drive to scan and then click on "Scan Now". If you want to customize the recovery on the basis of file types then click on "Advance Scan".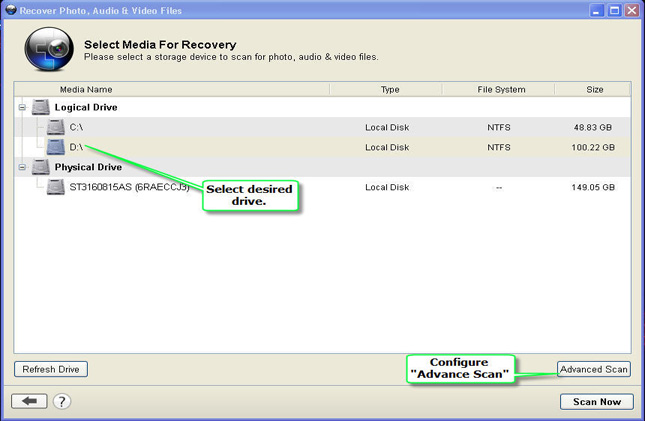 Step 3 – In the Advanced Scan you will have the option to scan as per to the file list, such as Photo, Video and audio or you can also select the data range from the storage device. This option reduces the scanning process time.
Step 4 – Once you click on "Scan Now" button the software will show that scanning is in process. The recovered files listed in a tree structure on the left side of the window panel.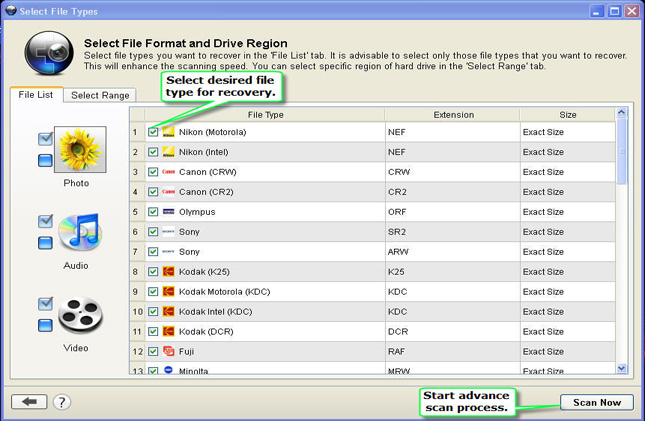 Step 5 – After scanning, you can select the files to preview them and then you can click on "Recover" button to finally save them on your computer.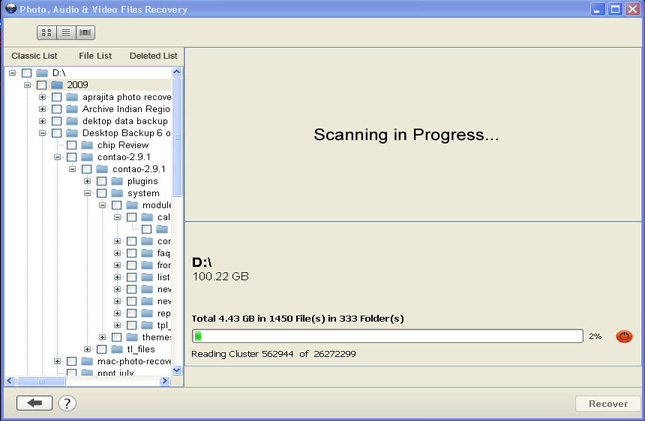 Step 6 – Select the desired location on your computer to save the recovered files. The screenshot shows that the recovered files are being saved.

Once you are done with Recover process, you can then move forward to format the SD card, so that you can re-use it on your phone.
Conclusion
You can follow the above mentioned solutions to fix "Blank Memory Card or Has Unsupported File System" error message, but if none of the solutions works, then it is highly recommended that you must use Digital Media File recovery Tool to retrieve photos, video and audio files.