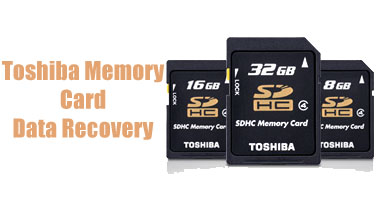 Get Back Lost/ Deleted or Corrupted Data such as Videos, Photos, Music and other Media Files From Toshiba Memory Card
Have you lost your data such as photos, videos, music and other media files from your Toshiba memory card? Well, if your answer is YES then do not worry at all because you can now easily retrieve such data using Toshiba Memory Card Recovery Software. Using this effective tool, you can easily:
Retrieve lost media files from Memory Card
Recover damaged photos, videos from corrupted or damaged memory card
Recovers data from External storage device and Hard Drive as well
Retrieve lost or corrupted data even from different memory card types such as SD card, SDHC card, SDXC card, CF card, etc
Get back deleted data from other memory card brands as well, for example, Sandisk, Transcend, Verbatim, Kingston, Kingmax, etc.
Retrieve Lost Data From Toshiba Memory Card



* Free version of the program only scans and previews recoverable objects.
Practical Scanerio
"I use 32GB Toshiba SDHC card on my digital camera to save recorded videos and images. However, today I used this SDHC card on couple of other devices after which it turned corrupt and stopped showing files saved in it. This card holds most of my precious pictures and some rare video clippings that I don't want to lose at any cost. Is there any possible way to recover files from Toshiba SDHC memory card? If yes, then please suggest some useful tips."
Toshiba is a brand and popular company and it manufacture several electronics gadgets. It also offers different memory cards such as SD, SDHC, SDXC, microSD & microSDHC and UHS ESCERIA cards. These all cards are used in different gadgets like in digital cameras, smartphone, PDAs, computers, home entertainment, audio players, video players, etc. But as mentioned above that data stored on your Toshiba card can be lost due intentional or unintentional deletion. There are other various reasons for the loss of data from memory card.
Reasons for data loss from Toshiba memory Card
Data loss from memory card is not a new thing. Many men already faced the situation and they have handled the situation. But when you lose your data from memory card, then you don't get any idea how to happen? However mentioned below are some of the common reasons which can lead to loss of files from memory card.
Because of malware intrusion or when data is saved on full memory card can be the reason for data loss
Due to accidentally formatting the memory card, there is a chance to lose your essential data
Unwanted deletion from Toshiba memory card during transfer of files or accidentally pressing the "Delete All" button
Because of improper handling of memory card can make your data loss and you can face the terrible situation
How to Recover Deleted Data From Toshiba memory Card
Are you looking for ways to get back your lost data from memory card? Don't worry as you can get the complete solution here.
When you lose your data then you should take preventive measures so that you can get back your deleted files from memory card. However one important thing to note is when you lose your data then avoid all write operations on your card. Stop using it completely so that you can have a chance to get back the deleted data.
Then go for backup files. If you have ever created a backup file then now is the time that you can utilize it. Backup files can really help you at critical situation and also one of the best way to restore your lost files. That is why it is always recommended to create a backup copy of all your files in safe place. But if you don't have any backup file then you should go for third party recovery software.
You can go for third party tool like Toshiba Memory Card Recovery software. This is one of the best and qualified program that can help you to recover all data you have lost from your memory card. It has the power to retrieve data which is deleted or damaged or formatted. It supports every brands memory card and easy to use without any original data loss.
You Might Also Be Interested In:
Steps to Recover Deleted Media Files from Toshiba Memory Card
Step 1 – Install "Toshiba Memory Card Recovery' tool and launch it. Click on "Recover Photo, Audio & Video" tab to recover images, songs and videos files from any SD card, external USB drive or computer hard drive. Connect the media to your computer and then perform the process.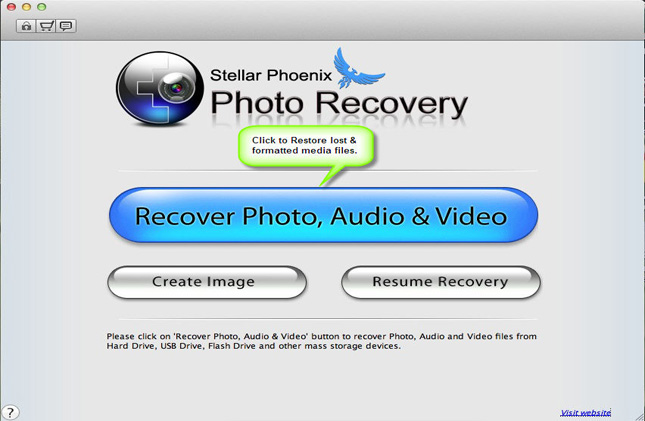 Step 2 – Select the drive from which you want to recover files. The external media will be shown in the list, if not then click on "Refresh Drive" button. Now select the desired drive to scan and then click on "Scan Now". If you want to customize the recovery on the basis of file types then click on "Advance Scan".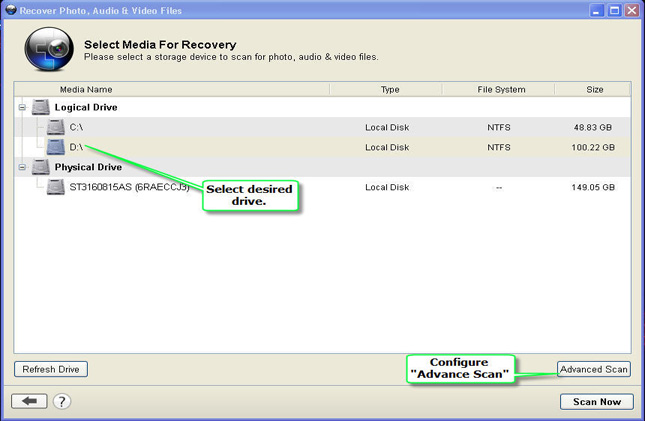 Step 3 – In the Advanced Scan you will have the option to scan as per to the file list, such as Photo, Video and audio or you can also select the data range from the storage device. This option reduces the scanning process time.
Step 4 – Once you click on "Scan Now" button the software will show that scanning is in process. The recovered files listed in a tree structure on the left side of the window panel.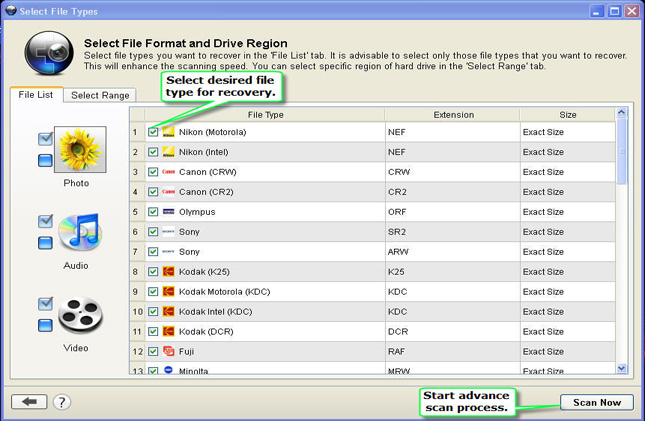 Step 5 – After scanning, you can select the files to preview them and then you can click on "Recover" button to finally save them on your computer.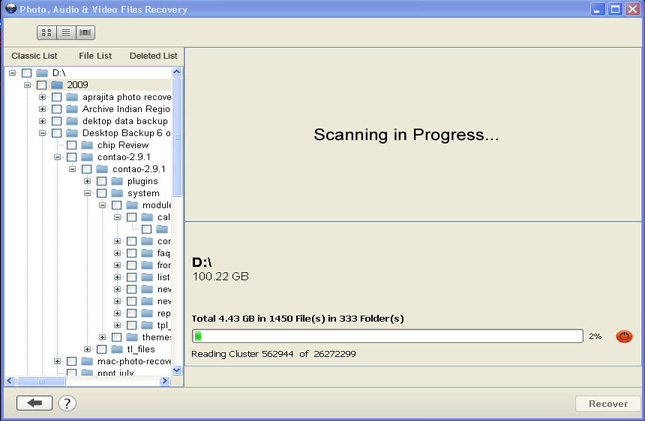 Step 6 – Select the desired location on your computer to save the recovered files. The screenshot shows that the recovered files are being saved.

Conclusion
All in whole it is recommended to take care of all your important data. Whether you save your crucial data on your memory card or USB drive or any other storage device, always be careful as data can be lost any time without any intimation. So better to know how to handle the situation so that whenever you come across such situation, you can easily fix the problem.
Summary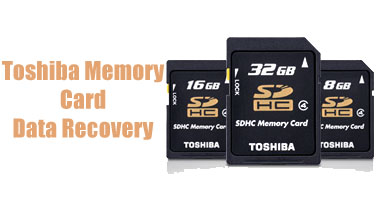 Article Name
Toshiba Memory Card Recovery on Windows/Mac
Description
Solution to get back your lost data from Toshiba memory card by using Toshiba memory card recovery software.
Author