Photography is becoming more and more popular these days. We often take pictures or shoot videos to capture our precious moments with the help of a powerful Canon digital camera. However, at times files stored in the Canon camera may get lost permanently because of the wrong usage of specified operations. So in this blog, I am going to discuss how you can perform Canon photo recovery in a simple step-by-step method to get back your cherished photos or beloved video clips that are lost permanently.
Let's get started…
To recover deleted photos from Canon camera, we recommend this tool:
This software will restore data from corrupted, formatted, encrypted storage media and works in all data loss situations. Now recover your lost and deleted data in 3 easy steps:
Download this Media File Recovery Tool rated Excellent on Pcmag.com.
Select the storage media from which you want to restore the media files & click Scan.
Preview the recoverable files, select the items you want to recover and click Recover to save the files at desired location.
Can You Retrieve Deleted Photos From Canon Camera?
It's a very common question that must strike your mind when you lose your precious stuff. The answer to this straight forward question is 'YES', you can retrieve deleted photos from Canon digital camera provided those files are not overwritten.
I am saying so because when you take a shoot with Canon camera, the pictures get stored on a memory card (like SD card, CF Card, SDHC card, MMC card, etc) inside the Canon. And when any photo or video is deleted or when the memory card is formatted, the files stored in it are not gone forever. Those files reside inside the memory card just their space is marked as free for other files to occupy.
That's the reason why it is advised not to use (take pictures) the affected memory card after accidental deletion or formatting. It is because if you continue to do so your lost photos or videos will be overwritten by new photos and you won't be able to recover those them back.
Is It Possible To Recover Photos From Canon DSLR That Are Clicked Without A Memory Card?
The answer is 'NO', you cannot recover photos from Canon DSLR that are clicked without a memory card because none of the DSLR cameras come with internal storage. And without storage, none of your clicked photos are stored to be produced later. So, before taking pictures always check if a memory card is properly installed on your digital camera.
What Is The Default Photo And Video File Formats Of The Canon Camera?
Default Photo File Format
JPEG is the default image file format of the Canon camera. It is a longtime standard file format for digital photos.
Default RAW Image File Format
The (CR2) Canon Raw version 2 is a raw camera format created by Canon digital cameras. CR2 files are typically used by professional photographers because they store higher quality images. The CRW image format is no longer used in the latest Canon digital cameras because it's been replaced by the CR2 format.
Default Video File Format
MOV video file is the default video file format of the Canon digital camera. MOV file format can easily be converted to MP4 video file format. Canon EOS 70D/80D/90D, Canon EOS Rebel T5, and Canon EOS 5D Mark III are the three best Canon models for shooting videos.
Best Way To Recover Deleted Photos From Canon Camera

Canon Photo Recovery software is the best & most appropriate photo recovery software that is specially designed to recover deleted or lost photos and videos from Canon camera cards. It retrieves both normal and RAW image file formats from Canon cameras like Canon EOS 50D/60D/5D/7D/Rebel T3/Rebel T3i, G1/SX30/SX150/A1200, IXUS 220/230/1100.
This powerful tool supports all memory card brands including Kingston, SanDisk, Samsung, PNY, Sony, Lexar, Transcend, etc. and types such as SD card, CF Card, SDHC card, MMC card, etc. It works on numerous data loss situations such as accidental deletion of photos and videos, if photos are inaccessible and corrupt, the memory card is formatted or is damaged, accidental pressing of DELETE ALL button and so on.
Why Choose This Photo Recover Software?
I am recommending this amazing tool because –
It recovers accidentally/unknowingly deleted photos from Canon camera.
It offers a preview of recovered files before the final recovery.
Apart from photos, it also recovers video and audio files in no time.
Available for both Windows & Mac operating systems.
100% safe, secure and really very easy to use.
You just need to download, install & run this software from the below-given buttons to recover photos and videos from Canon camera.
emid

emid


* Free version of the program only scans and previews recoverable items.
Supported Canon Camera Models & Recovery File Formats
| | |
| --- | --- |
| Photo Formats | JPEG/JPG, TIFF, GIF, BMP, PNG, PSD, PSP, and more. |
| RAW Image Formats | CRW, CR2, CIFF, etc. |
| Canon models | Canon EOS Rebel T6, Canon EOS 80D, Canon PowerShot G1 X Mark III, Canon EOS 6D Mark II, Canon EOS SL2, Canon EOS Rebel T6i, Canon PowerShot SX70 HS, Canon EOS Rebel T5i, Canon EOS 5D Mark IV, Canon EOS Rebel T7i. |
Here is the step by step guide that will guide you through to get all your lost photos and videos back using this recovery program.
Recover Photos From Canon Digital Camera Using Backup Option
If you've backed up the Canon camera photo to other computers or removable disk itself then it is good. I am saying so because you can restore photos from backup to the original drive by following the below-given steps:
First of all, you need to find and then open the Backup folder where your pictures are kept.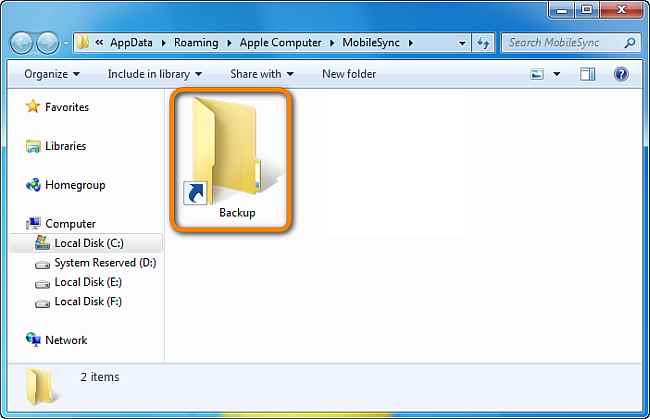 In the second step, just find the exact Canon photos which you have erased unintentionally from your camera.
In the last step, you have to just copy the pictures and store them to the digital camera SD card or other storage media.
After completing these steps you will easily recover deleted photos/videos from Canon EOS 80D in no time.
How To Recover Canon CR2, CRW & CIFF RAW Image Files?
In order to retrieve Canon RAW image files, you can follow the steps I discussed above. Either you can use powerful photo recovery software or can use the backup to restore your lost photos.
But if you are still confused and want to explore other alternative options of recovery then you must read Canon CR2/CRW file recovery.
How Do I Repair Corrupted/Damaged Canon Camera Photos?
Solution #1: Fix Corrupted Canon Photos With Photo Repair Tool
In order to repair damaged image files, you can use the photo repair tool. This tool has some special features that allow you to easily fix corrupted CRW files or other image formats like JPEG, TIFF, GIF, BMP, DNG, CR2, NEF, etc.
It has some other features like:
Completely trusted & available at affordable price
Preview the repaired files and save them in your preferred folder
100% safe and secure to use
The best part about this tool is that it is compatible with both the platforms which include Windows and Mac.
Solution #2: Repair Damaged JPEG by Hex Editor
Well, this solution is recommended only for the technically skilled users. The Hex Editor Program shows an image data in the binary form, like 0 and 1. However, you can easily change this data & repair corrupt JPEG or other image files. Just try these steps to resolve the corrupt photos issue.
First, open your file in the hex editor (HxD). Then confirm there is data in the file.
In this step, if a file merely consists of the zeros or the byte pattern (such as FF FF FF FF etc.), a file is a beyond repair.
Now, go to the Search > Find, then search for the FF DA trying HEX file type. But, if not get a file is beyond repair.
Next, search for the FF D9. If you have found, then choose an entire block from last FF DA to FF D9. After that, right-click & copy them.
Simply copy image file to new data. Then, open the new file and paste the file, then Save as "image.jpg".
After that, open the known good data which clicked with same camera, trying same resolution & orientation (portrait or landscape). Now, search for the FF DA trying the HEX file type.
Choose a block preceding FF DA bytes all the method to start the data (FF D8)
Go to the image.jpg file TAB containing data, ensure you're at offset 0 (zero) then simply paste Insert and Save your file. Finally, open & save it trying your photo editor to simply update a file thumbnail.
FAQ (Frequently Asked Questions)
Can I Recover Permanently Deleted Photos From Canon EOS?
Yes, of course, you can recover permanently deleted photos from Canon EOS camera using the Photo Recovery Tool that I already mentioned above. This tool is one of the ultimate options that you can try to recover permanently erased pictures/images from any storage or digital device, until and unless it is not overwritten with new files.
How Do I Transfer Photos From My Canon Camera To My PC?
You can easily transfer photos from Canon camera to computer, by following the steps below:
Firstly, turn your PC on.
Next, connect a cable to a USB port on the Canon camera.
Then, plug into the PC's USB port and then turn on your Canon camera.
After this, simply, open your media management software and choose a folder to get your pictures.
Select the destination folder which you can easily remember the location of. Now transfer photos from the Canon camera to that folder.
Lastly, turn off & disconnect the Canon camera.
Final Verdict
Photos as well as other data are important and can be deleted unintentionally. Hence, why suffer from such a situation? Better to make a backup of every media files which is crucial otherwise you can easily face a data loss situation.
In case you don't have a backup, then you must try the best Canon photo recovery software to recover deleted photos from Canon camera.
If you like this article don't forget to share it with your friends.
Alex is an expert technical writer with 7+ years of experience. His in-depth knowledge about data recovery and fascination to explore new DIY tools & technologies have helped many. Alex has a great interest in photography and loves to share photography tips and tricks with others.