How to repair encrypted JPG files? Read this troubleshooting guide till the end and learn the 4 best fixes to get rid of the issue.
Encrypting pictures is one of the best ways to keep privacy & prevent the personal photographs from unauthorized access. Just like any other photo file, encrypted JPG images might also get corrupted. Regardless of the reasons behind encrypted picture corruption, you can easily decrypt encrypted JPEG files by applying the fixes mentioned in this post.
To fix encrypted JPG photos, we recommend this tool:
This software will repair grainy, distorted, pixelated, blurry, greyed-out images and restores your prized memories effeciently. Now repair your corrupt or damaged photos in 3 easy steps:
Download this Photo Repair Tool rated Great on Pcmag.com.
Click Add File to add the photo you want to repair.
Select Repair to start the repair process and save the repaired image on the desired location after the repair is done.
Quick Navigation
1: What Causes The Encrypted JPEG/JPG Photo Corruption?
2: How To Repair Encrypted JPG Files?
3: How To Decrypt JPG Files In Windows PC?
What Causes The Encrypted JPEG/JPG Photo Corruption?
Before taking any action to fix this problem, let's know the common causes that can result in JPEG image file corruption:
Corrupt File System: 
Typically, a file system gets damaged or corrupt during the file (JPEG photo) saving process.
For example– While saving the .jpg image, your PC crashes down suddenly or power fails. Due to this your file system might corrupt. 
Interruption In the Data Transmission: 
Another foremost reason that can lead to encrypted photo corruption is interruption while the file transfer process. Once the file transferring process gets interrupted, it may either corrupt or delete. 
Bad Sectors Present On A Storage Media: 
Bad sectors can easily accumulate on the magnetic/optical disks & turn the data storage drive inaccessible. However, if bad sectors are present on your storage media then it can also lead to encrypted JPEG corruption. 
Due To Virus & Malware:
Sometimes, it may happen that the virus and malware affect the file or storage media badly. Due to which all your data saved within the data storage media can lead to file corruption issues.
Besides, a ransomware attack on a PC is a major reason which can encrypt & corrupt a JPG file header.
Now, it's time to troubleshoot encrypted JPG photos with below mentioned solutions.
How To Repair Encrypted JPG Files?
Try out the below methods and resolve the issue:
Solution 1: Fix Encrypted JPEG Pictures With Photo Repair Tool
Note: In order to decrypt the encrypted JPEG image file, you need an encrypted file password or encryption key. After that, you can try this tool to repair encrypted JPEG files.
Before trying any other complicated methods I would like to recommend you to go with the JPEG Photo Repair Tool. It has enough ability to fix corrupted JPEG files that are color damaged, distorted, greyed-out, etc.
This software is quite user-friendly & does not require any technical skills. Besides JPEG/JPG, it can repair other image files as well such as TIFF, GIF, CRW, NEF, RAF, BMP, etc. on HDDs, jump drives, AS, and memory cards.
The best thing about this utility is that you can easily repair encrypted JPEG files which are affected by ransomware in no time.
Key Features Of This JPEG Repair Tool:
Successfully repairs many encrypted JPEG files
Repairs blurry, pixelated, distorted & greyed-out pictures
Fixes invalid JPEG image file or header
Also, extracts the thumbnails of corrupt image files
Supported both the Windows & Mac OS.



* Free version of this program only previews repaired photos.
All you need to download this photo repair software on your Windows or Mac PC then follow the below steps to repair damaged photos.
Step 1: Download, install and launch Photo Repair Tool on your computer. Click on 'Add File' to repair corrupt/damaged image files.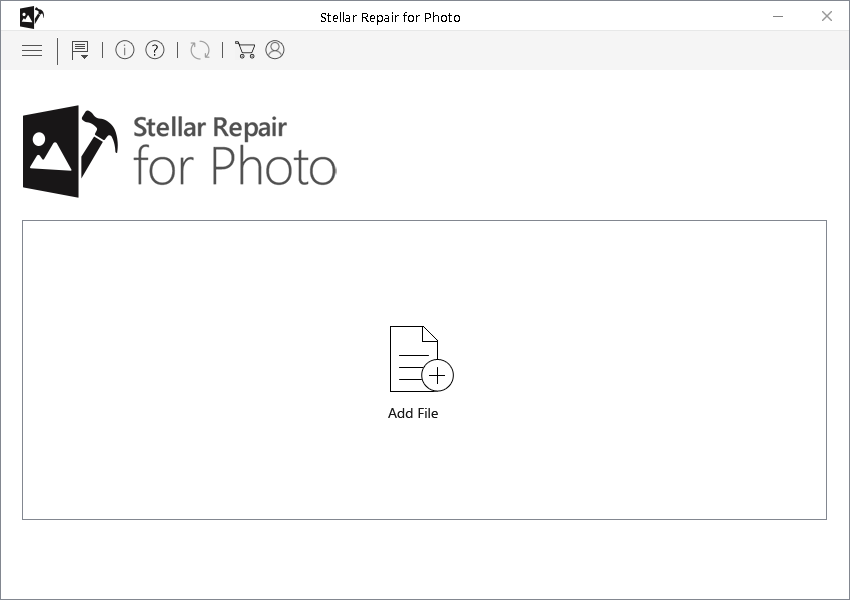 Step 2: You can then select the files for repairing. Next, click on 'Repair' to begin the repairing process.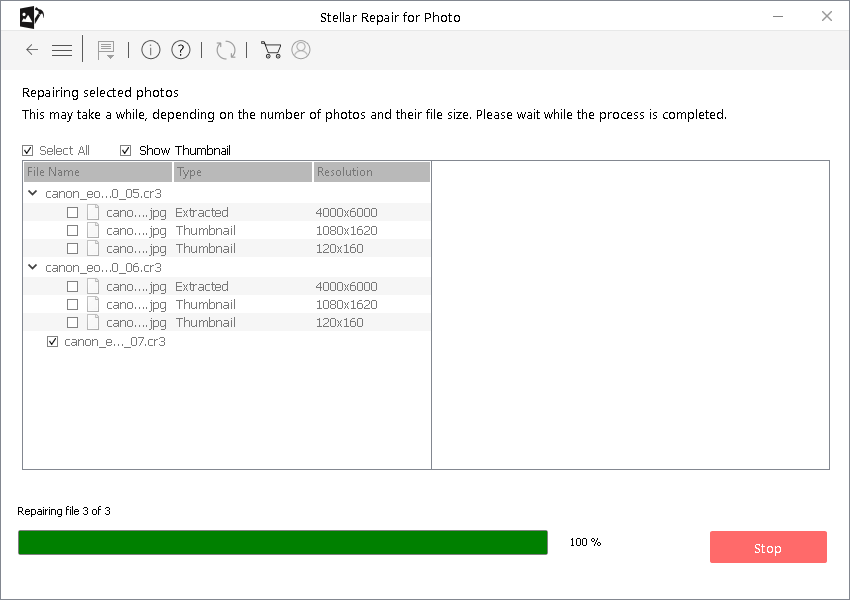 Step 3: Finally, click on 'Save' button to preview and save repaired images on your desired location on the computer.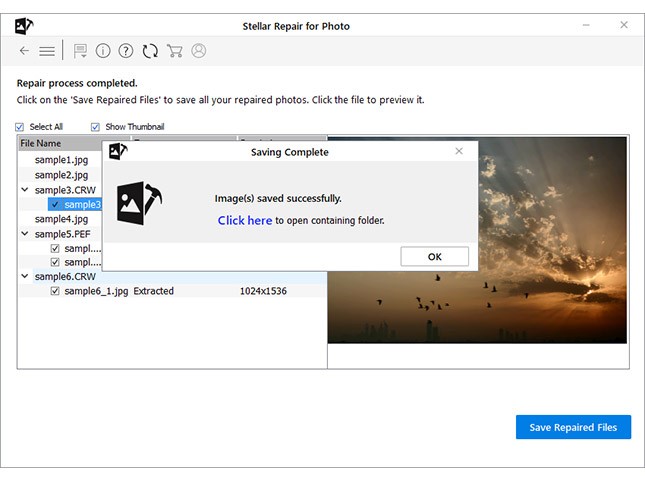 Solution 2: Use Photo Editors To Repair Encrypted JPG Files
If you have decrypted your encrypted .jpeg image file using a password or encryption key then you can fix grains photos or other distortions issues in an image using some photo editing programs.
For this, you need to open your encrypted file in a photo editor then enter the encryption key when asked. Once the file gets opened/ decrypted, fix a damaged JPG picture using its best features.
However, you can use Adobe Photoshop, Affinity Photo, Lightroom, and more.
Solution 3: Recover Encrypted JPEG Files From Backup
Another best way that you can try to repair and recover encrypted JPEG files is the backup option. If you have ever created a backup of your essential pictures in SD card, OneDrive, USB drive, etc. before encryption then you can easily restore them from a backup folder and can view them.
If you don't have backup then try the next method.
Solution 4: Use Online Encrypted Photo Repair Tool
If none of the above solutions work then you can go for any online photo repair tool to repair encrypted JPG files.
There are numerous online programs available for repairing corrupt or damaged photos that throw different errors or can't be opened.
Just open any online software in your web browser. After this, upload a corrupted JPG file & follow the instructions accordingly.
How To Decrypt JPG Files In Windows PC?
If you want to decrypt encrypted JPEG files in Windows PC then follow the below-given steps very carefully:
At first, make right-click on the file you need to decrypt.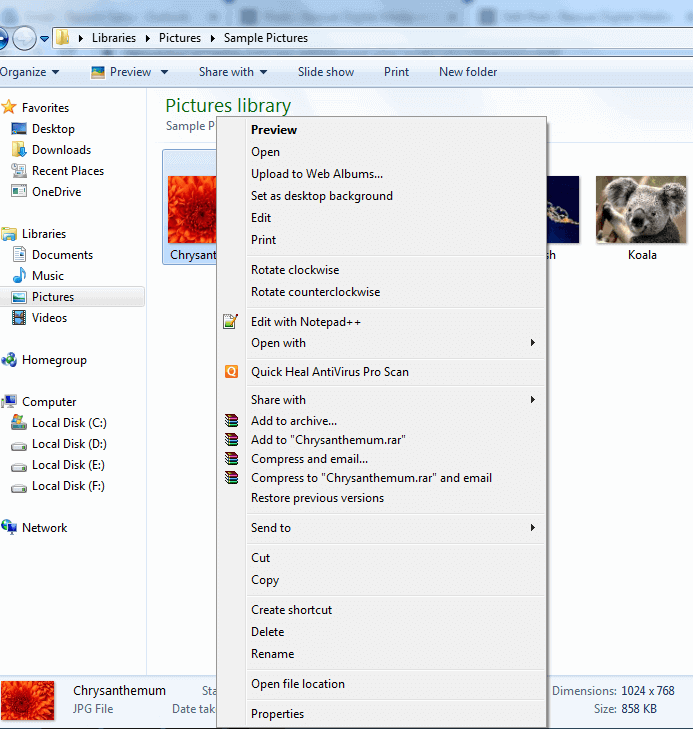 In the second step, click on the Properties then General tab option
Now, tap on an Advanced.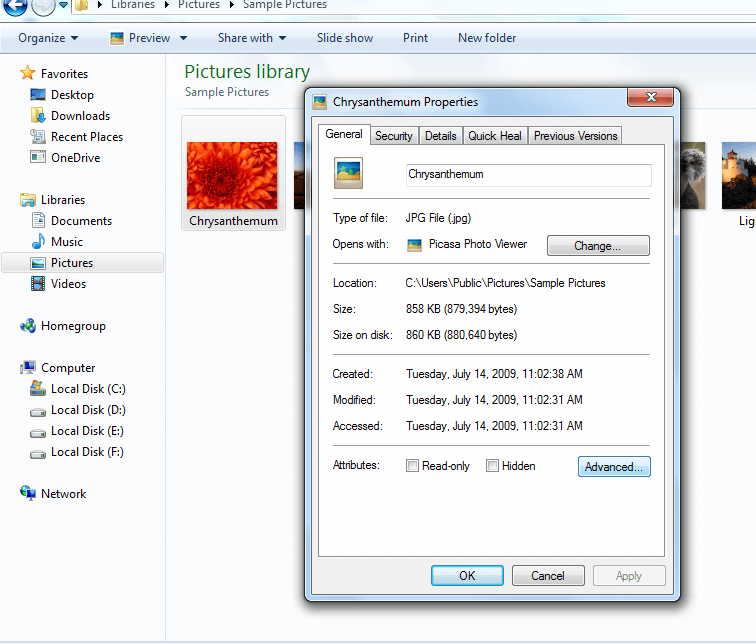 Here you will see a checkbox 'Encrypt Contents To Secure Data', simply uncheck this checkbox.
Click OK.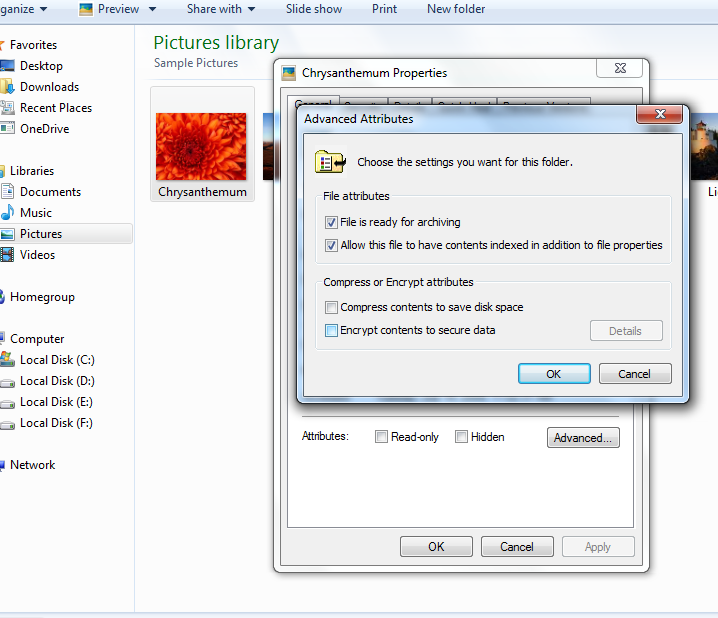 Frequently Asked Questions:
How Do I Decrypt Encrypted JPEG Files And Fix Them?
Before fixing corrupted or encrypted JPG photos, it is important to decrypt the encrypted JPEG file first. To do so, it's required to have the recovery key or file password and then fix the file with the best Photo Repair Tool mentioned above. However, if you don't have the recovery key or file password then you won't be able to decrypt and repair your JPEG file anymore.
Can Encrypted Files Be Recovered?
Yes, the encrypted files can be easily recovered by using any best data recovery software such as stellar data recovery, EaseUS data recovery, etc. These programs can scan your preferred storage media to recover encrypted files in a hassle-free manner.
How Do I Remove Encryption From A JPEG File On Windows?
In order to remove the encryption from a JPG/JPG file, you need to right-click on the file you need to decrypt. Next, click on Properties >> General tab option >> Advanced. There you can see a checkbox 'Encrypt Contents To Secure Data', simply uncheck it and click OK.
Can An Encrypted File Be Opened Again?
Yes, you can open the encrypted file only if you have an encrypted file password. In case you don't have a password or file recovery key then you can't open and view your encrypted file anymore.
How Do I Recover Encrypted JPEG Files On Android?
You can recover encrypted JPEG files on Android phone via File Manager Google Photos, or Google Drive.
Bottom Line
Now, it's time to end up…
As I have already mentioned above before applying the above fixes to repair encrypted JPG files, you need to first decrypt encrypted JPEG files.
Once your JPG/JPEG image file gets decrypted using a password, you can either go with the manual or automatic way that is Photo Repair Tool to repair and recover JPEG/JPG files.
Hopefully, you liked this post.

Taposhi is an expert technical writer with 5+ years of experience. Her in-depth knowledge about data recovery and fascination to explore new DIY tools & technologies have helped many. She has a great interest in photography and loves to share photography tips and tricks with others.