Check out this post and learn how to fix USB flash drive no media with ease
There are several errors that we encounter while working on external storage devices like USB flash drives, Pendrive, memory cards, etc. One such error message that users are currently experiencing is "There Is No Media In The Device" when connecting their USB drive to a PC.
When a USB no media error message occurs then you won't be able to access the data stored within your external devices. But need not worry, as there are plenty of methods that can assist you to troubleshoot "USB flash drive showing no media". And all the solutions are specified in this article.
You can repair USB flash drive no media error by repairing the drive with chkdsk, running the Error Checking utility, changing the USB drive letter, etc.
However, while solving USB drive no media error, if you find yourself in a USB data loss situation, try Hard Drive Data Recovery Tool to bring them back successfully.
Rated Excellent on

Trustpilot
Free Hard Drive Recovery Tool.
Recover data from USB drives, Pendrives, SSDs, HDDs, and other devices on Windows. Try now!
How Do You Fix USB Drive Showing No Media?
An "USB flash drive showing no media error" message can be easily fixed by trying the below given solutions. Just try them to fix USB no media 0 bytes error in a hassle-free manner.
Fix #1: Check The USB Port
To fix USB shows no media, it is suggested that firstly, you have to check if the USB port that you connected works well or not. You could check by connecting some another USB drive to the system, or connecting the USB drive via another USB port.
Also Read: Fix 'USB Drive Detected But Not Accessible' Issue
Fix #2: Scan & Repair USB No Media Error In Windows Explorer
This one is another method that you can try once if the problem still persists after trying the above solution. You can easily solve this issue by scan and repair the error in Windows Explorer.
Step 1. Firstly, in the Windows File Explorer, get the No Media USB Drive partition and then right clicked on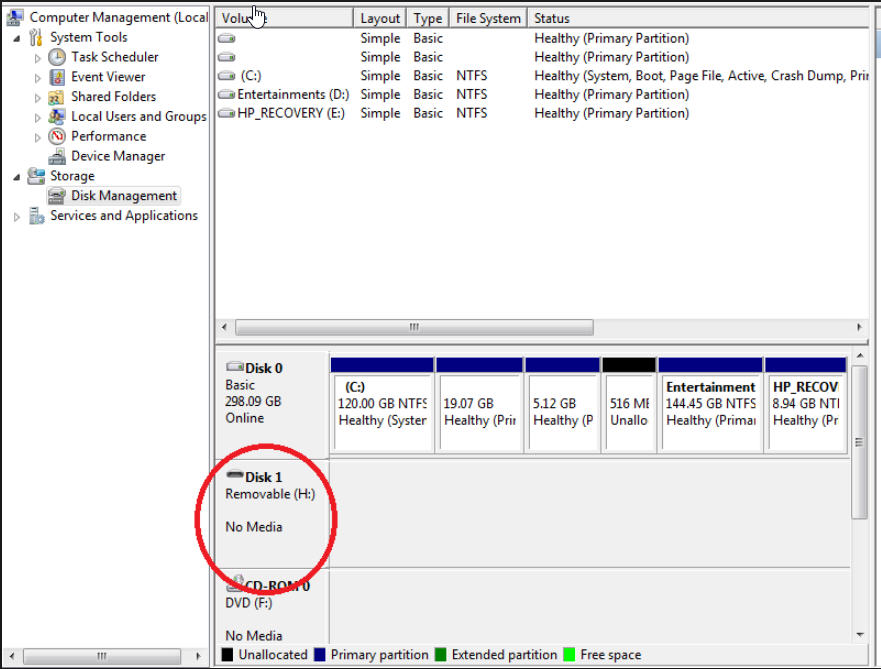 Step 2. Next, you have to select the Properties and then go to Tools
Step 3. After doing so, you will get the Check button clicked on under the Error Checking
Step 4. Now, A window will open requesting whether you want to Repair the drive after scanning it. Select the Scan and Repair Drive to complete the process.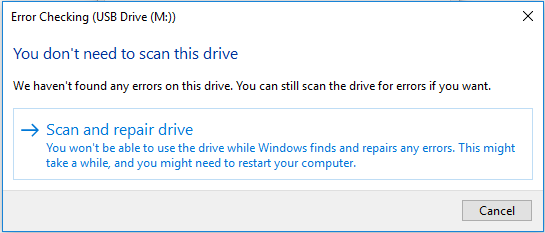 Fix #3: Enable The USB in Device Manager
After trying the above two ways, if you are not able to fix no media USB problem, then you can try this method. By enabling your USB in the Device manager, you can do so. For this, follow the below steps:
First of all, right-click on Windows icon and then choose the Device Manager.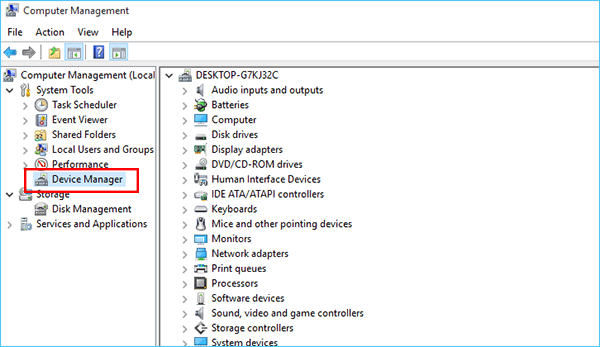 Then, find your USB flash under Universal Serial Bus Controller with the name of USB Mass Storage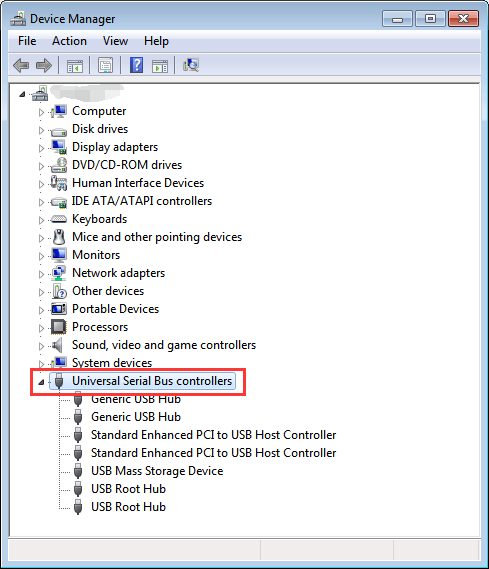 Next, if it's marked with a red mark or an arrow mark, simply right-click on
After that, you need to choose the option Enable.
You can keep on checking the Disk Drives in Device Manager to make sure that all drives are enabled as well.
Fix #4: Uninstall The Disk Driver in A Device Manager
You can also uninstall the disk driver, to resolve no media in USB problem. To do so, you have to just follow the below instructions:
You need to press Win + X keys to load the power user menu
After this, click on the Device Manager
Then, choose the Show Hidden Devices option under the View tab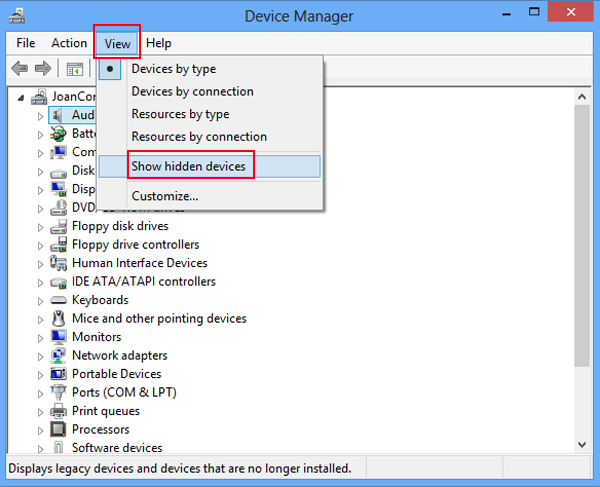 Now, expand the Disk Drivers and find any greyed out ones, right-click on them and choose Uninstall.
Lastly, restart the PC and reconnect your USB drive to check if the error is fixed.
Also Read: USB Device Not Recognized – Error Code 43 [Fixed]
Fix #5: Troubleshoot Hardware Issue
Well, there is a chance it could be a hardware issue. Simply, connect the USB drive and then run the hardware troubleshooter by following these steps:
Firstly, press the Windows + X keys together and click the Control panel
Then, change the view to small icons
Now, go to Troubleshooting > Hardware & Sound > Configure a device
If there are any hardware-related issues, this method will fix it for you.
Fix #6: Change The USB Drive Letter
Simply, follow the below-mentioned steps to fix USB flash drive no media by changing the USB drive letter:
Run the diskmgmt.msc to load Disk Management from Windows Start menu.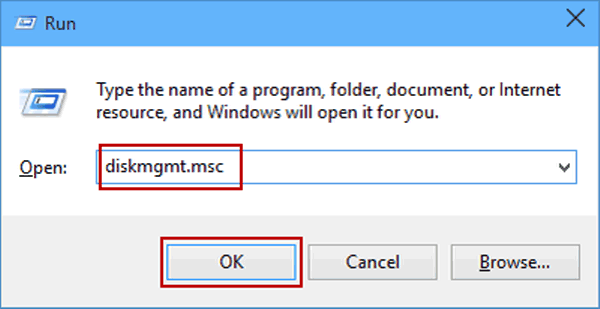 Next, right-click on the USB flash drive which shows no media there
Then, choose the option Change Drive Letter and Paths
Now, click on Change in the next pop-up window to set a new drive letter to the USB flash drive.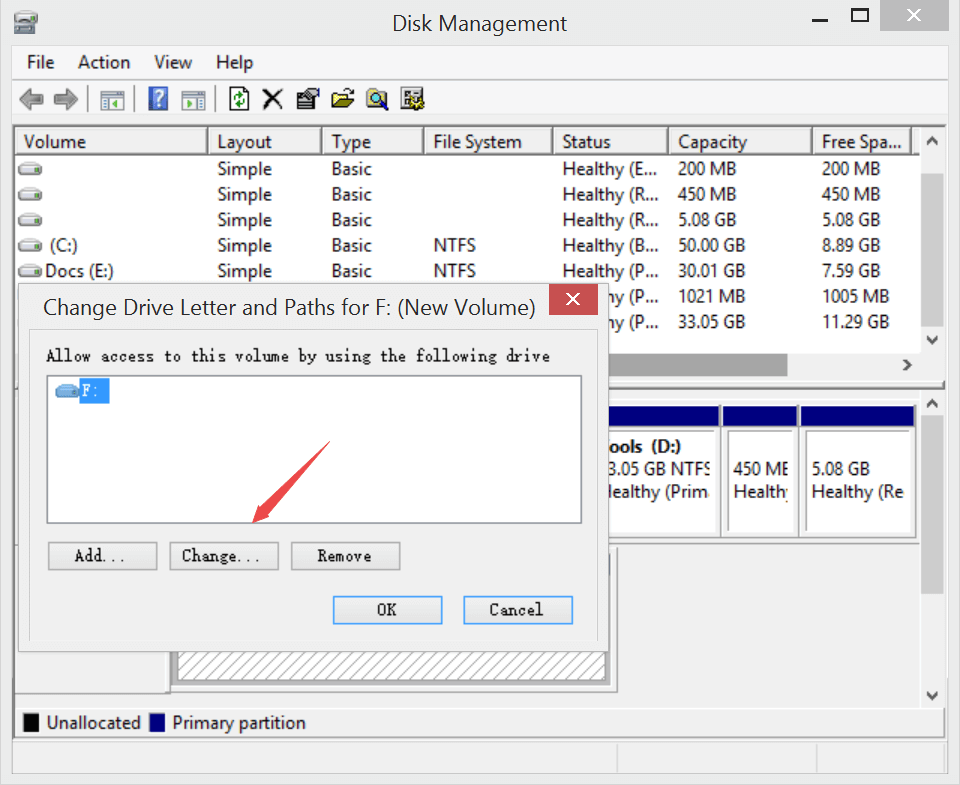 Finally, click the OK to finish the process.
After changing the USB drive letter, you have to try the next USB no media fix Windows 10 ways…
Fix #7: Run The CHKDSK to Resolve USB Errors
Run the chkdsk command and fix the USB flash drive no media issue easily.
Step 1. In the start menu, run the Command Prompt as Administrator and allow its changes to the computer.
Step 2. Under the Command prompt window, then type chkdsk M: /R and hit Enter. (Replace M: with the drive letter of your own USB flash drive.)
Step 3. After doing so, check if it shows up as a regular storage device on your PC or not when the progress is finished.
If the problem is still there, continue with the next solutions on how to fix no media USB problem.
Also Read: 5 Working Methods To Fix USB Delayed Write Failed Error
Fix #8: Use Diskpart to Assign The Drive Letter
To assign the drive letter of USB using Diskpart and fix USB flash drive problem no media, just follow the steps given below:
First of all, click the Start
Then, type Diskpart in the search box
Now, right-click the Diskpart from the search results and then, choose the option Run as administrator
After that, type the list volume and hit the Enter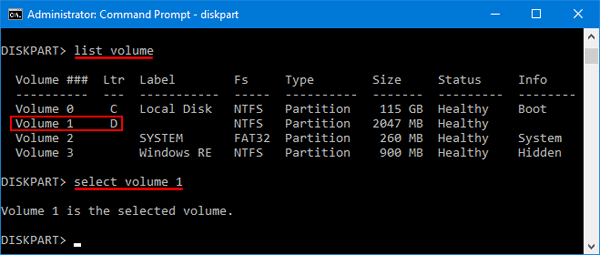 Next, you should be able to see your external hard drive among others now
Just, type select volume 1(replace 1 with the volume number assigned to your drive in the list)
Again, type assign letter T(replace T with your choice of letter)
After completing all these steps, close the Diskpart and check if the computer recognizes your USB drive.
Fix #9: Reconnect The USB to PC To Fix USB Flash Drive No Media
Well, you can also try this method to solve no media USB error that is reconnect the USB flash to system. To do so, try the below steps:
For Windows 10/8 users:
Press the Windows + X keys together and then click Command Prompt (Admin).
Now, click the View and choose the Show Hidden Devices, expand all entries by double-clicking them.
Find the greyed out devices and then right-click on them, select Uninstall.
After this, restart your computer.
For Windows 7 users:
You need to first, click the Start and type in cmd and hit Enter
After that, type: set devmgr_show_nonpresent_devices=1 and press Enter.
Next, type: cd\ and then hit the Enter.
Again type: cd windows\system32 and press Enter.
Type: start devmgmt.msc and hit Enter.
Now, click the View and then choose the option Show hidden devices, expand all entries and double-click on them.
Locate all greyed out entries, right-click on each one of them and select Uninstall.
Finally, restart your system.
Fix #10: Check the Power Source
Sometime, when the USB port on your PC fails to provide enough power for the USB drive or external hard drive, then the drive can't be recognized with No Media error.
Therefore, check the power requirement of the drive enclosure or adapter. And you can also try to plug the drive to the rear USB port, which is soldered to the motherboard and tends to deliver more power, on the computer.
How Do You Recover Files from USB Drive No Media?
In case, if you ever find that you have lost all the data from USB drive while fixing USB flash drive problem no media error then stop worrying right there. I am saying so because with the help of the USB Drive Data Recovery Tool, you will be able to recover data from USB drive. This tool has the capability to recover media files from USB drives or other external hard drives.
It recovers deleted media files of all file formats of images, videos, and audio files.
This is the best option you can try for USB flash drive data recovery on Windows as well as Mac systems. Below you can download and install this software and recover deleted data from it with ease.



* Free version of the program only scans and previews recoverable objects.
Here is the step-by-step guide you can follow to recover lost media files from USB drive.
Why Does My USB Say No Media?
Your USB flash drive says no media because of the below-listed scenarios:
Bad or loose connection: It is possible that the port of your USB drive gets bad or loose.
Physical damage: Due to physical damage to the storage device showing no media
No media inserted: You will definitely encounter this problem if you insert the SD card without media.
Insufficient power supply from the USB port: Inserting multiple USB drives at a time may cause USB drive no media issue. As for this situation, you need to check if you are overloading the USB ports with power-hungry devices.
The USB drive was improperly removed: The files saved on the USB drive will get damaged including the MBR or PBR without ejecting safely from a computer.
Failing USB flash drive: If the flash memory fails to communicate with the NAND flash memory, no media error also appears.
Frequently Asked Question:
What Means Pen Drive Showing No Media?
Pendrive or USB drive 'No Media' error simply means that the flash memory controller can't communicate with a NAND flash memory of your drive. That's why the drive is showing no media error and restricts you from accessing the data saved within it.
How Do I Fix USB Flash Drive Shows No Media And 0 Bytes Free Space In Computer?
If you want to fix USB flash drive shows no media and 0 bytes free space in a computer, try the below tricks:
Check The USB Port
Reconnect The USB to PC
Scan & Repair USB No Media Error Using Error Checking Tool
Enable The USB in Device Manager
Troubleshoot hardware issue
Use Diskpart to Assign The Drive Letter
Uninstall The Disk Driver in Device Manager
Change The USB Drive Letter
Run The CHKDSK to Resolve USB Errors
How Do I Fix No Media In Diskpart?
In order to fix no media error in Diskpart CMD, follow the below steps:
Press the Windows + R keys to open the run box then type 'diskpart' and hit enter.
Type the 'list disk'
Enter the 'select disk *' (there should be space between the disk and *, * also replaced by the disk number like disk 1 or disk 2 that your drive shows in a diskpart cmd)
After this, type 'chkdsk/f/r' command and hit enter. Now, the diskpart will start fixing the found errors and issues for your hard disk.
Final Words
As you know, there are numerous reasons that would cause a malfunctioning USB flash drive, including some physical damage. And I think that after reading this specific blog, you can resolve how to fix unreadable USB no media or USB no media fix Windows 10 issue easily.
 In the above section of this blog, I have listed the most effective troubleshooting ways on how to fix USB drive no media. All the aforementioned methods will definitely be going to help you out to fix USB flash drive no media with ease.
However, while trying these solutions, if you ever lose data from USB drive then you can try USB Drive Data Recovery Tool. This tool will help you restore lost media files from USB drive in easy ways.
Alex is an expert technical writer with 7+ years of experience. His in-depth knowledge about data recovery and fascination to explore new DIY tools & technologies have helped many. Alex has a great interest in photography and loves to share photography tips and tricks with others.