Summary: If you are eager to know how to fix pen drive show empty even when data exists then check out this post and outcome this issue easily.
Pen drive is a small portable device, it comes in different storage capacities such as 16GB, 32GB, 64GB, 128GB, 256GB, 512GB, etc. As we all know, the pen drive is very useful as it has the capability to store large amounts of pictures, videos, music, movies, and other data and files.
But recently when I have done some research over the community websites then I found that there are several pen drive users who're facing the "Pen drive is full but shows empty" error. And now, they are constantly looking for some proven solutions to tackle this problem.
Therefore, I've decided to write an article on how to fix pen drive show empty even when data exists or how to fix hard drive showing 0 bytes.
Thus, if you are one of them who are also going the Pendrive showing empty problem then apply the below solutions one by one to get rid of it. Besides, if somehow your pen drive data gets deleted, you can try the best Hard Drive Recovery Tool to retrieve them in a few simple clicks.
Rated Excellent on

Trustpilot
Free Hard Drive Recovery Tool.
Recover data from USB drives, Pendrives, SSDs, HDDs, and other devices on Windows. Try now!
Why Pen Drive Is Showing Empty Or Displaying 0 Bytes Error?
Well, there could be several aspects which could be causing this problem.
However, the most common causes of this issue are a virus or malware attack. Maybe your pen drive got infected with some unknown virus. If it is then it not only infects your files but also makes them hidden. It creates empty shortcut files and folders that lead to nowhere.
Apart from virus infection, there are some other causes as well that can result in Pendrive is full but showing empty issues. They are as follows:
Drive is corrupted or damaged.
Files are deleted or hidden on the pen drive.
Bad sectors are present in the hard drive.
Pen drive is incorrectly inserted or ejected from your PC.
File system errors.
So, now you must be thinking- How Do I Fix Pen Drive Showing Empty Although It Has Data, Right?
Well, just scroll down this page to know your answer!
How To Fix Pen Drive Show Empty Even When Data Exists Error?
Follow the below solutions to solve Pen drive show empty even when data exists error although it has data.
Solution 1: Connect Your Pen Drive Showing Empty When Full To Another PC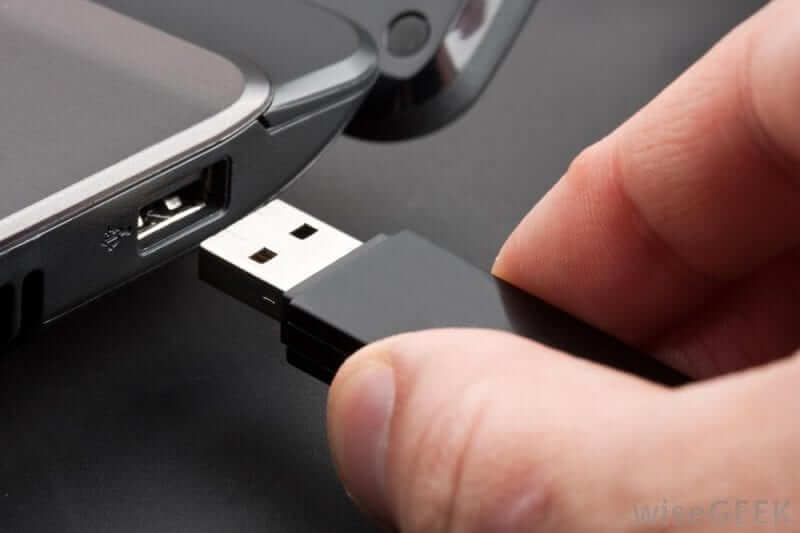 The first method I would like to recommend you to deal with this error is to connect your pen drive to another PC and check data.
All you need to connect your faulty external drive that shows empty to another computer and see if you are able to access data saved within it. However, if you can access it now, it means there was an issue with your previous PC not in a pen drive.
But if it shows the same error, then follow the next solution.
Solution 2: Unhide Files And Folders Of Pen Drive Showing Empty Space
The next step that you need to do is to check whether your files & folders have been hidden or not:
Connect your pen drive to the PC.
Open File Explorer.
Go to Tools > Folder Options > View Tab > Check Mark "Show Hidden Files"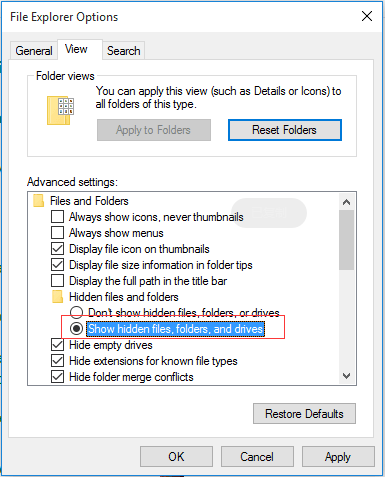 Now, check if you are able to access the files and folders of your pen drive. If not then try the next solution to resolve USB shows empty but is full.
Solution 3: Run CMD Command To Fix Pen Drive Show Empty Even When Data Exists
With the help of the Windows CMD command, you could try to troubleshoot SD card shows 0 bytes or pen drive full but showing empty issues.
Follow the below steps to fix this problem and make your drive accessible again:
Connect your pen drive to the PC.
Click Start and type "CMD" in the search program and files search bar
Then hit the ENTER. Now enter the following command: attrib -h -r -s /s /d h:\*.* and hit ENTER.

Note – h: is the drive letter name of the pen drive. So, you need to replace "h" with your pen drive letter name.
A window will take a few minutes of time to fix the issue and after that, you will be successfully able to access data and information that is saved within the files and folders in your pen drive.
Solution 4: Scan Pen Drive With Anti-Virus Program
Another step that you must take is to scan your pen drive with a reliable anti-virus program that shows empty or 0 bytes space.
There are several antivirus programs available online such as Bitdefender, AVG, Kaspersky, ESET, Norton, and so on.
Scan your pen drive thoroughly and if the antivirus program detects any virus or malware then delete them. After that, check your pen and see if you are able to access the files and folders stored within it.
Solution 5: Check For Pen Drive Errors
Running error checking utility is another effective way that assists to tackle numerous hard drive issues like- USB drive detected but not accessible, the disk is write-protected, and more.
So, here you can also use this utility to fix Pendrive showing empty issue. To use this, follow the beneath steps:
Go to "My Computer/This PC" from the desktop's home screen.
Choose the Pendrive or USB says empty but it's full.
Make right-tap on it >> go to "Properties" >> "Tools"
After this, under the section, tap on the "Check" button.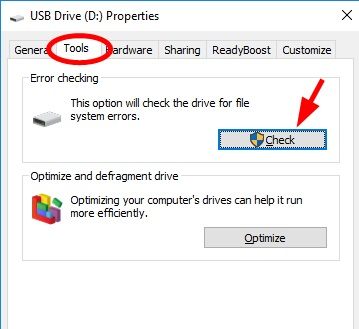 Now, you'll get two options "Automatically Fix File System Errors" and "Scan for and Attempt Recovery of Bad Sector".
Select any one of them >> click "Start".
After finishing these steps, you should find & repair the errors in your Pendrive.
Solution 6: Assign The New Drive Letter
Most of the time, hardware and software problems may also lead to such sorts of errors like Pendrive showing empty.
In such a case, assigning the new drive letter can assist you to troubleshoot the issue without any hassle. Here is how you can assign the new drive letter of your external hard drive.
Step 1: Firstly, reinsert your Pendrive to PC >> then go to 'My Computer' >> tap on 'Manage' option.
Step 2: Here, you'll get different options in the Computer Management. But you have to choose 'Disk Management' option.
Step 3: Then, you need to locate your drive & make a right-tap on it. Choose the 'Change Drive Letters and Paths' option.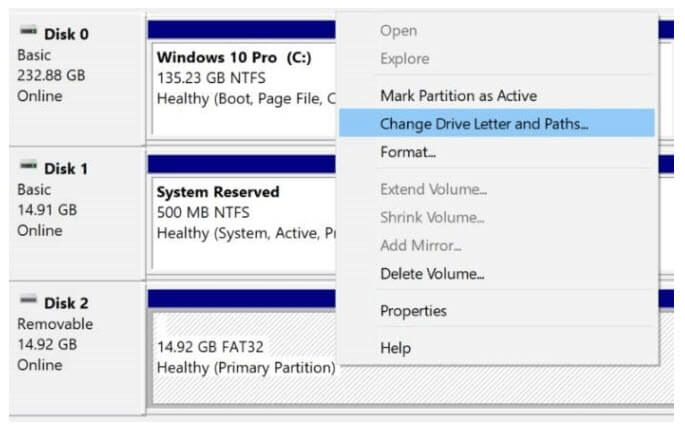 Step 4: At this time, you'll be requested to select the drive letter/Path.
Step 5: Just select your pen drive letter & click on 'Ok' button.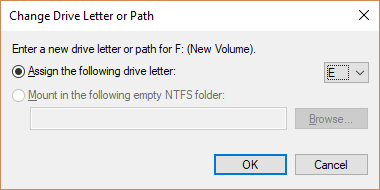 Solution 7: Format Your External Hard Drive
If none of the above techniques work for you to get rid of pen drive show empty even when data exists then the last option left for you is to format your Pendrive.
This approach will remove all the data stored within the drive your data and will make it usable again.
Note: Before you start the steps of this method, you are highly recommended to take a backup of your crucial data that is saved on your hard drive.
First of all, connect the Pendrive/USB Drive to the PC.
From a home screen, go to "This PC".
Locate your drive and make right-tap on it >> choose "Format" option from a popup menu.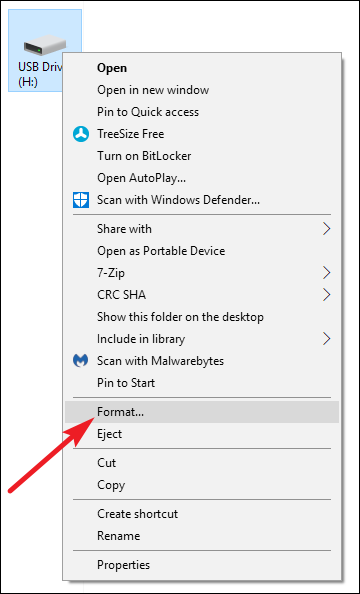 Now, you have to choose the file system – NTFS and also ensure to tick the Quick Format checkbox option
Lastly, click on the "Start".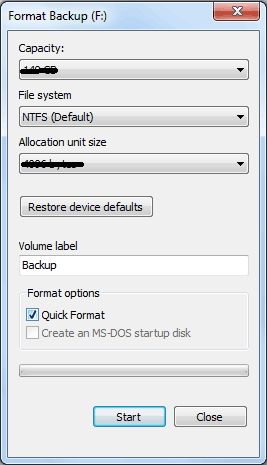 Is It Possible To Recover Data From Pen Drive Showing Empty Or 0 Bytes?
Though it seems that there is permanent loss of data, let me tell you – No, it is actually not, until and unless you format your pen drive. Hence, it is suggested that in such a situation you never format your pen drive as well as do not try to add any new data on it.
Let me tell you that when your USB pen drive shows empty even when it has lots of data or information within folders and files, it doesn't mean that it has gone forever. The data still lies within it. You just need to apply the right solutions to recover data from a pen drive showing empty but although it has data.
Now, the question arises – how to recover files, if deleted by mistake while fixing Pen drive show empty issue?
[Expert Solution]: Recover Files From Pen Drive That Show Empty Even When Data Exists
While fixing the error "USB drive showing empty", if you found that all your essential data have been deleted, then it is highly recommended that you must try the Pen Drive Data Recovery tool. It will surely help you to recover media files from Pendrive folder shows empty. It is available for both Windows and Mac computers.
This software will help you to:
Retrieve inaccessible media files from pen drive that display empty but is full or show 0 bytes error message.
Extract photos, video, and audio files.
Besides, the pen drive, the software also recovers media files from memory cards, USB flash drives, a hard drives that pen drive shows no media.
100% read-only program. Safe, secure, and easy to use.
Supports on both Windows & Mac OS.



* Free version of the program only scans and previews recoverable objects.
This is suitable 0 bytes pen drive data recovery software that will help you to recover media files from pen drive detected but not showing data or from pen drive that shows empty even when data exists.
Besides Pendrive, the software also recovers shortcut files or hidden files from USB pen drive, hard drive, or USB flash drive that pen drive showing empty in windows 7.
Note: This software will only help you to recover almost all file formats of photos, videos and audio-only.
Steps To Recover Data From Pen Drive Showing Empty Even When Data Exists
Step 1: Select Desired Location
Firstly, select the drive, external media or volume from which you want to recover deleted media files. After selecting, click on 'Scan'.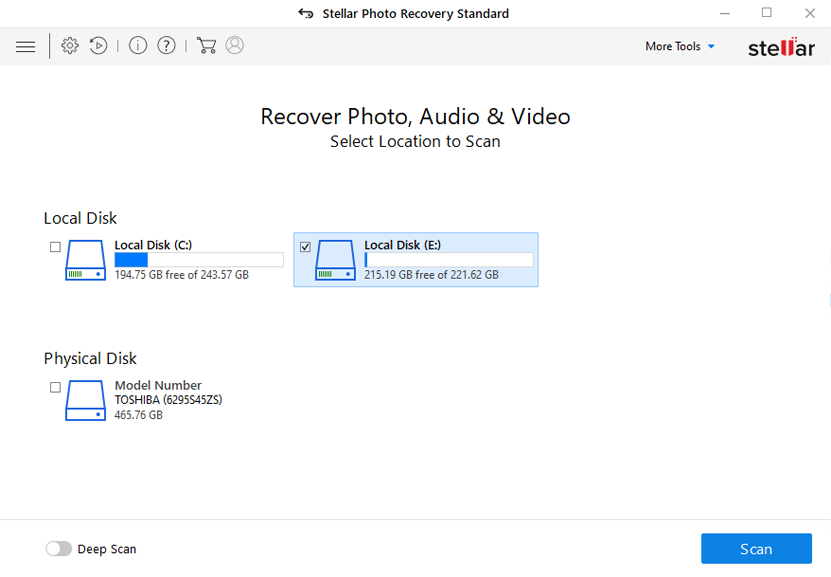 Step 2: Preview Recovered Media Files
Next, you can preview the recoverable media files after the scanning process is completed.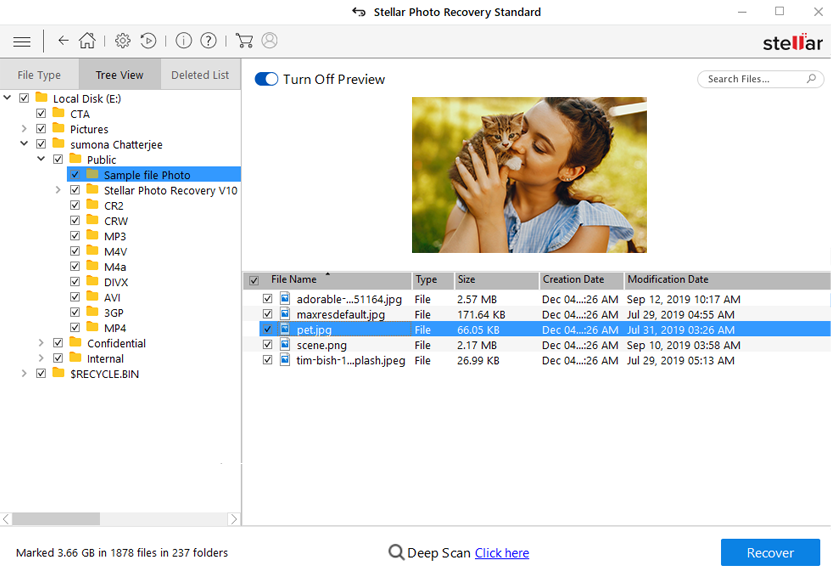 Step 3: Recover Media Files
Lastly, you can select the images, audio, video files you want to restore and click on 'Recover' option to save them at the location you want.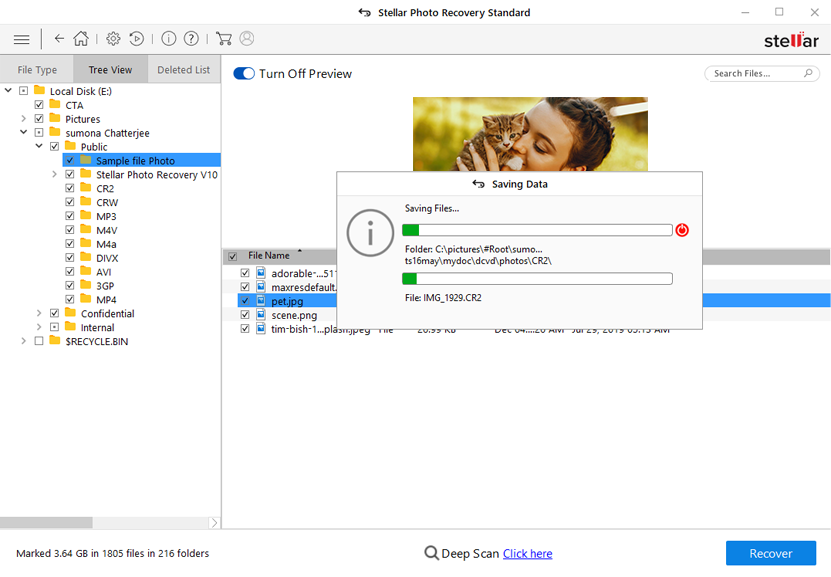 Tips To Follow To Avoid Pen Drive Data
Each and every time use the "Safely Remove/Eject" option when you remove your pen drive from your computer.
Each and every time scan your pen drive with antivirus when you connect your pen drive to any other computer.
Never connect your pen drive to the virus-infected or compromised computer.
Final Verdict
All the above fixes are so effective and easy to use for anyone to resolve Pen drive show empty even when data exists issue.
Thus, I hope after trying the given solutions you will be able to fix the USB drive showing empty even when data exists and access data on it with ease.
Apart from this, in case, while fixing Pendrive showing empty issue, if you found that all essential data have been deleted, then try the Pen Drive Data Recovery software to recover data from the pen drive.
Hopefully, you've found this post helpful to you.
That's all…
Alex is an expert technical writer with 7+ years of experience. His in-depth knowledge about data recovery and fascination to explore new DIY tools & technologies have helped many. Alex has a great interest in photography and loves to share photography tips and tricks with others.