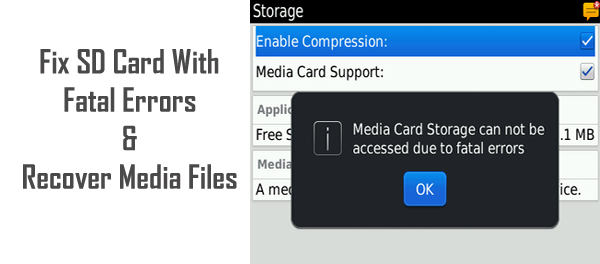 Have you ever encounter with error message "Media card storage cannot be accessed due to fatal errors"? Are you looking for a solution to fix SD card fatal errors and recover media files from it? If "Yes" then you have landed on the right webpage. Here in this post you are going to learn about fixing SD card with fatal errors and retrieve photos, videos and audio files from it.
The recommended method to get back media files from SD card with fatal error is to make use of Digital Media Recovery Tool. With the help of this tool, one can:
Restore lost, missing, formatted, corrupted, inaccessible photos, videos and audio files from memory cards throwing fatal errors
Restore files from card showing different error messages such as "memory card is full", "memory card formatting error", "memory card is unreadable" and so on
Also rescue media files from digital cameras, camcorders, smartphones, hard drive, USB flash drives and other data storage devices
Preview recoverable media files within software before you proceed further to recover & save them on your PC
100% safe and secure and easy to operate
Effectively Fix SD Card Fatal Errors & Retrieve Files



* Free version of the program only scans and previews recoverable objects.
As we know that Micro SD card is memory card that is used widely in different gadgets to store data like pictures, videos, music, movies and other important files. In comparison to memory size there are several Micro SD card is available in the market such as 2GB, 4GB, 8GB, 16GB, 32GB, 64GB, 128GB and even 256GB. These cards are used in smartphones, digital cameras/camcorders, video player, music player and other several devices.
But there are various situations where users face different SD card fatal error messages and thereby they are not able to access stored data on it.  Such kind of card error message is mostly noticed by users who are using Blackberry phones. Below, find the real example of such issue.
Real Example
"One day when I connected my Blackberry Bold 990 with my PC, at first my PC was not able to detect my phone, but later it did. And thereafter, the SD card inserted within it has stopped working and display error message "Media card storage cannot be accessed due to fatal errors". I have tried several solutions to fix it such as I removed the card and reinsert it, removed battery and reinsert it, formatted and repair card within the device, but with no success. I have inserted the card into card reader and connected it with PC and Mac, but got no result. I need the files stored within it. Is there any way to avoid SD card fatal errors and get back access to files stored within it?"
Yes, of course there is a way through which you can fix above mentioned error message, but before we come to the solution let us know about reasons that lead to this memory card fatal errors and what are those error messages.
Reasons That Leads to SD Card Fatal Errors
Any interruption while files are in read/write process or when files are getting transferred from SD card to other devices
Improper removal of card from the gadgets or from computer or Mac
Storing files on newly purchased memory card without formatting it
Virus or malware infection to microSD card can lead to the occurrence of above mentioned error message
Once your SD card throws fatal error messages, it may throw several error messages, some of them are mentioned below:
Media card storage cannot be accessed
Micro SD card is full
Card cannot be formatted
Memory card has been formatted wrongly
SD card is empty: display zero byte data
Above all mentioned card errors tell us that it has been damage or corrupted severely and it will display several fatal error messages and hence the data stored within the card becomes inaccessible. In some cases, the card does not get detected with the device or on computer system. In such case the need of third party tool comes in handy to recover and get access from SD card that throws fatal error.
How to Solve Micro SD Card Fatal Errors & Recover Media Files
SD card that is throwing fatal error may need reformatting, so that it can come in use. But formatting the card will erase all the data stored within it. Fatal errors are caused due to corruption of the card's data and thereby make the card useless until it is not fixed.
Also Read: How To Recover Media Files From Memory Card Using CMD?
So, before you proceed further to reformat the card, you must try Micro SD Card Fatal Error Recovery software that is Digital Media Recovery Tool for Windows/Mac. With the help of this software, you can restore your inaccessible, lost, corrupted, missing or even formatted data from the card showing fatal errors. Now blackberry users can also fix blackberry memory card fatal error.
This software can recover multimedia files such as photos, videos and audios. It can solve memory card locked error issue, recover files from unrecognized memory card, fix write protected card error and other card errors and issues. The software is available for both Windows and Mac users, so you can download the tool as per your system operating system and it is also very easy to use.
You Might Also Be Interested In:
Steps to Restore Lost/Inaccessible Media Files from SD Card With Fatal Errors
Step 1 – Install "Photo Recovery" software and launch it on your computer. Click on "Recover Photo, Audio & Video" tab to recover photos, videos and audio files from any SD card, external USB drive or computer hard drive. Connect the media to your computer and then perform the process.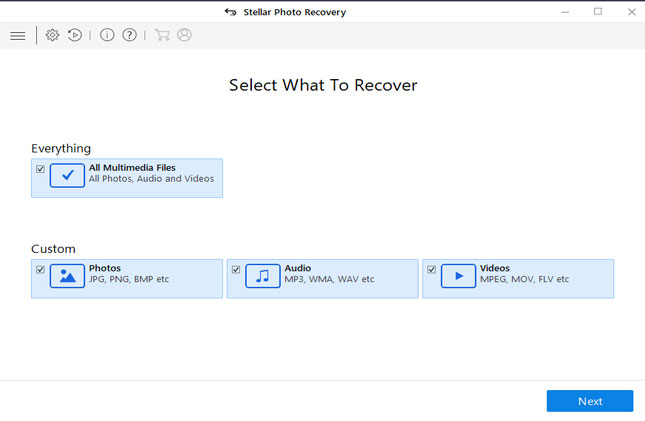 Step 2 – Select the drive from which you want to recover files. All the hard drive and external media will be shown in the list. Now select the desired drive to scan and then click on "Scan" button.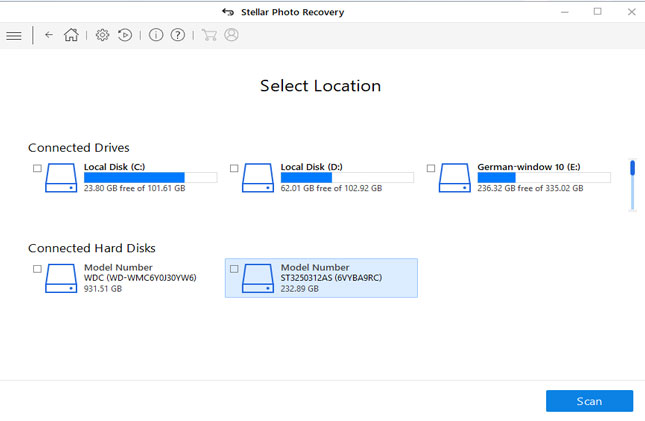 Step 3 – Once you click on "Scan" button the software will show that scanning is in progress. The software will search for all multimedia files from your selected drive or attached media.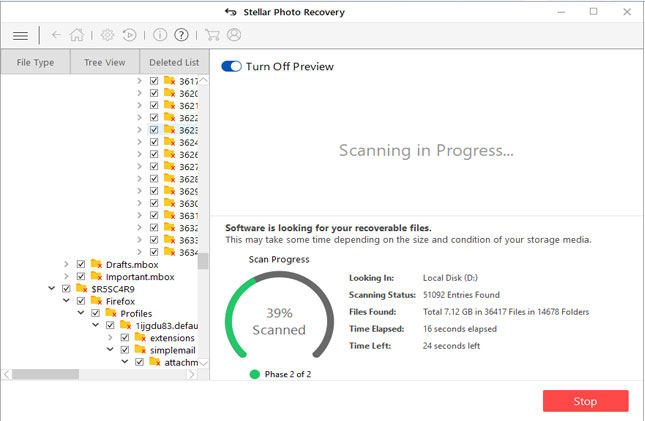 Step 4 – After scanning, all the files that are found in the selected volume, hard disk or other storage media devices are listed. You can now select the files to preview them and then you can click on "Recover" button to finally save them on your computer.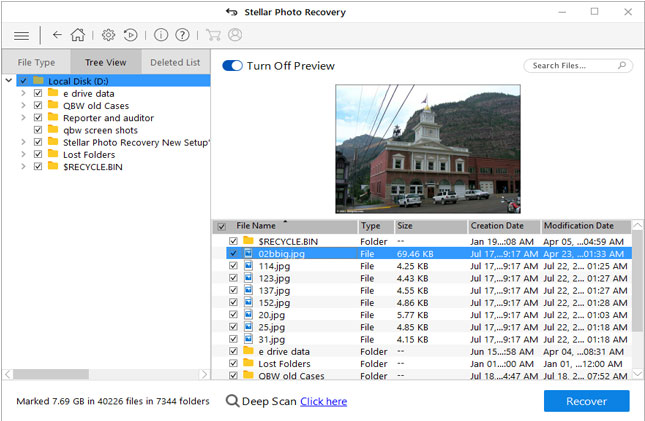 Tips To Remember:
Always keep backup of your files of your SD card on another place like PC or external data storage devices.
Avoid improper removing of card and always perform safe removal of card from gadgets
Do not handle the microSD card in wrong way that may cause fatal errors
Always format the newly purchased memory card before using it.