Are you stuck with the "can't play item is unplayable please reacquire the content 0xc00d36e5" error when trying to play your MP4 video? Want to know the perfect technique to fix MP4 error 0xc00d36e5? If 'Yes' then don't panic, there are some working methods available that can solve this issue & make your MP4 videos playable.
Well, the video is unplayable 0xc00d36e5 is a very common issue that occurs mainly when you try to play your MP4 files using WMP. So, in this post, you will get detailed information about this error along with the best solutions on how to solve 0xc00d36e5.
So, let's get started…
To fix MP4 error 0xc00d36e5, we recommend this tool:
This software will repair flickery, stuttery, jerky, unplayable videos and supports all popular video formats. Now repair your corrupt and broken videos in 3 easy steps:
Download this Video Repair Tool rated Great on Pcmag.com.
Click Add File to add the video you want to repair.
Select Repair to start the repair process and save the repaired video on the desired location after the repair is done.
What Is 0xc00d36e5 Error?
The error code 0xc00d36e5 generally occurs when try to play your MP4 video files in the WMP (Windows Media Player). And getting this error message can be very much annoying. The good news is that now you can easily fix the below shown 0xc00d36e5 fault code.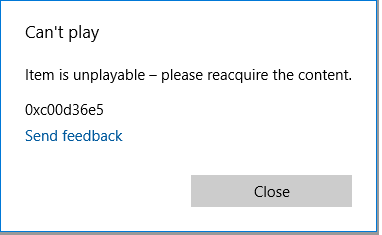 But, before taking action to solve this issue, it's very much important to know the exact reason behind getting this error. So, let's see the main reasons that can cause 0xc00d36e5 error in MP4 video.
Why MP4 Videos Are Throwing Error Code 0xc00d36e5?
There are several possible reasons due to which you might come across an "unplayable 0xc00d36e5 error in your MP4 files.   
Due to the incomplete download of the MP4 video file from the internet.
If your system files are not properly configured/corrupt.
When a video file isn't compatible with your media player.
The Video file itself is damaged or corrupt
The storage media of your MP4 video might corrupt.
If you've installed any antivirus tool or other apps, then they can also cause software conflict on your computer and lead to a 0xc00d36e5 error.
So, these are the major factors behind that can lead to the unplayable MP4 file video (0xc00d36e5) error.
As you've learned the common causes, it's time to take measures to fix MP4 error 0xc00d36e5.
Can I Fix MP4 Video Playback Error 0xc00d36e5?
Of course, the answer is 'Yes. You can easily fix MP4 video playback error or unplayable 0xc00d36e5 error by trying some of the available ways mentioned in this post.
However, if you want a direct solution to solve the video is unplayable 0xc00d36e5, then I would like to advise you to use an advanced Video Repair Tool. This repair tool is recommended by professionals and has the ability to fix different types of errors and video-related issues without any data loss.
Also, you can try some manual approaches like run SFC scan & DMD command, playing MP4 using VLC player, change the video file format, etc. to fix this issue.
In the next section of this article, you'll get a step-by-step guide of all these solutions that I have suggested in this section.
How To Solve The MP4 Unplayable 0xc00d36e5 Error?
The Video Repair Tool is the advanced and trusted repair software that can help you to repair unplayable 0xc00d36e5 error in a hassle-free manner.
It has the capability to solve any sort of video file corruption due to which you are prompting 0xc00d36e5 error in MP4 video. This excellent software fixes the corruption in frames, header, and movement of video, etc., making your videos playable again.
Besides, it can also repair choppy & jerky videos, bad quality videos, black screen while trying to play videos, loss of video quality after export, and other video-related problems. And, this program supports on both the operating systems; Windows as well as Mac.



* Free version of this program only previews repaired videos.
With the help of this tool, you can easily repair corrupt video files with extension AVI, MKV, MP4, MOV, AVCHD, MJPEG, FLV, DIVX, ASF, WMV, MPEG, WEBM, MTS, 3G2, M4V, F4V, and many more.
Follow the step-by-step guide of this excellent tool to get rid of the 0xc00d36e5 MP4 video file issue easily.
Step 1: Download, install and launch Video Repair software on your system. Click on 'Add Files' to add corrupted video files.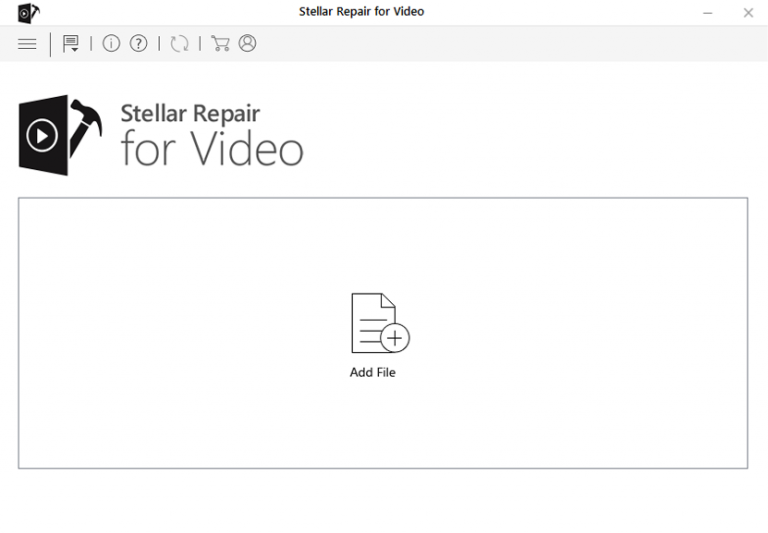 Step 2: Click on 'Repair' button to begin the repairing process. This start repairing your added video files one by one.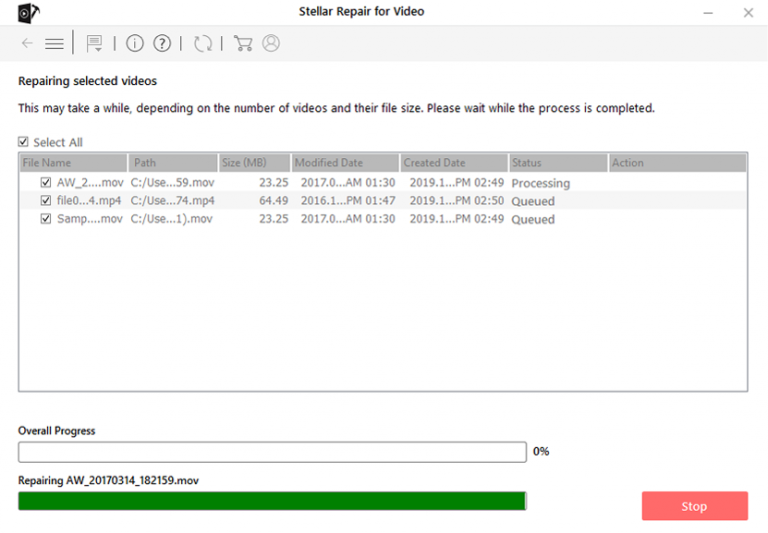 Step 3: You can click on 'Preview', in order to preview the repaired video file within the software and click on 'Save Repaired Files' button to save the repaired videos at desired location.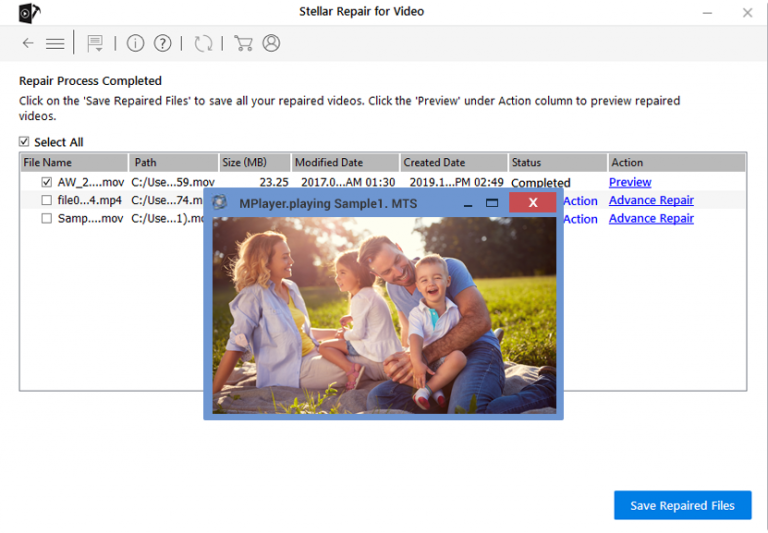 More Options To Fix Mp4 Error 0xc00d36e5
Below you can find some workable solutions that you can try to fix code 0xc00d36e5 video error. So, once try them…
Method #1: Use The VLC Media Player
The simplest way to fix MP4 error 0xc00d36e5 and play your video is to use the VLC media player. Of course, this solution works well when your MP4 or other video file has become corrupted. Therefore, follow the below steps to deal with this problem using the VLC player:
Step 1: Download & install the VLC Player on your PC.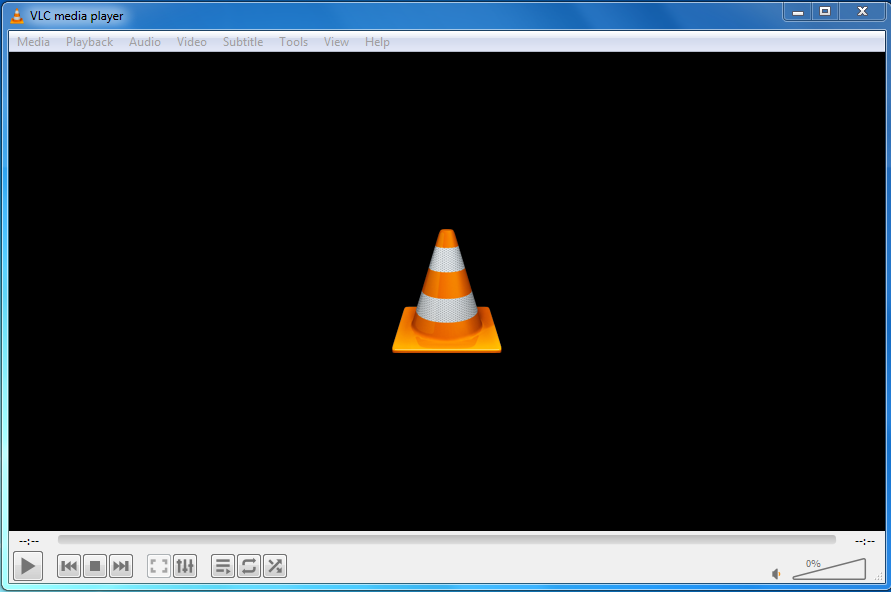 Step 2: Choose the option Tools & select the Preferences.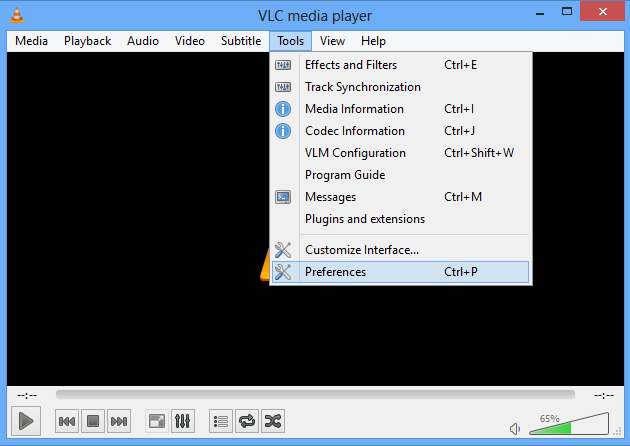 Step 3: Then, you need to tap on the Input & Codecs. It'll redirect you to an Always Fix.
Step 4: After this, you need to select the option Always Fix.

Step 5: Lastly, tap on a Save button.
After completion of these steps, you can check if a VLC player is playing your MP4 video.
Method #2: Run The SFC Scan & DISM Command
Another option that you use to troubleshoot this error is to run the SFC scan & DISM command.
Here Are The Easy Steps To Run The SFC Scan:
At first, you have to type the CMDin the search box
Then, right-click the CMD and choose the Run as Administrator option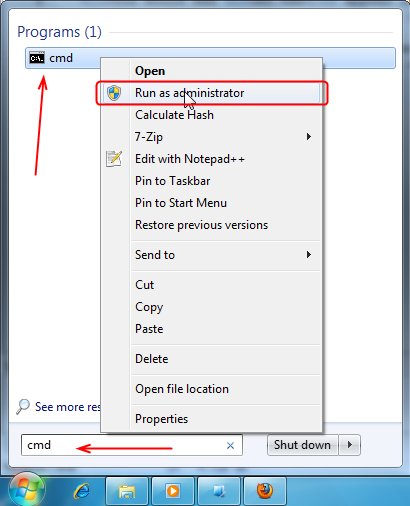 Next, open a command prompt and type there SFC/scannow.
After doing so, the repair & scanning process will begin.
Restart your system
Now, open your MP4 video in the Windows Movie Maker, it would play now. In case, if the issue remains, run the DISM command to get rid of the 0xc00d36e5 MP4 video.
Here Are The Easy Steps To Run The DISM Command:
Simply press the Windows + X keys together
Choose the Command Prompt (Admin)
In this step, you need to type the command DISM /Online /Cleanup-Image /RestoreHealth
Next, hit the Enter to begin run a program(this might take almost 10 minutes to finish.
When the process completes, don't close a command prompt window.
Just, restart your computer and run the SFC scan again.
Method #3: Try To Play Your Mp4 File On Alternative Media Player
Sometimes, it may happen that Windows Media Player (WMP) can't support several video formats until and unless you install the additional codec packs. But, if you meet the 0xc00d36e5 error in Windows 10, then you have to try some alternative media player to make your video file playable. Some media players that you can use to play your MP4 videos are VLC Media Player, Roxio Popcorn, and many more.
If your video file is not playable on any media player, then the possibilities are that a video file is corrupt & you need to try the following method.
Method #4: Start Your System In Safe Mode
In order to fix code 0xc00d36e5 video error, you have one more option that is to start your device in safe mode. It works with limited functionality, thus if there is any problem with the drivers or applications which make your video unplayable, the error will not display in the safe mode. This is a tested way to resolve the issue that is caused because of drivers/apps.
Firstly, click on the Start button & tap the Power. Now, while keeping a Shift key pressed and click on
Otherwise, you can open the Safe Mode from a sign-in screen. Simply, click on the Power icon
After this, tap & hold the Shift key and select the Restart
When your PC restarts, you need to select the Troubleshoot>> Advanced Options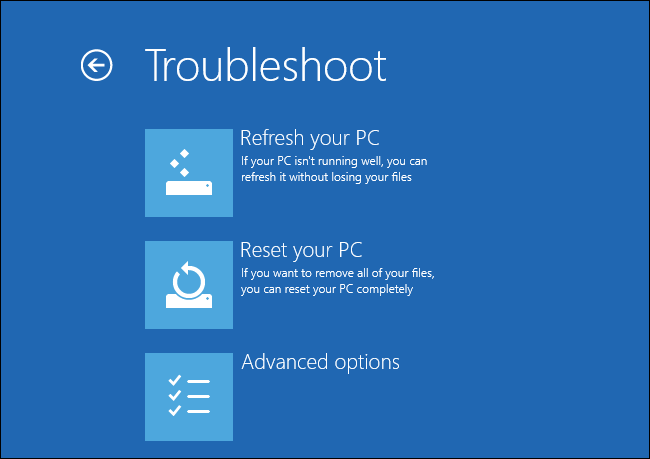 Now, choose the option Startup settings and then Enable Safe Mode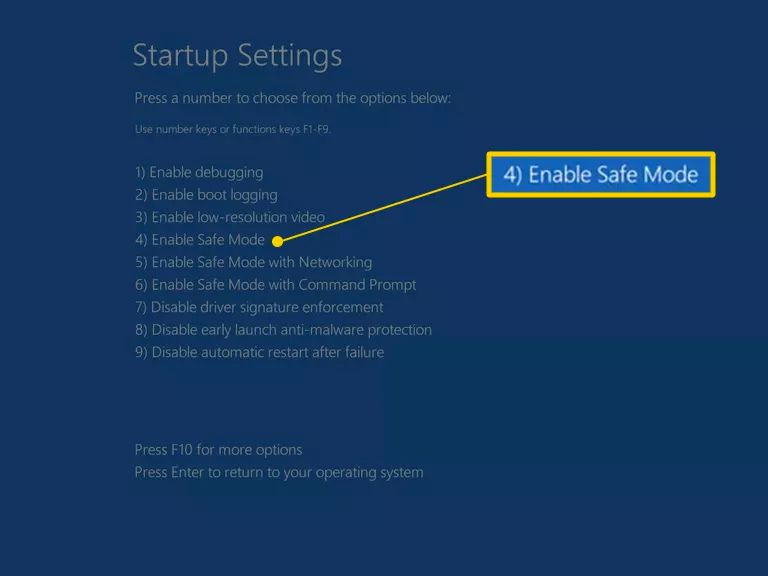 After finishing these steps, you need to update your PC drivers to fix this problem.
Method #5: Update the PC Drivers
If you using your PC to perform any operation regarding the MP4 file and your file gets corrupted, then there is a possibility that Driver is outdated due to which your video file will become corrupted.
In that case, you can try to update the PC driver and it will fix your issue soon.
Method #6: Convert MP4 Format to Alternative Supported Video Format
To fix MP4 error 0xc00d36e5, always consider changing the video file to other file formats like AVI, MOV, M4V, etc. To covert the MP4 file to another video format, just follow these easy steps:
Step 1: First of all, open your VLC Player.
Step 2: Then, press on the Media button. Now, click on a Convert/Save option.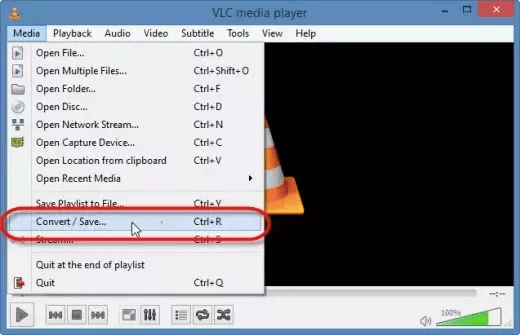 Step 3: At this time, use the Add option and then add the MP4 file that you need to convert.
Step 4: Next, select the format M4V or other similar video formats from showing Profile.
Step 5: Click on your Browse option to choose Destination file and to run the file name.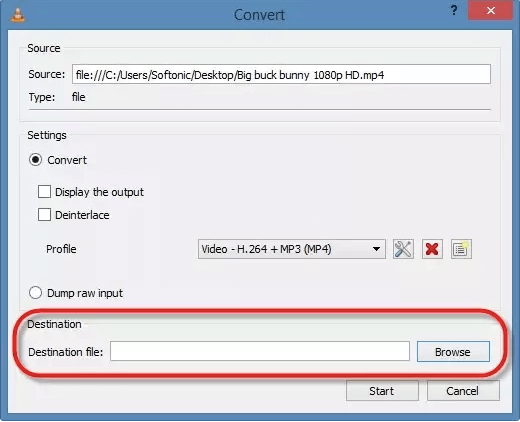 Step 6: Finally, click to the Start to convert the MP4 file format to M4V or another file format.
When the conversion of file format is successful then, you'll be able to open your MP4 video file and watch it without facing any difficulty.
Method #7: Add The MP4 Video to Another Storage Media
To store huge amounts of data (photos, videos, or other media files) an external storage drives such as USB drive or memory card are the best choice for users. Nevertheless, there might be a possibility to get an error when trying to play MP4 video files from corrupted or damaged storage devices.
When you face this issue, just add your MP4 file to another USB drive, or you can directly copy your file to a desktop of the computer & play from there.
Method #8: Uninstall third-party Apps
Many times, it happens that some third-party apps hinder the smooth functioning of the system. They could make your PC slow & makes your videos non-playable.  Consequently, if you're getting video is unplayable 0xc00d36e5 error message after downloading any third-party application, add-ons or plugins, etc., then just uninstall it.
After doing so, try to play your MP4 video files. The error code 0xc00d36e5 should be solved.
Method #9: Perform Clean Boot on Your Computer
Performing a clean boot on the PC detects & fixes applications which are running in the background and stop playing your Mp4 video. To execute a clean boot, you need to follow the below instructions:
At first, type the MSConfig in a run window to simply open the System Configuration.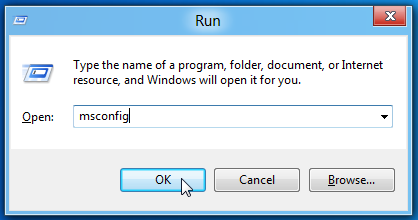 Next, select the Selective startup in the General 
After this, check the Load system services & Use the original boot configuration.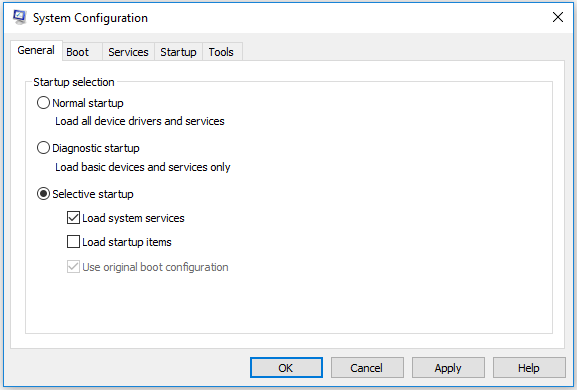 In the Services tab, you have to check the Hide all Microsoft services option
And, tap on a Disable all.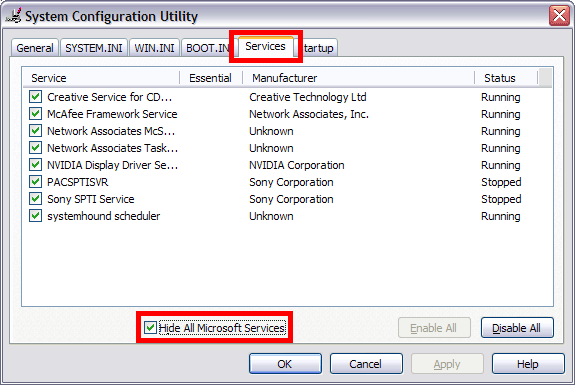 Lastly, click on the OK to just confirm & restart your Windows.
How To Avoid The Error 0xc00d36e5 In The Future?
By following the below-given tips you can avoid video file corruption along with MP4 0xc00d36e5 error in the near future:
Do not interrupt during the transferring process –Never try to remove your storage device while transferring the video files from your Windows or Mac OS.
Keep backup of your Video files: Always save the backup of your essential media files such as videos, audio, movies.
Bottom Line
By now, you need not have to go here and there for searching the solution on "how do I fix error code 0xc00d36e5". As you can handle unplayable 0xc00d36e5 error by yourself only.
Yes, I am saying so because all the approaches stated above are very easy to fix mp4 error 0xc00d36e5 for anyone. You have a choice to solve this problem using VLC Player, run the SFC scan or DISM command, Clean Boot, covert the file format or use the video repair tool.
If you want an instant resolution, then you can use the trusted Video Repair software that mentioned in this blog. As it does not need you to have any technical skills and enable you to fix corrupt or damaged MP4 files with ease.
If you have found this post helpful then do not forget to share these methods with your friends!
Alex is an expert technical writer with 7+ years of experience. His in-depth knowledge about data recovery and fascination to explore new DIY tools & technologies have helped many. Alex has a great interest in photography and loves to share photography tips and tricks with others.