Is your SD card deleting files by itself? Don't know why files keep disappearing from SD card? Want to know how to fix SD card deleting files by itself. If yes then do not wait for anything, just try the best methods to fix SD card error.
Let's just have a look at the fixes and start implementing them.
How To Fix SD Card Deleting Files By Itself Issue?
Here are the best working solutions that I am going to provide you in order to fix SD card deleting files by itself.
Fix #1: Fix Error Using CHKDSK Command
The very first solution that you can try to fix SD card deleting files by itself is fixing this issue with CHKDSK command.
You have to first Press Windows logo key and then type 'cmd' so that you can open the command prompt interface.
Next, you have to type the command 'chkdsk x: /r/f' in command prompt and then press the Enter key to execute it. [NOTE: You can replace X with your SD card's drive letter].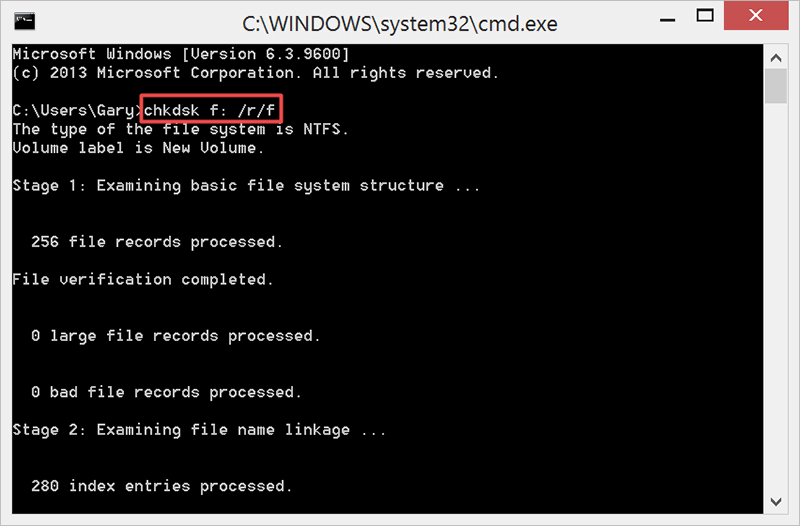 Doing so will start repairing your SD card and after the process is done, you can check the SD card to see its working properly or not.
Fix #2: Resolve SD Card Error By Unmounting & Reinserting the SD Card
You can try this solution only if you are using an Android phone and getting this error stated as 'SD card deleting files by itself'. To do so, you have to try the below steps:
First of all, open your Android device and then select the option 'Settings' and then click on 'Storage' option and then select the 'Unmount SD card'.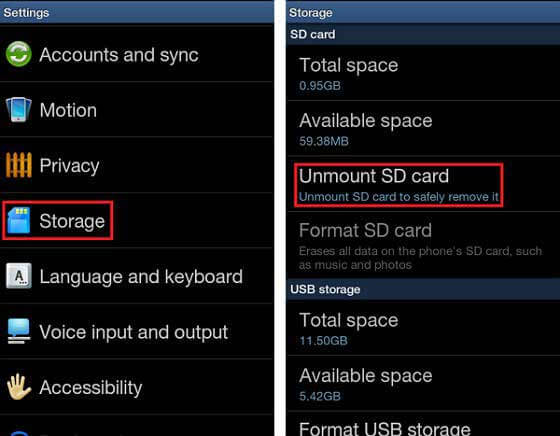 After this, you can remove the SD card from the device and then wait for a few seconds before inserting it again back to the device.
Lastly, you have to remount the SD card and then use it just to check if the issue is fixed or not.
Fix #3: Format SD Card To Fix SD Card Deleting Files By Itself Issue
Before formatting the SD card, make sure that you have a backup of the files that are still saved in the SD card. This is because formatting your SD card may delete all the data from it.
There are several people who have asked 'How do I format an SD card?' So, the solution to format memory card is here:
Firstly, press Window + E key to open Windows Explorer interface and then click on 'Computer/This PC' option.
Next, select the SD card you want to format by just clicking right on it and followed by selecting the 'Format' option.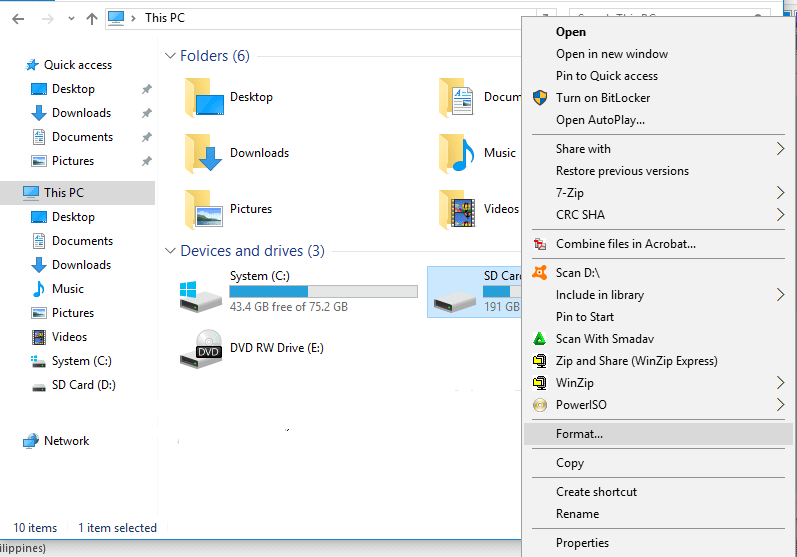 Here, you will be prompted to select the file system with options NTFS or FAT32 for 32GB cards and exFAT for cards for 64GB. You have to select and then click on the option 'Start' to begin the formatting process.
Fix #4: Uninstall The Faulty Applications
It happens that when you install any new application on your device which is not at all compatible may cause the issue 'SD card deleting files by itself'. So, in this case, the very best option you can try is to uninstall the application that is affecting your storage device. After uninstalling the application and clearing all its data from the device, check once if the issue is resolved or not.
Fix #5: How To Fix Corrupted SD Card
You may get this issue 'SD card deleting files by itself' because your SD card has been corrupted. Sometimes it happens that when you transfer files to SD card keeps getting corrupted or deleted then it could be due to corrupted SD card.
In that case, you have to know how to fix corrupted SD card and resolve this issue. You can fix a damaged/corrupted SD card by trying the solutions mentioned here.
Fix #6: Avoid Transfer Many Files At The Same Time
It has been found by the users that when several files are moved to the SD card at the same time the SD card got corrupted. This is the reason why SD card deleting files by itself issue takes place. So, it is always suggested to transfer not more than 5 photos at a time. This is just an option, unfortunately, it doesn't work for everyone.
Fix #7: Delete The Nomedia File
In android phone, a Nomedia file is stored or an SD connected to an android device. Nomedia file actually tells the multimedia players that are zero multimedia data saved in its files so the player won't scan the card.
However, if there is a Nomedia file on the phone then it means that the files on SD card are corrupted, not detected or hidden. Nomedia files are invisible to most build-in file explorers, you need a file explorer tool to access the file.
Fix #8: Repair SD Card Bad Sectors
When you are unable to format memory card properly then it is possible that your SD card may get damaged with bad sectors. And due to this, SD card deleting files by itself error takes place.
In that case, it is quite important to repair bad sectors in SD card. However, to fix bad sectors, Windows has an inbuilt disk check and repair utility to repair SD card error.
So, to fix this issue, you have to completely format SD card that has bad sectors.
Why SD Memory Card Keep Deleting The Files By Itself?
The majority of the problem has been found that a faulty SD card is the main reason for the data getting deleted by itself.
Actually, when your external SD card start malfunction then one of the typical symptoms is that it starts to erase everything stored in the card.
But why SD card malfunctions?
When your card gets corrupted, infected with virus, physically damaged, when SD card starts to throw fatal errors, etc then your SD card start to malfunction.

Recover Deleted Or Lost Media Files Using SD Card Recovery Tool
No matter in which scenario you have lost your data, all you have to do is to try SD Card Recovery Tool. This recovery tool is perfect to recover media files like photos, videos and audios from SD card in almost all scenarios.
It recovers almost all file formats of photos, videos and audios. The best part of SD card recovery tool is that it is available for both the platforms; Windows as well as Mac.
To recover deleted media files from SD card, we recommend this tool:
This software will restore data from corrupted, formatted, encrypted storage media and works in all data loss situations. Now recover your lost and deleted data in 3 easy steps:
Download this Media File Recovery Tool rated Excellent on Pcmag.com.
Select the storage media from which you want to restore the media files & click Scan.
Preview the recoverable files, select the items you want to recover and click Recover to save the files at desired location.
Follow the step by step guide to recover deleted data from SD card.
Files Are Disappeared From SD Card; Maybe They Are Hidden
If your files keep disappearing from SD card then it is quite possible that the files have been hidden from the SD card. In that case, you can see hidden files in SD card using two different methods; using attrib command and through Control Panel in Windows PC.
Method #1: Show Hidden File Using attrib Command
You can use attrib command by opening Windows Command prompt interface to see hidden files on SD card. Try these steps to do so:
Connect the SD card to the Windows PC and if your microSD card is not recognized by the PC then first make it done. Try to fix microSD card not detected or recognized error and then move ahead.
After this, press Windows + R keys together and then type cmd and then hit Enter key to open elevated command prompt. You can then type the attrib command line below and then replace E with the drive letter per your device.
Now, you have to press Enter key to execute the command after you type the command 'attrib -h -r -s /s /d E:\*.*'.

Now, go back to the File Explorer in the Windows PC and then open SD card to see if you can see the files.
Method #2: See Hidden Files On SD Card Using Control Panel
Another option you can try to see hidden files on SD card is to use the Control Panel option. Follow the below steps to do so:
First of all, press Windows + R keys together and then open Windows Run interface and then type control panel in Run box. After this, press Enter key to open Control Panel in Windows PC.
Now, click Appearance and Personalization and then File Explorer Options in Control Panel.
Next, you have to tap View tab in File Explorer window and find Show hidden files, folders, and drives and enable the option. Lastly, click 'Apply' and then click 'OK' to save the changes.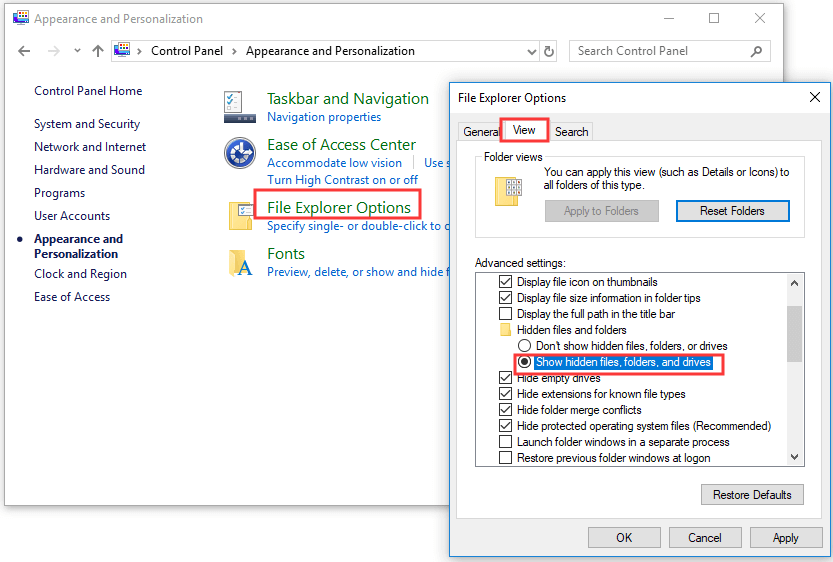 FAQ(Frequently Asked Questions)
Tips to Avoid SD Card from Erasing Files?
Below find out some of the effective tips that will help you to prevent files erasing itself from SD card:
Format new SD card: When you purchase a new card, then it is suggested that you must first format the SD card before using it in any device.
Clean the card: Just take a look at your SD memory card and see if there is dust on its slot, scratches on the surface? If "yes" then clean it with the help of cotton cloth dipped in water. Leave the card in sunlight to get it dry and then use it in your digital device. (Recommended Reading: 10 Tips To Prevent Memory Card Error That You Must Know)
Check card for corruption and repair: There is another chance that your card develops bad sectors. In this case, when you connect card with PC, window prompt pop-up messages asking you to format it. But sometimes formatting card throw error message "Windows was unable to complete the format" on SD card. In this case, you have to find out the corruption and repair it.
Replace the card: If Windows unable to format the card or if corruption of card cannot be fixed then in such cases you must replace your SD card with the new memory card.
To Sum Up
I am very sure that after through this helpful blog, you will definitely be going to try out these solutions to fix SD card deleting files by itself error. As I have already mentioned that this issue can take place due to several reasons, so, just try the fixes I have provided.
Also, you will be able to recover deleted data from SD card using SD Card Recovery Tool.
If you have found this post helpful and useful, then please do not forget to share it.
Also like and follow us on Facebook, Twitter and Pinterest to get latest updates.
Editor's Note: This post was originally published in August 2017. This updated version is completely revamped for comprehensiveness, freshness, and accuracy.
Alex is an expert technical writer with 7+ years of experience. His in-depth knowledge about data recovery and fascination to explore new DIY tools & technologies have helped many. Alex has a great interest in photography and loves to share photography tips and tricks with others.