Photos missing or lost from SD card has become a very annoying issue. Many of them are encountering a problem as pictures disappeared from SD cards.
It is a very tough task to understand why photos disappeared from camera SD card without any warning. So, we guess that photos get missing due to mysterious reasons.
Many users might think it is horrible to experience such a problem. Because they do not have any solutions to fix pictures disappeared from SD card camera. And users also think that their all data have been completely erased, but this is not true, the lost files could be recovered by using ways mentioned.
Though, there are a few possible solutions mentioned in this article that will help you to fix pictures disappeared from SD card and recover data from it using the SD Card Recovery Tool.
Rated Excellent on

Trustpilot
Free SD card recovery tool.
Recover data from corrupted, damaged, & formatted SD cards of all brands on Windows. Try now!
Just read this article and follow the solutions mentioned in the post to solve your issue.
Part 1: How Files Disappear From SD Card?
Part 2: Fix Pictures Disappeared From SD Card In Computer
Part 3: Fix Photos Disappeared Or Missing From SD Card In Android
Part 4: Recover Photos From SD Card After Fixing Missing Pictures From SD Card
Below Check Out The User How He Expressed His Problem:
I used my Nikon D5100 for 4 days on a trip with the same memory card. I looked at the LCD screen and all seemed fine at the time. when I returned home the last day's didn't download to my computer. the previous days did. I put the card back into my camera and the last day's photos were gone from there also. I didn't delete or format the card. what could have happened?
How Files Disappear From SD Card?
There could be numerous reasons that can lead to photos on SD card disappeared issue. Here I have listed some of the root causes:
SD card is infected by virus
Accidental deletion/formatting of the SD card
Pictures are hidden.
If SD card is write-protected.
Memory card or storage media is overwritten.
SD card is damaged or corrupted.
Kept recorded images in the SD card which is showing full.
As you have known the major factors, now it's time to know how to fix images missing from SD card of Android/digital camera.
Fix Pictures Disappeared From SD Card In Computer
Fix 1: Check & Re-insert the SD Card
When you encounter photos disappeared from SD card Canon camera or other digital devices then very first you should check & reinsert your SD card properly into the device. After doing so, check if you can access your images again.
However, if you can't access those photos on your digital camera then take out your SD card from camera and follow the below simple steps.
Ensure the memory card isn't in use
Make right-tap on the memory card in the Windows Explorer >> click on the "Eject".
Take out your SD card & gently clean it.
After that, hold SD card with an arrow pointing to the slot
Now, slide it back prudently into PCs, cameras, phones, tabs, etc.
Fix 2: Use Different Card Reader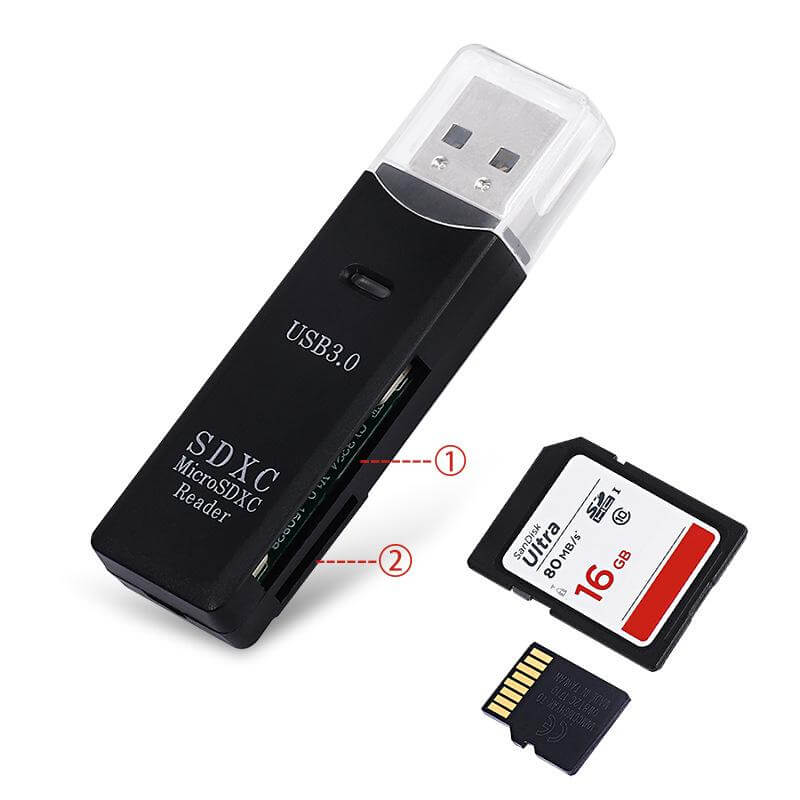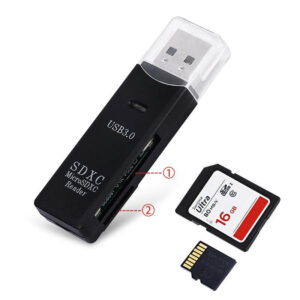 Suppose if you are getting this error on your computer then it might possible that your SD card reader is faulty or damaged. So, in such a case, you can try any different card reader. Once you changed the card reader, now check of the issue is solved.
Fix 3: Unhide The Hidden Pictures In SD Card
Sometimes, it may happen that your SD card images get hidden or unseen, if the virus infects a card or if you've joined it to the infected PC. Thus, if you want to unhide or recover the hidden files from SD card, follow the below steps:
Step 1: Connect your SD card to computer using a card reader.
Step 2: Then, go to the Control Panel >> click on File Explorer selections.
Step 3: Tap on a View tab.
Step 4: After this, check the box 'Show hidden files, folders & drives'.
Step 5: Make sure to uncheck the box there 'Hide protected operating system'.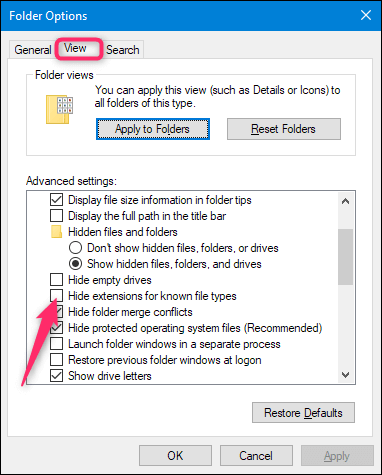 Step 6: Tap on OK. Now, photos gone from digital camera SD card ought to be visible.
Fix 4: Use The CHKDSK Command 
As I have already mentioned in some of my previous articles the Windows CHKDSK utility resolves logical file system issues and errors on SD cards as well as on PC. If you're getting SD card showing 0 bytes space or pictures disappeared from SD card error, perform CHKDSK and access the memory card pictures.
Here is how you can perform the chkdsk command to fix photos disappeared from SD card Canon:
Connect your SD card to PC.
In the second step, type the CMD in a Search box.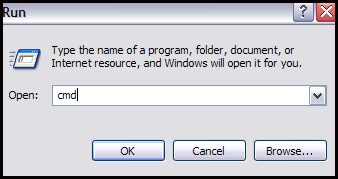 Now, right-tap on CMD>> choose Run as an Administrator
Under the command prompt >> type chkdsk E:/f.>> hit Enter key.

Now, you can access your memory card & view your pictures.
Fix 5: Run Windows Troubleshooter
Another effective trick that you can try to troubleshoot photos on SD card disappeared through a Windows Troubleshooter. It has ability to resolve issues related to Windows hardware & drivers.
Here is how you can run the Windows troubleshooter:
Step 1: Connect the microSD card to the system.
Step 2: Tap to follow the Start >> Settings
Step 3: Now, go to the Update & Security option >> Troubleshoot.
Step 4: Here, you have to choose Hardware & Devices >> tap Run the troubleshooter option.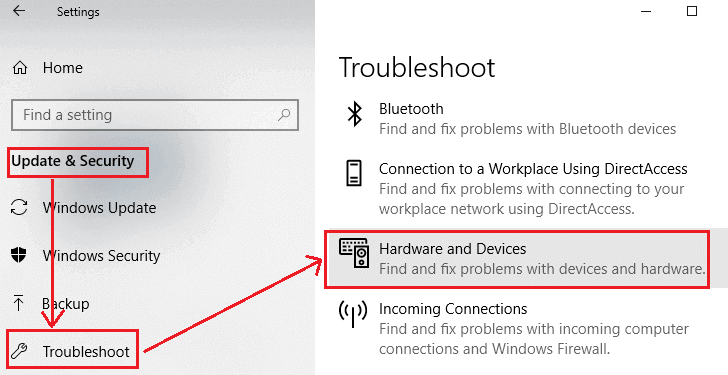 Step 5: Reboot your computer.
Fix Photos Disappeared Or Missing From SD Card In Android
When images are listed on the root dictionary but it is not showing in the gallery app, then in such a scenario, you can try the following solutions to deal with the problem:
Solution #1: Reboot Your Android Phone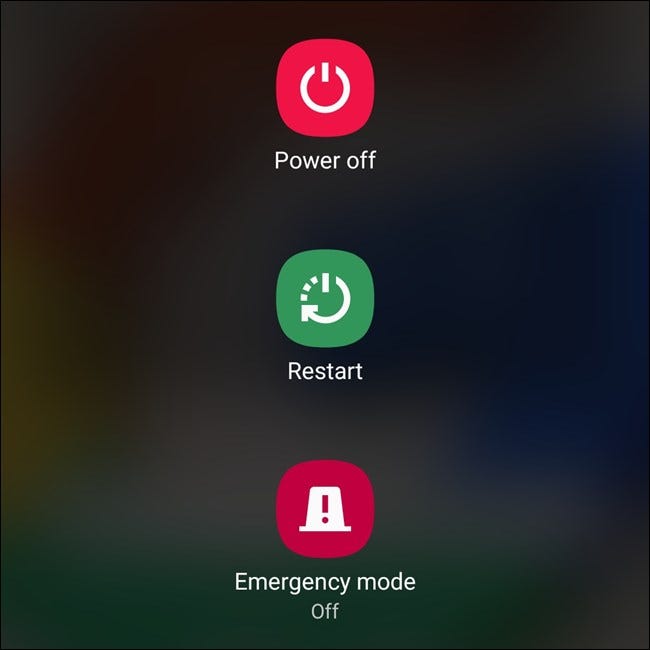 Regardless of the reasons due to which your images are not showing on gallery app on Android, you can fix it by using a simple trick. So, to fix photos disappeared from SD card Android, the first step you should take is to reboot your phone. After restarting your phone check if you can now see your crucial pictures.
Solution #2: Eject & Re-insert The SD Card On Android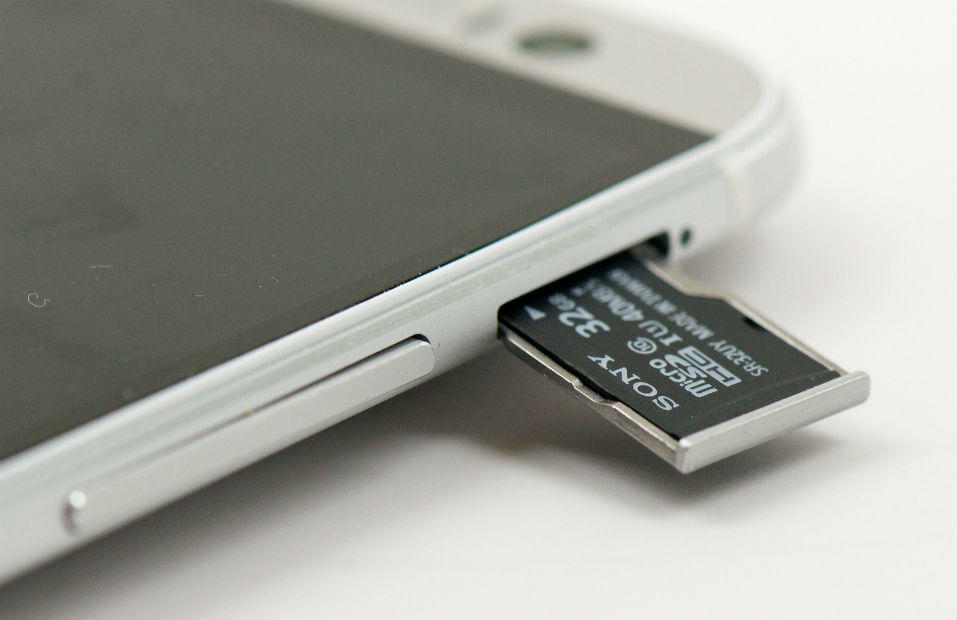 Another basic and simple way that you can try is to remove & reinsert your SD card back to the Android. To do so, you need to switch off your Android device & then remove the SD card out from the device. After 5-10 seconds insert the memory card back to the Android card slot and check if your SD card photos are read correctly.
Solution #3: Delete The Nomedia File
If you see Nomedia (.nomedia) file on your Android phone then you must delete it. A Nomedia file tells Android to hide media files such as photos, videos and audio files from being displayed in all kind of gallery apps. It is a hidden files and it becomes invisible to all built-in File Explorer.
You can check this issue by connecting your SD card with PC. Open the Windows Folder option and check "Show hidden files, folders and drives" and see if there is such a file that is leading all photos in SD card to be gone.
To fix pictures from SD card disappeared, you have to delete the Nomedia files and make them visible by the gallery app on Android phones.
Solution #4: Replace The Default Gallery App
In situation, due to software bugs, the default gallery apps may not be able to display the images stored in internal as well as external SD cards of Android phones. If this is the case, then you may install another gallery app to check.
Solution #5: Uninstall The Apps That May Create This Problem
This problem generally occurs due to app conflict. Please think back and try to remember – did you install any new app on your phone after which your photos on SD card disappeared?
If "Yes" then simply uninstall that app and then check if your photo in the Gallery app has come back.
Solution #6: Perform Factory Reset On Your Android Phone
Lastly, the factory reset your Android device if none of the above-mentioned solutions work for you. However, before performing the factory reset, you must keep backup of your storage device data to some other data storage devices. Because the factory resetting will erase all the data stored on your device.
After factory reset now check if your photos on SD card are visible by the Gallery app.
So, these were some troubleshooting solutions to fix pictures missing from SD card or SD card photos disappeared.
Recover Photos From SD Card After Fixing Missing Pictures From SD Card
After going through the ways to fix photos disappeared from SD cards, let me introduce the recommended SD Card Photo Recovery Tool.
When not able to find photos missing on SD card that is used in Android phone or digital camera that you wish to recover, then you have to take help of third party tool that is SD Card Photo Recovery Tool – with the help of this software, you can:
Easily restore disappeared photos and other data from SD card as well as from other several memory cards.
Also retrieve pictures got lost due to accidental deletion, infected with virus, SD card errors, file system errors, etc.
Recover disappeared or missing photos from camera memory card, Android SD card or from or from normal cell phone SD, mini SD and micro SD card.
Preview recoverable photos within software before final recovery.
The software is available separately for both Windows and Mac OS.
This tool is designed to restore missing, disappeared, lost, deleted photos as well as videos and audio files from SD card. It will help you to retrieve pictures on my SD card disappeared in the digital camera.
The software supports all types of memory cards such as SD, SDHC, SDXC, miniSD, microSD, MMC, CF, xD, etc of all brands and models.
Note: Once you see that photos have rubbed or missing, then you must immediately stop using it and do not add any new data on the SD card. It is because new data will overwrite the existing data and hence the chances for the recovery of missing/gone/disappeared photos will become less.



* Free version of the program only scans and previews recoverable objects.
Steps To Recover Missing or Disappeared Photos From SD Card
Step 1: Select Desired Location
Firstly, select the drive, external media or volume from which you want to recover deleted media files. After selecting, click on 'Scan'.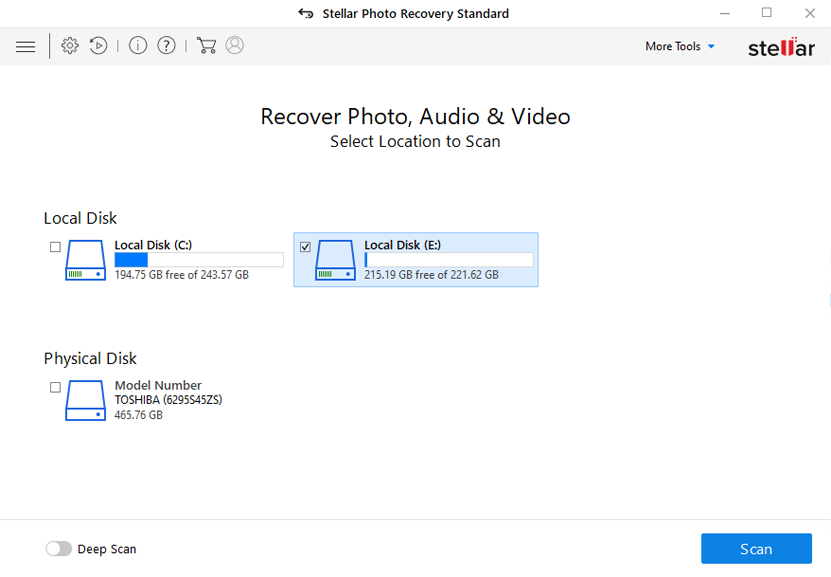 Step 2: Preview Recovered Media Files
Next, you can preview the recoverable media files after the scanning process is completed.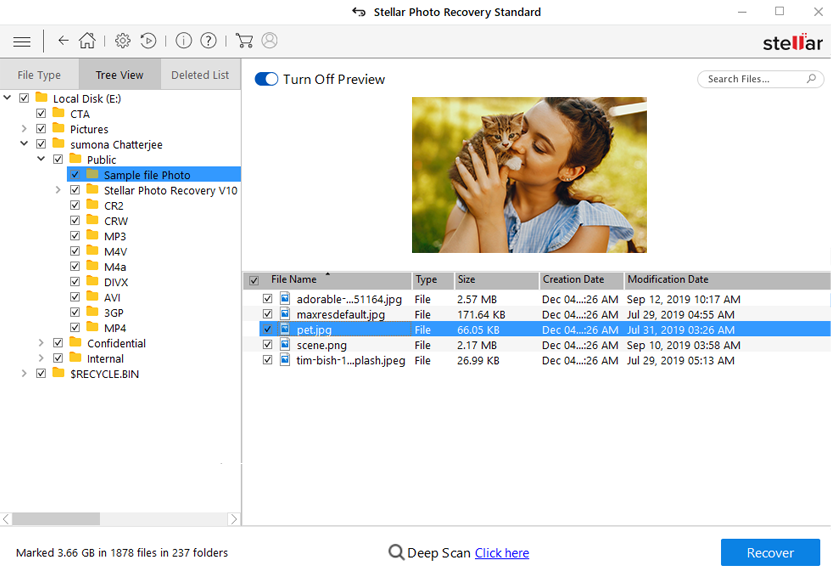 Step 3: Recover Media Files
Lastly, you can select the images, audio, video files you want to restore and click on 'Recover' option to save them at the location you want.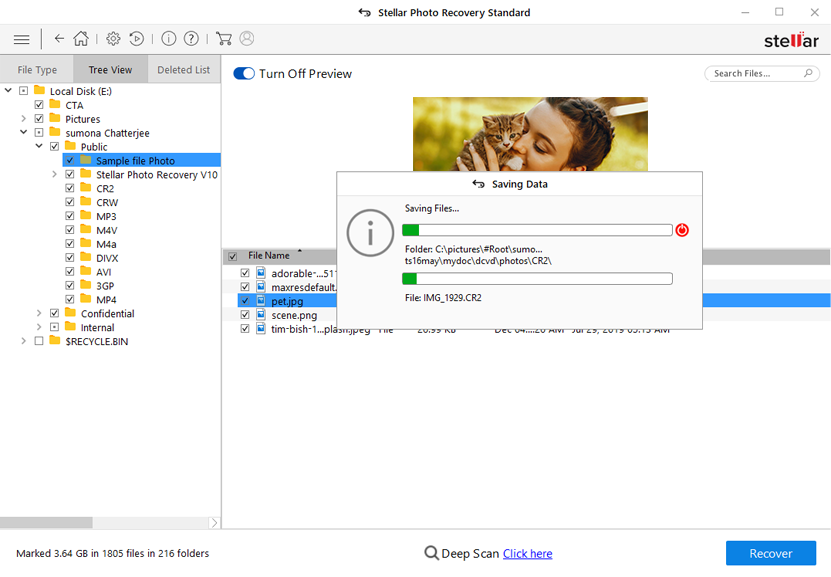 Frequently Asked Questions:
Why Did My Pictures Disappear From My SD Card Android?
Well, photos on SD card disappeared rarely happens but it can occur on any type of SD card that is used in various gadgets such as Android, digital camera, etc. This problem is absolutely very annoying particularly when you lose important photos. It might happen due to the accidental deletion, formatting of the SD card and due to virus infection.
What To Do If My Canon Camera Pictures Gets Disappeared?
In order to fix Canon camera pictures disappeared issue, you have to try the below tricks:
Remove and reinsert the SD card on the camera
Restart your canon camera
Run chkdsk tool
Use another card reader
Run Windows troubleshooter.
How Do I Recover Lost Pictures From My SD Card?
You can recover the lost pictures from SD card by using the recommended and versatile SD card recovery tool. It has all the specifications like it can retrieve media files from corrupted, damaged, formatted and even inaccessible data storage devices like USB flash drive, pendrive, hard drives and other removable devices including SD card.
Conclusion
As I have covered the possible solutions to fix photos disappeared from SD card Android/camera, I am sure you will be able to fix this issue and find your lost pictures from SD card.
After all, nobody wants to get interrupted by pictures getting deleted by themselves on SD card while viewing them on the phone or camera. I hope the given methods may also work in your case too.
Also, here in this post, you will get the best SD Card Photo Recovery Tool to recover missing or disappeared pictures from SD card, if the images get deleted from the SD card while fixing photos disappeared from SD card issue.
Editor's Note: This post was originally published in October 2018. This updated version is completely revamped for comprehensiveness, freshness, and accuracy.
Taposhi is an expert technical writer with 5+ years of experience. Her in-depth knowledge about data recovery and fascination to explore new DIY tools & technologies have helped many. She has a great interest in photography and loves to share photography tips and tricks with others.