Summary
– In my few earlier posts I have written several
memory card errors and their solutions
. Similarly, in this post I am going to write tips on
how to open memory card and recover data without formatting
, even when it asks to reformat the card.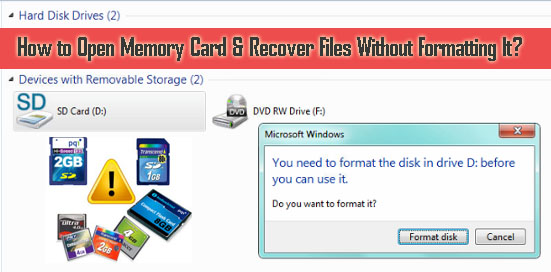 Sometimes, the situation arises where your card (SD, SDHC, SDXC, xD, MMC, CF and other memory card) ask you to format the card. And when such situation arises you lose access to the data stored within the card.
However, the good news is that, you can recover SD card file without formatting it using Photo Recovery software. With the help of this software, one can:
Effectively restore inaccessible data such as photos, videos and audio files from card that ask to reformat. It means you can recover files without formatting the card.
Restore digital media files from corrupted, damaged, virus infected or error throwing card.
Preview recoverable files within software before you proceed further to save them on PC.
100% read only program. Safe, secure and easy to use.  
Retrieve Files From Card Without Formatting It



* Free version of the program only scans and previews recoverable objects.
Let us Take Real User Example
Memory card photos are inaccessible for not formatted error

This morning, when trying to access some photos taken last Sunday with my mum, I just found the attached phone SD card could not be accessed. Whenever I tried to open it, it would pop out a message saying: "The disk is not formatted. Do you want to format it now?" But, formatting was not what I wanted now. Do you have any idea to fix this not formatted error? What am I supposed to do for accessing my photos there? Thanks for any suggestion here!

                            – Original Post from TechRepublic's community – Forums
This is one of the examples, but there are many users out there asking on several forum and community websites on how to recover files from an SD memory card without formatting it even when it asks to be reformatted.
Well, I will discuss the solutions for opening and recovering data from card without formatting it, but before that let us know related Frequently Asked Questions [FAQs].
Related FAQs: When Memory Card Ask to Format or Reformat
"Android phone display 'SD card is not formatted' error message. But I do not want to format it because it contains lots of important files. When I inserted the card in another phone, I still receive the same error. When I connected the SD card to PC, Windows also display the same error. Should I format the card in order to fix this error? Is there any way that can help me to
recover files after formatting the SD card
"
"As and when I connected the card to my computer, it says '
card needs to be formatted
'. But I have heard that formatting card will erase all the stored data from the card. So, is there any solution to fix card formatting error or is there any
SD card recovery
without formatting?"
"I cannot open any files on my 16GB SanDisk SD card due to formatting error message. Can I open RAW SD card without formatting it? How to retrieve files from unformatted card?"
"When I searched online, then many websites suggested me to format SD card. But if I format the card then will lose all files from it? How to open SD card without formatting?"
Consequences after Formatting an Unworkable Memory Card
In any of the above mentioned scenarios, it is obvious that any brand of card needs to be reformatted, whether in your phone, digital camera, PC or Mac.
But once you format the card in order to fix formatting error, you have to face complete loss of data. Hence, you must not format it and follow solutions mentioned in this post.
"I used 8GB SD card in my camera for taking photos on my friend marriage, but I am not able to view pictures from it. When I put it in camera or try to connect it to computer, it says – SD card needs to be formatted"
Additional Reading: How to Recover Photos from Encrypted SD Card
Why Memory Card Wants to Format/Reformat?
Memory cards wants to format or reformat because it holds damaged or corrupted file system which display as RAW, unknown or unsupported.
Below I have mentioned some scenarios in which card may need to format:
Card totally stops working, no matter on whichever device you insert it.
SD card becomes RAW and display media needs to be formatted.
Virus/Malware or Trojan has infected your sd card and this result in card corruption.
If you are experiencing such problems and issues, then follow the solutions mentioned below to fix damaged card without formatting it and open it and access stored data within it.
Additional Reading: Dead SD Card Data Recovery & Tips to Fix Dead SD Card
Solutions to Fix/Open Damaged Memory Card Without Formatting It
In such cases that I have mentioned above, you have to format the card in order to get rid of card format error message or corruption and only then you can make your SD memory card open.
However, formatting memory card will wipe all the data stored within it and reduces the chances for card recovery.
So, what you can do to get back inaccessible files from memory card (SD, SDXC, SDHC, MMC, CF, etc) without formatting it? Just read the solutions mentioned and follow the instructions.
Note: This solutions is also applicable to external hard drive, hard disk, USB flash drive, pen drive, memory stick.
Solution 1: General troubleshooting to open card without formatting
Try to follow these things:
Insert the SD card in another but same brand phone, camera or PC.
If putting the card in same brand phone, camera or PC does not fix the problem then insert the card in different models of different brands.
Insert the card in different card readers and connect to computer.
Check whether the problem is solved and you are able to open memory card.
If your card is still showing "card needs to be formatted" error then it is clear that your card is logically damaged due to file system corruption.
Additional Reading: Recover Photos from Physically Damaged SD Card
Solution 2: Recovering Files from Corrupted/Damaged Card without Formatting
Photo Recovery (Windows/Mac) is suitable and perfect card recovery software that has ability to restore digital media files off memory card without formatting it. This software will help you to get back all your photos, videos and audio files from memory cards such as SD, miniSD, microSD, SDHX, SDHC, MMC, CF, Smartmedia, xD, etc of different models and brands such as SanDisk, Transcend, Sony, Samsung, Toshiba, Strontium, Kingston, Lexar, HP and all other brands.
This unformatted memory card recovery software has the potential to restore data from FAT32 formatted SD card, ExFAT formatted SD card, FAT16 formatted SD card and so on. The tool also rescue lost, deleted, formatted data from hard drive, USB flash drive, digital camera, Android phone's SD card and any other external data storage devices.
My Recommendation: Before you purchase the full version of damaged card recovery software. I would recommend you to first download trial version of the software and scan your card and check if program is able to extract you digital media files. If you think that you will not be able to get satisfying result then you do not need to purchase the full version! You will lose nothing. But if it works, then you will able to restore back your crucial files. So, try the trial version of card recovery without any hesitation.
Additional Reading: How to Fix SD Card With Fatal Errors & Recover Media Files
Steps To Recover Data From memory card without formatting  It
Step 1 – Install "Photo Recovery' tool and launch it. Click on "Recover Photo, Audio & Video" tab to recover images, songs and videos files from any SD card, external USB drive or computer hard drive. Connect the media to your computer and then perform the process.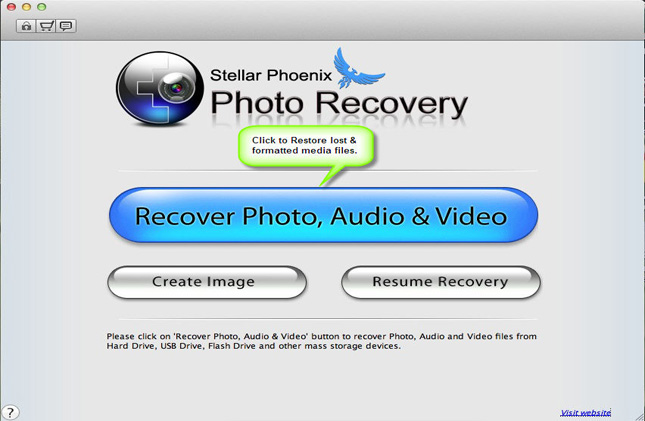 Step 2 – Select the drive from which you want to recover files. The external media will be shown in the list, if not then click on "Refresh Drive" button. Now select the desired drive to scan and then click on "Scan Now". If you want to customize the recovery on the basis of file types then click on "Advance Scan".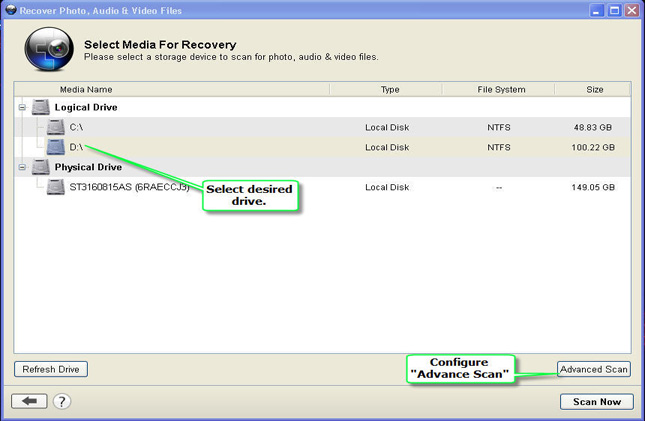 Step 3 – In the Advanced Scan you will have the option to scan as per to the file list, such as Photo, Video and audio or you can also select the data range from the storage device. This option reduces the scanning process time.
Step 4 – Once you click on "Scan Now" button the software will show that scanning is in process. The recovered files listed in a tree structure on the left side of the window panel.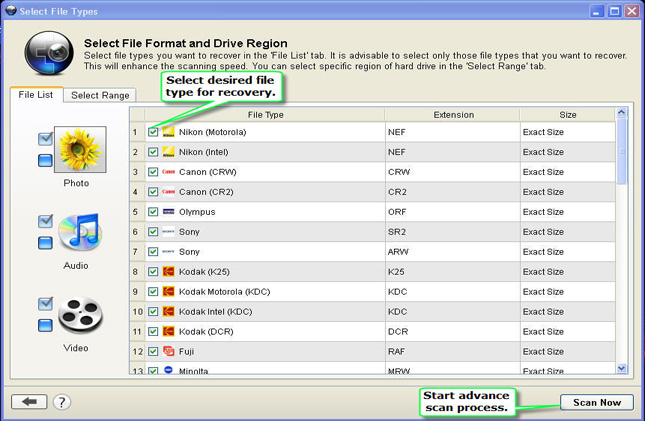 Step 5 – After scanning, you can select the files to preview them and then you can click on "Recover" button to finally save them on your computer.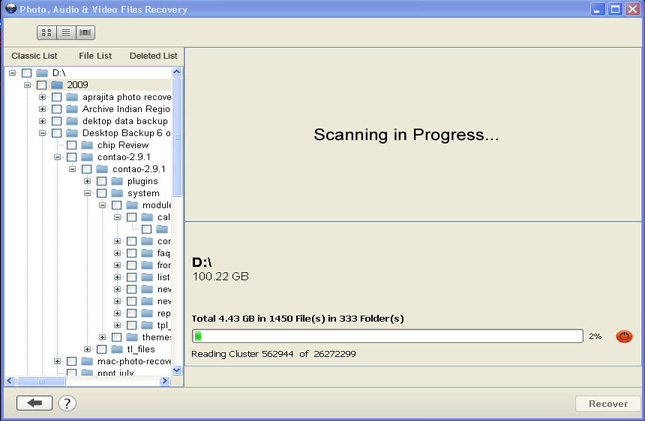 Step 6 – Select the desired location on your computer to save the recovered files. The screenshot shows that the recovered files are being saved.

Solution 3 – Use chkdsk to fix/repair an unformatted/corrupted card without data loss
CHKDSK is a command that will help you to fix/repair damaged card without formatting. And it will allow to you to open and access to all your files stored within the card.
Below find out the steps, how it works (I have used Window 7 PC for these steps):
Step 1: With the help of card reader connect your memory card to PC.
Step 2: On your PC, click START menu, type "cmd" in search bar and press ENTER button and you will see the following command Windows.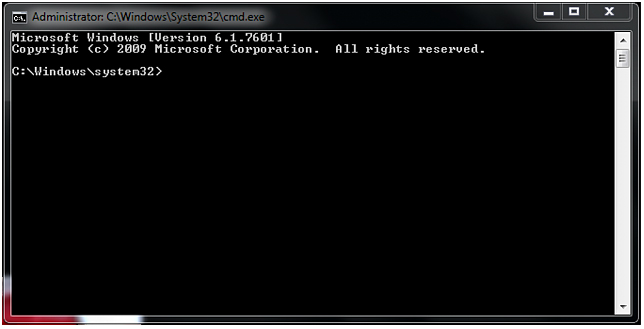 Step 3: If your memory card drive named as h: then type the following command – "chkdsk /X /f h:" or "chkdsk h: /f".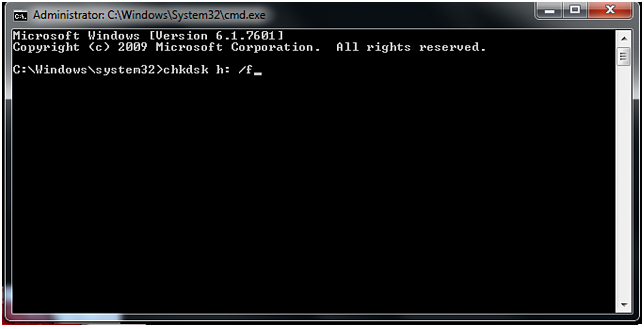 After this Window will take some time and fix the file system of the card. And if you see that "Windows has made corrections to the file system" in the command window, then your problem is solved and now you can easily open and access files of the card.
If you are still not able to access files stored within the card, then you must try Photo Recovery software mentioned in solution 2.
Note: Once you fix/open damaged memory card that throws formatting error message, by following the above solutions, you can then proceed further to format the card at last, in order to re-use it again.
Tips to remember:
Once you get formatting error message on your card, then stop using it immediately and eject it out from phone, camera or other devices.
Do not format the card, if you want the stored data back from it.
Apply photo recovery software and scan you card and save recoverable files on your system as well as make a backup copy of those files and keep in different drives or external storage device.
If you have found this post helpful and useful, then please do not forget to share it.
Also like and follow us on Facebook, G+, Twitter and Pinterest to get latest updates.
Summary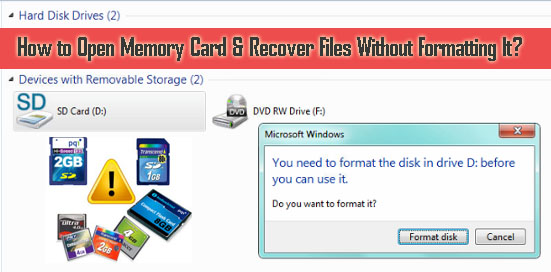 Article Name
How to Open Memory Card & Recover Files Without Formatting It?
Description
Find out few solutions on how to open/fix memory card and recover data without formatting it. Solution 1: General troubleshooting to open card without formatting. Solution 2: Recovering Files from Corrupted/Damaged Card without Formatting.
Author
Publisher Name
Publisher Logo