As we all know that SD card (Secure Digital) is a small portable device that holds a large amount of data in it. But the situation is not the same every time – today it might be working properly but the next day when you will connect the card to a PC, it displays an error messages like "folder is empty". However, when you check the properties it will show the 'card is full'.
In such a situation, you will not be able to access data stored within it. But, only by seeing this SD card shows empty folder error message you cannot say that all the data have been deleted from the memory card because the data remains in SD Card only become invisible.
All you need to do is to just read the whole blog from beginning to end and fix memory card says Folder is Empty. However, while fixing the SD card shows empty, if you found your SD card data gets deleted then you can try the most recommended SD card Recovery Tool to get them back.
Rated Excellent on

Trustpilot
Free SD Card Recovery Tool.
Recover data from corrupted, damaged, & formatted SD cards of all brands on Windows. Try now!
Before knowing how to solve SD card says folder is empty, let's know what actually causes this error message.
What Makes SD Card To Display "Folder Is Empty" Error Message
There are several reasons why users are often encountering different SD card errors. Though here we are talking about SD card shows empty specifically, so, let's know the major factors of this issue:
When you connect your card to PC for transferring files from it or vice versa and if there is any interruption during transfer then it may corrupt the SD card.
Improper ejection of SD card during read/write process can lead to loss of data and your card may throw unexpected error messages.
Using the same card on multiple devices and platforms is also another reason that can result in corruption to the card and it may create several problems.
Virus infection to the memory card will easily corrupt the files and thereby do not allow you to access the files.
In any of the above cases arises, we can come across a situation of data loss including pictures, movies, songs, and so on. So, it is always advised to keep a frequent backup to deal with such situations.
Is It Possible To Recover Data From SD Card Displaying Folder Is Empty?
As I have already mentioned above, "Yes' you can recover data from SD cards like images, videos, and audio files from all memory cards (SD, miniSD, microSD, SDHC, SDXC, CF, etc) that show the folder is empty or other unknown error messages.
You can regain the lost files until & unless you do not add any new files and overwrite the existing data on the card. Once you overwrite the existing data, it can lead to permanent data loss.
Does Data Get Lost Permanently After Showing SD Card Empty Error?
The answer is No, the data present in your SD card isn't lost permanently. You must know that when data becomes inaccessible or deleted, it doesn't mean that data is lost forever from the card, no matter whatever error messages SD card shows. The data is still present in it, until and unless you overwrite old data with any new files.
Hence, it is always recommended that you must immediately stop using the card if the SD card is empty and it shows any error message.
How To To Fix SD Card Throwing Error Message "Folder Is Empty"?
If your memory card (SD, SDHC, SDXC, etc) is displaying folder is empty, then you can solve it by following the given solutions.
Method 1: Unhide Hidden Files On SD Card Through File Explorer
Most of the time, it happens that due to some unexpected reasons your data gets inaccessible or hidden. In such a situation, you can unhide or recover hidden files from the memory card manually by following the below steps:
On your Windows 10/11, make double click on "This PC".
On a left top of the corner, tap on "File" >> choose "Change Folder & search options".
Under the window "Folder options" >> click on the "View".
After this, choose "Show hidden files, folders and drivers" option >> click "Apply".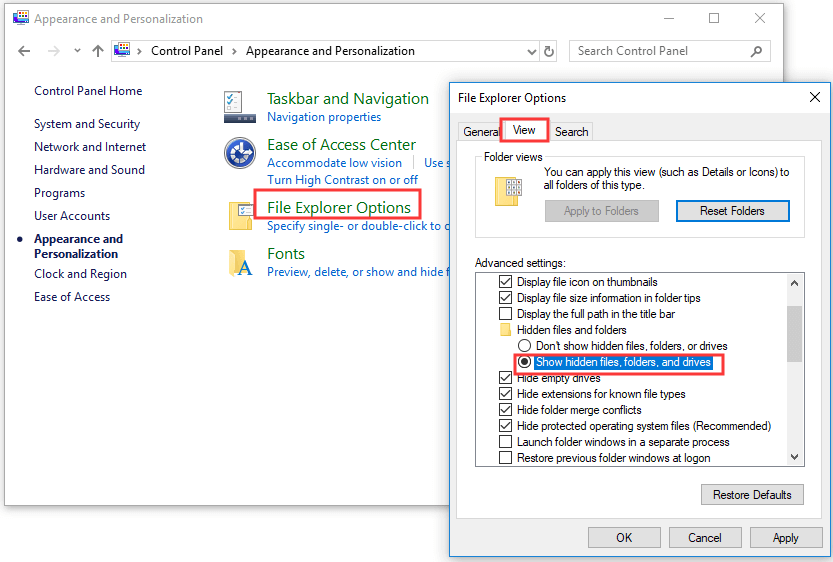 Once you have completed these steps, you will be able to see the hidden files or folders again on your memory card.
Method 2: Use Attrib Command To Fix SD Card Empty Error
Attrib command is another yet option that you can try to fix this issue and unhide your unseen pictures, videos, and other data saved in the SD card. In order to do so, you have to follow the steps given below:
Connect your SD card to PC using a card reader.
Then, click START >> type RUN in the search address bar >> hit ENTER.
A new window will get open, type cmd, and hit ENTER.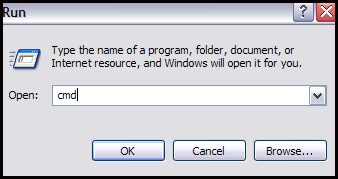 Here, you'll get the command prompt dialogue box
If your SD card drive letter is G: drive, then you have to type the below command:
attrib -h -r -s /s /d g:\*.*

After completing these steps, you can check for the data from your SD card.
Method 3: Check SD Card For Errors
To fix the SD card empty or SD card says folder is empty issue, you can use Windows built-in tool – CHKDSK to check the SD card for errors. Let's see how to process it.
How To Run Check Disk Tool:
 Firstly, open File Explorer, and then locate your SD card and make a right-click. Now, go to "Properties" > "Tools" > "Check".
Select one among the following options which is based on a specific situation and then click "Start".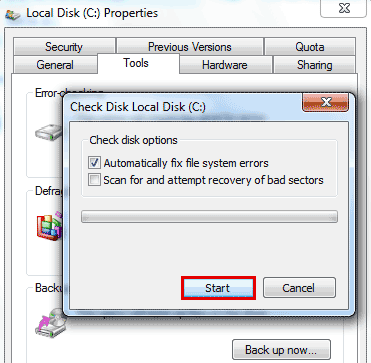 Method 4: Run CHKDSK To Fix SD Card Folder Is Empty Error Message
Chkdsk is a command-line utility available on the Windows OS. It is mainly used to solve minor corruption on external hard drives.
If you think your SD card is full but shows no files & folders, it means your SD card might get corrupted or damaged. In order to fix your SD card and make it accessible, you need to run the chkdsk command.
Here is how you can run this command on your Windows PC:
On your PC, go to Start.
Then type Command Prompt in a search bar and right tap on it.
Next, click on run as an Administrator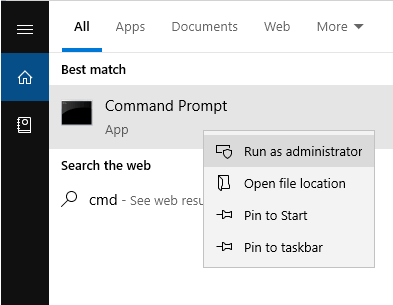 Once the command prompt window gets appear, type Chkdsk c:/f>> hit Enter.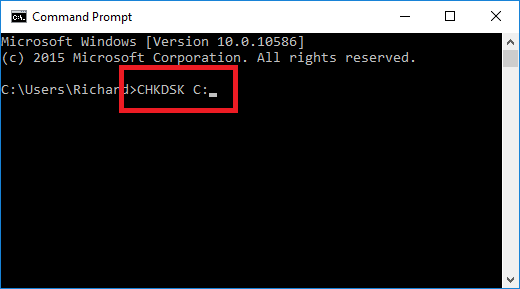 Please Note: Here "C" refers to the drive letter of your memory card
After this process, your files and folder on SD card might be present.
Recover SD Card Data After Fixing SD Card Shows Used Space But No Files
You can apply the appropriate SD Card Recovery Tool for Windows/Mac. This software is perfectly designed to scan and retrieve inaccessible, lost, formatted, unreadable, missing, erased files from external media storage devices like memory cards, hard drives, pen drives, digital cameras/camcorders, USB flash drives, and so on.
Recovering media files from SD cards showing error messages like 'folder is empty" is now become easier to fix with the help of SD Card Recovery Software. This software helps us to:
Rescue photos, videos and audio files from memory cards displaying folder is an empty error message.
Get back data from formatted, virus infected, corrupted, error throwing memory cards including SD cards.
Retrieve back media files from several cards such as SD, SDXC, SDHC, Compact Flash, MMC, and so on.
Restore almost all file formats of images (jpg/jpeg, png, gif, RAW, etc), videos (mp4, Avi, Mkv, MOV, etc), and audio files (mp3, amr, wav, aac, etc) from external media storage devices.
Support media file recovery from models and brands of memory cards such as SanDisk, Transcend, Kingston, Sony, Samsung, Lexar, HP, and many more.



* Free version of the program only scans and previews recoverable objects.
Steps To Recover Files From SD Card That Show Folder is Empty Error
Step 1: Select Desired Location
Firstly, select the drive, external media or volume from which you want to recover deleted media files. After selecting, click on 'Scan'.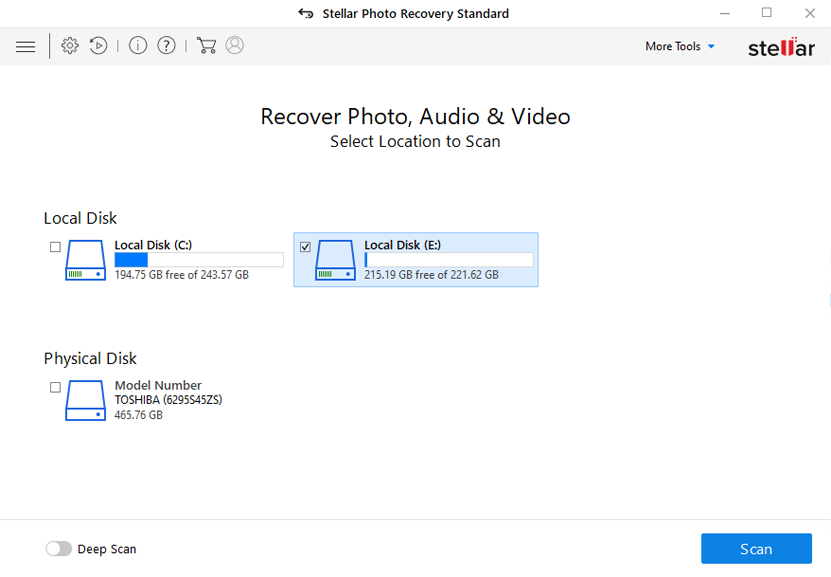 Step 2: Preview Recovered Media Files
Next, you can preview the recoverable media files after the scanning process is completed.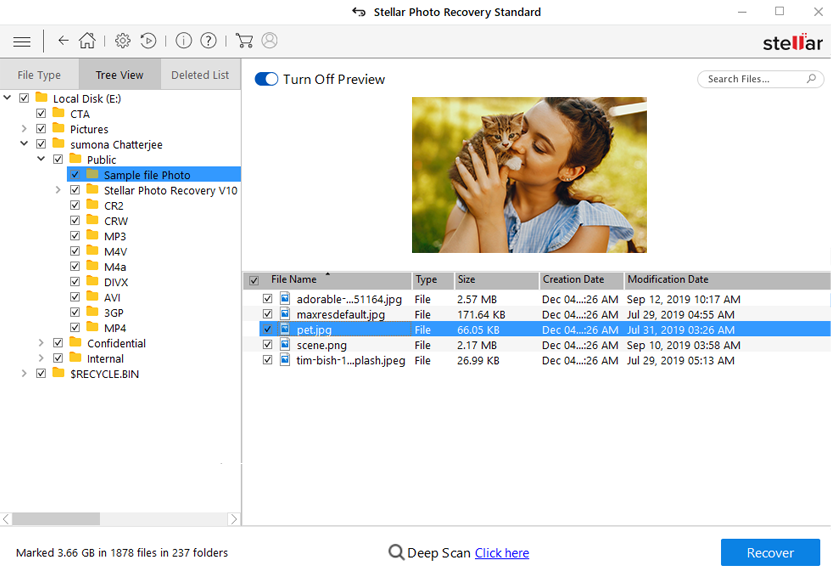 Step 3: Recover Media Files
Lastly, you can select the images, audio, video files you want to restore and click on 'Recover' option to save them at the location you want.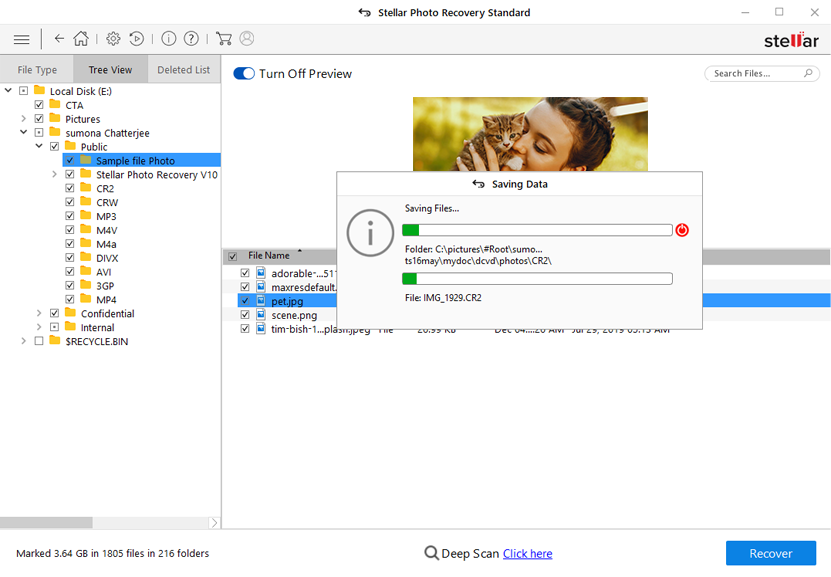 These steps can be applied to any memory cards such as Secure Digital (SD), miniSD, microSD, SDHC, SDXC, Compact flash (CF), xD, XQD, SmartMedia, etc, no matter whether it is used in Android phone, windows phones, normal phones, laptop, Mac computer, digital cameras/camcorders, mp3 player, video player, etc.
Tips To Remember
Make sure that you always eject or remove the card properly and safely from several gadgets.
Make habit of frequently keeping the back of your SD card.
After the loss/deletion of data, immediately stop using your card.
Keep up-to-date antivirus to keep memory card protected from any external virus/threats.
Avoid using the same cards on different devices and platforms.
Frequently Asked Questions:
Why Does My SD Card Say It Empty?
Your SD card might say empty due to the corrupt RAW file system, bad sectors, virus infection, inappropriate memory card usage or logical damages.
How Do I Fix An Empty Folder Error On SD Card?
In order to fix an empty folder on SD card, you have to apply the below tricks:
Unhide files on SD card through File Explorer
Use attrib command
Run error checking utility
Run CHKDSK
How Can I Recover My SD Card Folder?
You can recover your SD card files or folders by using the recommended SD card Recovery Tool. It has the ability to recover pictures, videos and audio from corrupted, formatted, or encrypted SD cards with ease.
How Do I Fix My Blank SD Card On My Android Phone?
To fix blank SD card error, try the below fixes:
Restarting the phone
Remove & re-insert SD card.
Check for hidden files
Format SD card.
Conclusion
After reading the whole blog, I hope, now you have come to know why is my SD card empty, how to fix the folder is empty error and of course, how to recover data from Memory card displaying Folder is Empty error.
So, try out the above-mentioned solutions if you want to get rid of Blank memory card errors.
If you have found this post helpful and useful, then please do not forget to share it.
Also like and follow us on Facebook, Twitter, and Pinterest to get the latest updates.
Alex is an expert technical writer with 7+ years of experience. His in-depth knowledge about data recovery and fascination to explore new DIY tools & technologies have helped many. Alex has a great interest in photography and loves to share photography tips and tricks with others.