Have you recently click photos from your canon camera? Are your precious photos have been deleted accidentally? If your answer is yes, and looking for a solution to recover cr2 files from canon camera then, you are in the right place. I am saying this because, here in this blog, you will get the most effective ways to recover corrupted cr2 files that you might have never tried before.
But before I proceed further, I would like to provide a very simple and easiest way to restore deleted RAW CR2/CRW files from Canon camera that is Canon CR2/CRW File Recovery Tool. With this effective tool, you will be able to:
Restore RAW image files format of different digital cameras such as Canon CR2/CRW, Nikon NEF, Fuji RAF, Pentax PEF, Samsung SRW/SR2, Hitachi, Olympus ORF, Kodak KDC/DCS/DRF/K25 Sigma X35, Mamiya MEF, and more
Besides RAW photo recovery, this software can also retrieve other formats of images like JPEG/JPG, PSD, PNG, TIFF, GIF, and other image formats
Also restore media files (photos, videos, and audio)from various data storage devices
Preview RAW Canon CR2/CRW images within software before you proceed to save them on your PC
Compatible for both Windows and Mac users as it comes separately for both OS
Read-only program, 100% clean, safe & easy to use.
emid

emid


* Free version of the program only scans and previews recoverable items.
In the below section of this blog, you will get its user guide. After finishing the RAW photo recovery process, you will get all the recovered image files in your preferred folder. Before that, I would like to share a practical scenario with you, after reading these scenarios I have actually decided to write a blog on this topic.
For practical scenarios, you can check out the below-mentioned user's examples.
how can I recover a deleted photo from a Canon Power Shot A1000 camera

How can I recover a deleted photo from a Canon Power Shot A1000 camera?

– Original Post From Canon Community

image recovery cr2 files

I was wondering if there is a free recovery program for cr2 files that recovers them as cr2 files and not tiff. Every one I've tried recovers them as tiff. Thanks.

– Original Post from Digital Photography Review Forums
Similarly, there are many people who lost their precious photos unintentionally. But you can easily recover photos from a digital camera card.
Firstly, let's know more about CR2/CRW image files.
About CR2/CRW File Formats
A raw file is the single file format that contains the unrefined and undeveloped data from the image sensor of a digital camera. Canon has CRW and CR2 file formats that provide non-destructive photo editing results. But this format also suffers from loss or corruption of pictures and they can be restored by the help of the given solutions in this blog.
But, firstly let's start with its causes. Obviously, you want to know what are the causes of photos deletion from a canon camera? So, look below to know the actual causes of photo deletion:
Reasons For The Loss Or Deletion of Photos From Canon Camera
There could be several reasons for the loss or deletion of photos as well as videos from the digital camera. Some of the reasons are mentioned below.
Clicking Pictures At Low Battery: If your camera is showing a low battery and then also you continued clicking pictures without saving the pictures properly, there is a greater chance that you can lose all the precious photos forever. So, you should not click pictures when the camera has a low battery.
Accidental Deletion: Usually it happens that while you are previewing previous photos or clearing the unwanted pictures from a camera, your precious photos get deleted accidentally.
Power failure: This is another common cause of photo deletion. If you are transferring pictures from canon camera to your PC and suddenly your system shut down then you may lose your pictures.
Virus Attack: This is the major cause of photo deletion. If memory card gets infected with virus then it can corrupt all the files and make your memory card inaccessible.
Formatting Memory Card: Sometimes, you press the format button mistakenly of your camera, in such case that your photos may delete.
Formatting Error: While clicking pictures if any error is showing in camera and you are ignoring that, this can cause a loss of photo deletion.
These are some of the common reasons for the loss of photos from Canon digital camera but the list doesn't end here.
But you don't have to worry at all! Here are the solutions which will help you to get back your lost image files. Just try out these methods one after another.
Here comes the solution section!
How To Recover Deleted RAW CR2/CRW Image Files
Canon CR2/CRW File Recovery Tool is a special tool that is designed to restore all deleted or lost photos from the Canon camera memory card that includes raw image .crw file recovery and .cr2 file recovery.
It can recover Canon camera pictures disappeared, lost, erased deleted or formatted due to several scenarios such as accidental deletion, virus infection, memory card corruption, file transfer interruption, usage of the same SD card in multiple gadgets, etc.
It is an easy and powerful Canon recovery software that is particularly made to recover cr2 files from SD cards of Canon cameras like Canon EOS 50D/60D/5D/7D/Rebel T3/Rebel T3i, G1/SX30/SX150/A1200, IXUS 220/230/1100. It not only retrieves files in JPG (JPEG), PNG, GIF, TIFF, and several other formats but also recovers numerous audio and video files quite effectively.
Note: When you notice photo loss or deletion, you must immediately stop using your camera and its memory card and do not add any new data to it. If you do so then new data will overwrite existing data and hence you will lose a chance for successful recovery of images.
Below are the steps to restore deleted RAW CR2/CRW image files from Canon camera.
Step 1: Select Desired Location
Firstly, select the drive, external media or volume from which you want to recover deleted media files. After selecting, click on 'Scan'.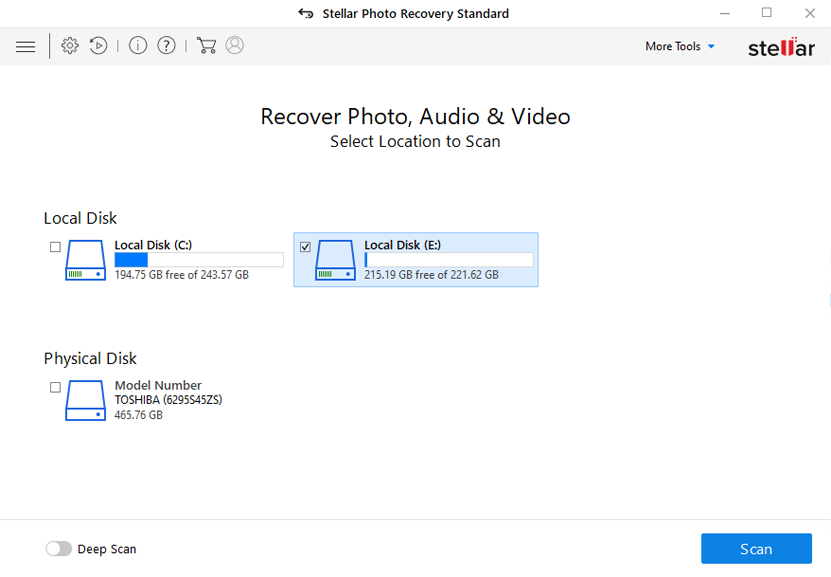 Step 2: Preview Recovered Media Files
Next, you can preview the recoverable media files after the scanning process is completed.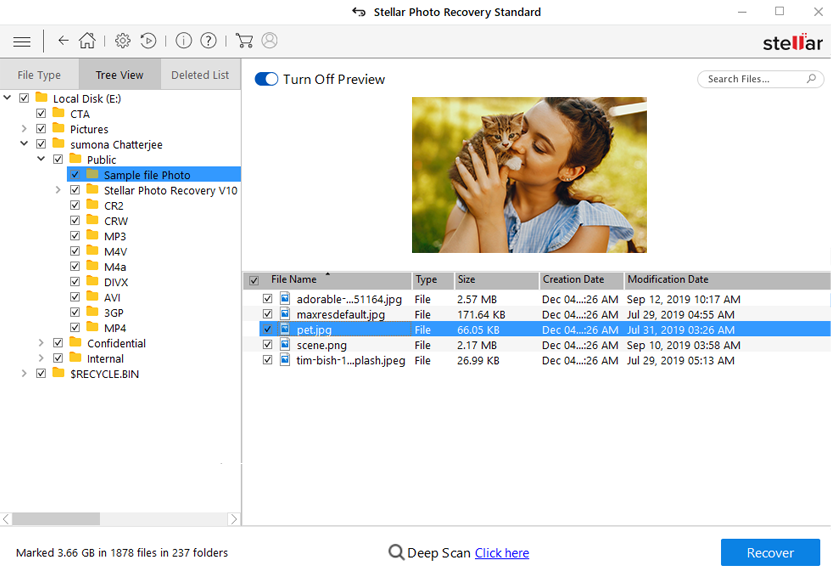 Step 3: Recover Media Files
Lastly, you can select the images, audio, video files you want to restore and click on 'Recover' option to save them at the location you want.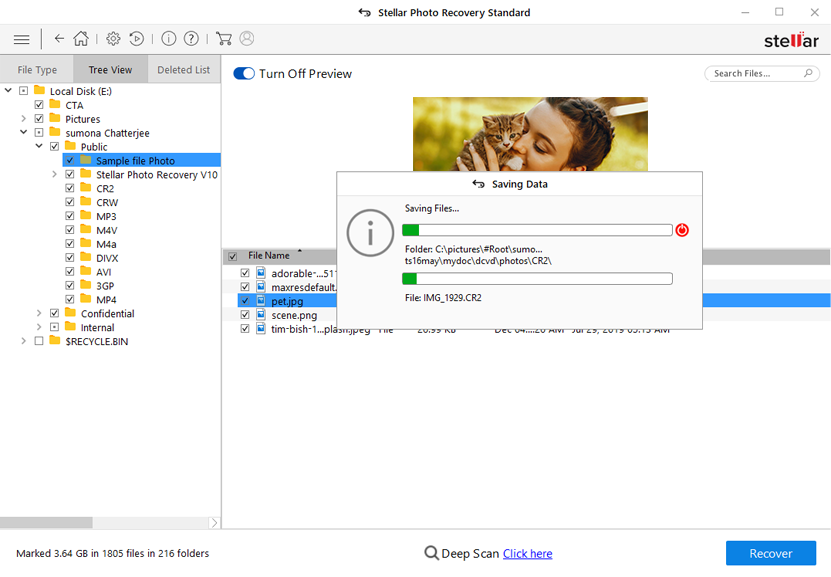 Other Alternatives To Recover Corrupted CR2/CRW Image Files
Method #1: Reinstall The Driver
There is a chance that the computer's driver has been corrupted due to malware or it may be outdated or any reason. If you will uninstall the driver and then again reinstall it, you can easily detect the storage media. You can follow the below-given steps in order to reinstall the driver.
Firstly, go to My Computer and make right-click on it
Now you need to follow Manage and then Device Manager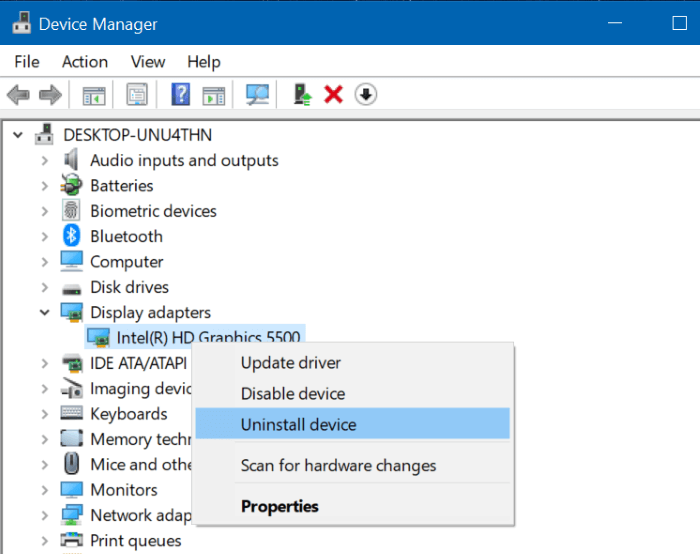 Double-click on Disk Drives from the list
Then, right-click on the name of the removable drive and hit ok
After carrying out these steps, you are required to restart the system and then you need to connect the camera's memory card to the computer so that the access videos can be accessed.
Method #2: Run CHKDSK
In this method, you have to restore corrupted CRW files from Canon camera memory card by using the command prompt. Follow the steps below to do so:
Firstly, you have to connect your card with the help of card reader to PC
Then, press on the Win + R and simply type 'cmd' and hit Enter key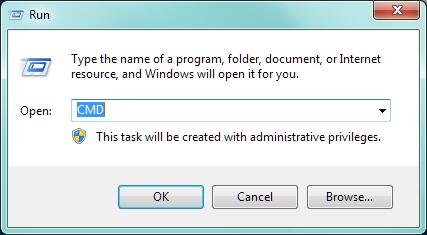 After that, type the command chkdsk E:/f in the command prompt Window and again hit Enter key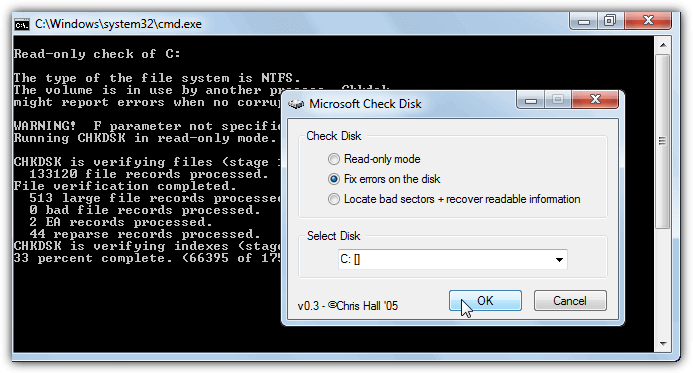 Next, type the Y and  click the Enter key
Type E and press Enter key
After finishing the above steps then type E:\>attrib –h –r –s /s /d *.* and hit Enter key

Bonus Tips: Digital Camera Memory Card Using and Caring Tips
While taking photos with a camera, you have to consider things like light, lens, shutter speed, and other photography tips. Besides that memory card is also a very important part as all the photos were taken with a camera are stored in it.
The improper usage or mishandling of memory card can lead to the photos and videos disappear from it or corrupt the card.
So, below I am listing the posts that will help you in protecting the memory card and digital camera components.
Conclusion
After going through the whole blog, you have come to know that images can be deleted due to various reasons. But, you don't need to worry about, as I have mentioned some effective methods using which you can retrieve deleted images from canon DSLR camera.
You can also use the Canon Camera File Recovery tool to restore deleted/lost RAW CR2/CRW image files. This tool is very specialized and mostly recommended by the professional. This tool will not only help to restore the lost images but with the help of this tool, you can restore all lost/deleted data including videos, music and more.
That's all…
Taposhi is an expert technical writer with 5+ years of experience. Her in-depth knowledge about data recovery and fascination to explore new DIY tools & technologies have helped many. She has a great interest in photography and loves to share photography tips and tricks with others.