Have you ever accidentally deleted video or photos from GoPro camera SD card? Are you looking for GoPro SD card recovery solution? If "Yes", then this article will help you to recover deleted videos and photos from micro SD of GoPro camera.
So, let's get started…
To recover videos and photos from GoPro camera, we recommend this tool:
This software will restore data from corrupted, formatted, encrypted storage media and works in all data loss situations. Now recover your lost and deleted data in 3 easy steps:
Download this Media File Recovery Tool rated Excellent on Pcmag.com.
Select the storage media from which you want to restore the media files & click Scan.
Preview the recoverable files, select the items you want to recover and click Recover to save the files at desired location.
Is It Possible To Recover Deleted Photos From My GoPro 5?
YES, it is possible to recover deleted photos from GoPro camera.
As you know that GoPro has a memory card slot, in which SD card are inserted. All the recorded video or captured photos are stored in the memory card. And even if you have accidentally deleted or formatted the card, you still have the chance to restore videos, photos from GoPro.
Actually, the deleted files are not deleted permanently and it is still present on the card. Until and unless you do not overwrite it by adding new data on the memory card. Hence, it is suggested that you must stop using the GoPro SD card and do not record or click photos from it. Lastly, apply appropriate GoPro SD card data recovery software to recover photos/videos from GoPro SD card.
GoPro Camera SD Card Recovery Tool
The GoPro SD Card Recovery Tool is one of the most perfect and reliable data recovery software. This camera recovery tool will help you to recover deleted GoPro video with ease. It not only restores photos and videos but recovers other stuffs as well.
It retrieve files from GoPro Fusion, GoPro Hero 6, GoPro Hero 5, GoPro Hero 4, GoPro HD Hero 3, GoPro Hero 2 HD, GoPro Hero, HD Hero 960, Digital Hero 5, HD Surf Hero, HD Helmet HERO, etc.
Let's find out its other ingenious features before we proceed any further.
Retrieve deleted, lost, missing videos and pictures from GoPro camera SD memory card.
Restore media files from corrupted, formatted, virus infected, error throwing SD card of GoPro camera.
Support all GoPro Camera such as Fusion, Hero 3, Hero 4, Hero 5, Hero 6, etc.
Also support recovery of multimedia files from other camera & camcorder SD card such as Nikon, Canon, Fujifilm, Olympus, etc.
It is available for both Windows and Mac
100% read-only program. Safe, secure & easy to use.
emid

emid


* Free version of the program only scans and previews recoverable items.
This GoPro video recovery comes with efficient scanning algorithm that extract every single multimedia files in cases of all card corruption or deletion.
You can try this step by step guide to know how to recover deleted photos from Gopro hero 5 using this recommended software.
How Do I Recover Lost GoPro Videos & Photos Without Software?
By following the below alternatives solutions, you can recover data from GoPro camera without any trouble.
#1: Restore GoPro Files From Existing Backup
If you have a backup of the deleted or lost photo and video files then you can try Backup option to restore deleted files. To do so, try the below steps:
First of all, connect your backup storage media or SD card with the system using the card reader/USB cable.
Now, you need to press Win + I keys and go to Settings option and
Next, go to 'Update & Security' and then 'Backup' option.
After that, you have to click on 'Backup & Restore' option and then click on 'Restore My Files' option.
#2: Check Recycle Bin For The Deleted Photos & Videos
One of the easiest and the best place you should look for the deleted pictures in the Recycle Bin folder. It is possible that your deleted data might be there. To recover deleted videos from GoPro hero 4 from Recycle Bin folder, follow these steps:
Firstly, open the Recycle Bin folder by simply double-clicking on it
After that, you need to search the files or folders that you want to recover.
Then, simply right-click on the selections and choose Restore.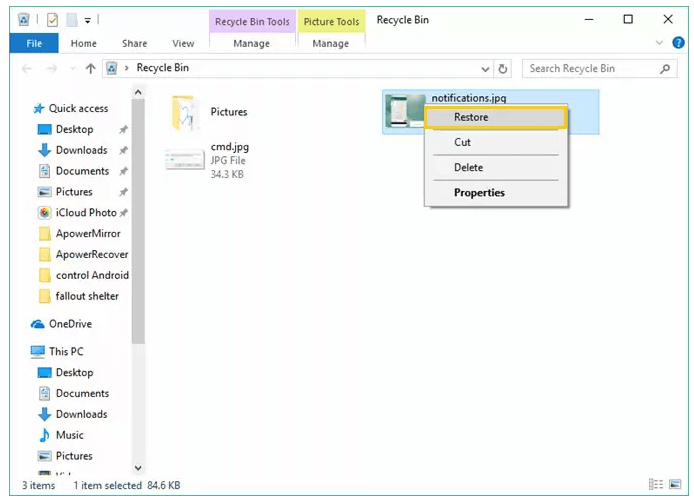 #3: Get Back GoPro SD Card Data Using ATTRIB Command
Using the attrib command, you will be able to unhide files from GoPro SD card and recover data from there. To do so, follow the below steps:
First of all, open command prompt by pressing Win + Rkeys and then type cmd there and hit
Now, you've to type there 'chkdsk X /f' and hit Enter Here, X can be changed as per the drive letter you use for your SD card.
Next, you need to type there 'Y' to confirm the command and hit Enter
After that, type there 'X' and then hit Enter
In this step, type in 'X:\>attrib –h –r –s /s /d *.*' and press

You have to wait until the command executes and then you can recover files from there easily.
Why Should I Get A GoPro Camera?
Earlier GoPro camera was not popular as compare to other camera such as Nikon, Canon, Olympus or Sony. But now, GoPro has established itself, and today it is recognized as a leading brand for personal video camera, which is specifically incorporated with extreme sports and adventurous activities.
Beside camera, GoPro also provide Drone, in which you can attach camera into it and shoot video footage from several level and angle. You can also use GoPro camera with other Drone such as DJI, Hubson, Yuneec, Quadrone, Parrot, etc.
Though this gadget has so many excellent features, but there are things that come unexpectedly. One of those things is the deletion or loss of files on GoPro. Let's know the common causes for the loss of files on GoPro.
What Causes Deletion of Videos/Photos on GoPro Camera?
Below, you can see the most common causes of deletion of Gopro Camera card files:
Accidental Deletion: This is one of the most common reasons that make the files lost from the camera or from its SD card.
Formatting: Sometimes due to some SD card error we are forced to format SD card. But formatting the card, result in complete deletion of data from it.
Corruption: If your GoPro SD card gets corrupted due to virus attack or some other reasons, then you will not be able to use or access files stored within the card.
File Transfer: If there is any kind of interruption while transferring videos or photos from the camera to PC or Mac, then you may encounter data loss. Interruption can occur due to device or system shutdown.
In any of the above-mentioned scenarios, you may face video or photo loss from GoPro camera.
People Also Ask
Conclusion
So as you have now got the perfect and suitable GoPro SD Card Recovery solution. You can now travel anywhere with your beloved GoPro camera and record and take as many as videos and photos.
As you do not have any fear of losing them because you know you have the reliable and trusted Photo Recovery software. By using which you can easily solve how to recover deleted videos from Gopro hero 7.
I hope, you liked this article.
That's all…
Taposhi is an expert technical writer with 5+ years of experience. Her in-depth knowledge about data recovery and fascination to explore new DIY tools & technologies have helped many. She has a great interest in photography and loves to share photography tips and tricks with others.