Summary: In this particular article, we are going to cover almost all memory card and SD card errors and their solutions (manual & automatic), how SD card gets corrupted, bad, damaged and tips to protect SD card.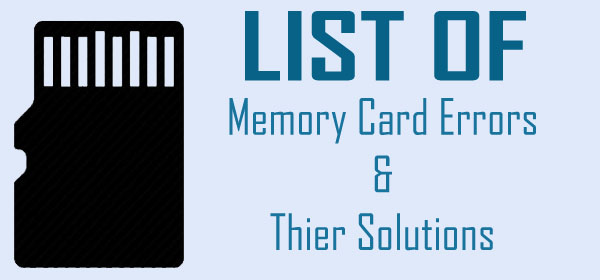 Due to arrival of latest digital gadgets, storage requirements are also getting extended due to unlimited downloads of videos, movies, songs, photos, HD images, etc from web and capturing photos, recording videos from the device all the time. For this reasons, memory cards such as SD cards, SDHC, SDXC and other variants of cards have become more easy way for storing data in different media storage devices. Among various variant of cards, SD card offers:
Good speed read/write process
Fast transfers of data
Higher memory capacities
makes the storage portable in various digital devices
Memory  cards are used in different gadgets such as digital cameras/camcorders, mobile devices (phones/tablets), video player, mp3 player, PC/Laptop and many other devices.
Bottom Line of Memory Cards (SD , SDXC, SDHC, etc)
Beside the above mentioned benefits, occasionally many users out their encounter with different errors, issues and problems with their SD cards and other variants of memory cards. When these portable cards gets damage, corrupt or formatted, then all saved files such as pictures, videos, audio and other data simply gets lost or becomes inaccessible.
For Example: Let us Take One Real Scenario
Hi
I'm using Redmi Note MIUI 37
Memory card : KINGMAX 16GB CLASS 6 HC

My memory card can not be detected even using the file Explorer.
As well as when using the camera, I can not save pictures and videos to the SD card.
Hope the experts to solve this problems

                                                                                   – Original Post From MIUI Forum
Normally, this problem occurs when card is not handled properly and thereby it starts to display error message. It may leave you with data loss permanently which makes SD card recovery difficult.
How To Know Memory Is Corrupted/Damaged
Well, there are many symptoms that can tell you that your memory cards (SD, miniSD, microSD, SDXC, SDHC, etc) is corrupted or damaged.
You will find that most of the photos on your memory card are missing.
You can see the data of your memory card in both camera and PC, but the moment you try to copy the data it throw error message – most commonly CRC errors.
Your card gets detected by your PC, but you cannot view any stored photo or video.
You will get different types of SD card error messages such as "card locked", "card write protected", or an error code on your camera screen and all the pictures on the memory card could disappear and be lost. In some cases your camera and phone will tell you to re-format the card.
Find out more to check/know if memory card is damaged/corrupt: Symptoms Of Damaged or Corrupted Memory Card!
Interesting Facts About Memory Cards: Good To Know
Like every human being has certain lifespan, similarly memory cards also have some limited number or lifespan. For example, a flash card unit has the limit of 10,000 write/erase operation approximately. After this, the chance of card corruption & damages increases. Hence, it is suggested to replace the SD card that has been frequently used for several years.
Find out – How To Keep Your Memory Card Healthy & 10 Tips To Avoid Memory Card Problems!!!
List of Memory Cards Errors And Their Solutions
Check out the list of memory card errors  and find out their specific solutions.
Recommended Solution: Use Photo Recovery Software
Whenever you get any types of memory card or SD card errors due to which your digital media files becomes inaccessible or lost, many people think that data is lost forever and permanently. But all the files remain in the same position on the card and it can be recovered by the Photo Recovery software (Windows/Mac).
Photo Recovery software is perfectly designed to restore inaccessible formatted, missing, lost, erased, corrupted, damaged photos, videos and audio files from any memory cards, including SD card, SDHC, SDXC, MMC, TF, XQD, xD picture card, etc. It doesn't matter what errors, problems or issues the card is having, it can easily scan and restore digital media files.
The software supports all models, types and brands of memory cards such as SanDisk, Transcend, Sony, HP, Toshiba, Kingston, Apacer, Samsung and many more.
Note: In order to retrieve back photos, videos and audio files from memory cards, make sure it is not physically damaged. Also, stop using the card from adding any new data (adding new data will overwrite the existing data and recovery becomes impossible) on it and immediately apply Photo Recovery tool for successful recovery.
Steps To Recover Inaccessible/Lost Files From Memory Cards That Throw Error Message
Step 1 – Install "Photo Recovery" software and launch it on your computer. Click on "Recover Photo, Audio & Video" tab to recover photos, videos and audio files from any SD card, external USB drive or computer hard drive. Connect the media to your computer and then perform the process.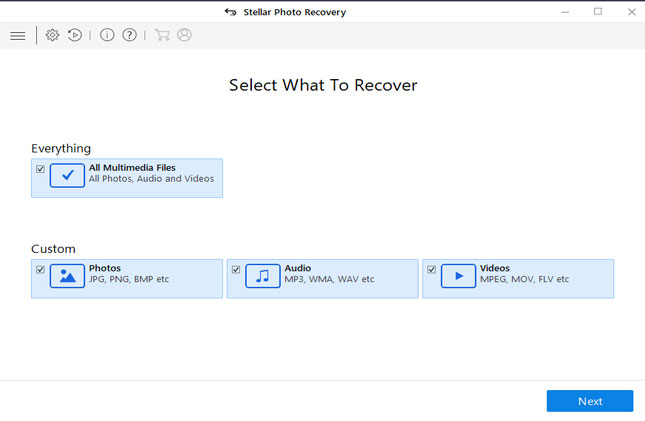 Step 2 – Select the drive from which you want to recover files. All the hard drive and external media will be shown in the list. Now select the desired drive to scan and then click on "Scan" button.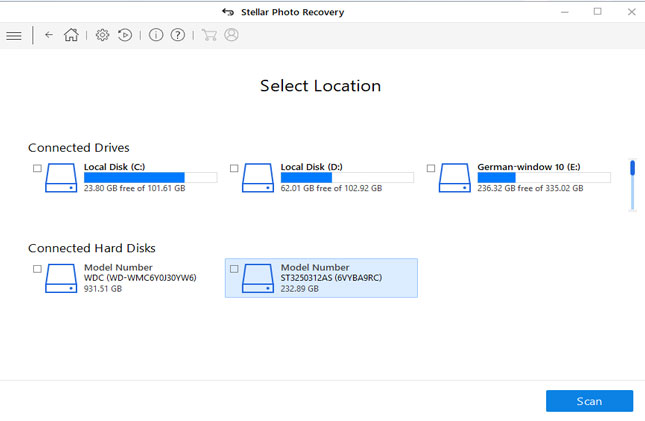 Step 3 – Once you click on "Scan" button the software will show that scanning is in progress. The software will search for all multimedia files from your selected drive or attached media.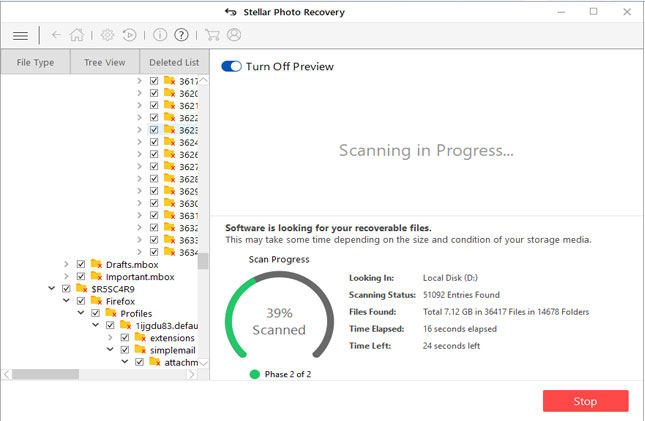 Step 4 – After scanning, all the files that are found in the selected volume, hard disk or other storage media devices are listed. You can now select the files to preview them and then you can click on "Recover" button to finally save them on your computer.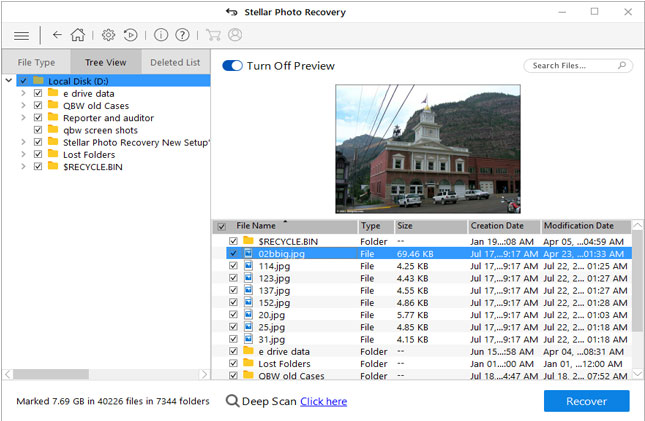 Supported Memory Cards:
Photo Recovery Software supports almost all types of memory cards. Below, find the list of cards supported by this software:
SD, miniSD, microSD, SDHC, microSDHC, miniSDHC, SDSC, SDXC, microSDXC, miniSDHC SDIO, SSD, MMC, CF, XD, cell phone memory card, Compact memory cards, etc.
Supported File Types
Photo/Camera File Format:JPG/JPEG, TIFF/TIF, GIF, PNG, PSD, INDD, MOS, PSP, PCT, BMP, JP2, DJVU, PGM, TJA, DNG, Nikon (NEF, NRW), Canon (CR2 /CRW), Olympus (ORF), EPSON (ERF), Fujifilm (RAF), Kodak (K25 /KDC /DCR), Leaf (MOS), Mamiya (MEF), Panasonic (RAW), Konica Minolta (MRW), Pentax (PEF), Sony (SR2, ARW, SRF), Sigma (X3F), TGA, Adobe EPS (Windows)
Video File Format:AVI, MOV, ASF, WMV, MP4, M4V, 3GP, MPEG, DV, 3G2, M4B, DIVX, OGM, MKV, ASX, VOB, MOI, MTS, AJP, F4V, VID, TOD, HDMOV, MQV, SVI, MXF
Audio File Format:MP3, WAV, RPS, AU, OGG, AIFF, MIDI, M4A, M4P, WMA, RM, RA, ACD, AMR, AT3, CAFF, DSS, TIFF, M4R, NRA, SND
Conclusion
I hope you have found the memory card errors and their solutions that you were facing with your memory cards. If your memory card error is not solved by following the solutions mentioned in their respective error list, then it is highly recommended that you must try Photo Recovery (Digital Media Files) software and get back only images, videos and audio file from memory cards.

Summary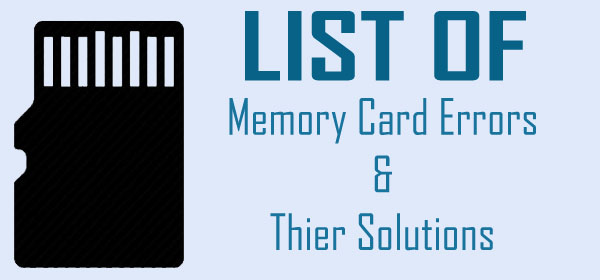 Article Name
22 Memory Card Errors & Their Solutions [Last Updated on 13/04/2018]
Description
Manual and automatic solution to Fix SD Card With Fatal Errors, Unreadable Micro SD Card, "write protected" error message, "Computer unable to read the card" error, Card is Locked' Unread Files, card Unexpectedly Removed error, Fix "Card cannot be used" error, fix SD Card with Bad Sectors, etc.
Author
Publisher Name
Publisher Logo