Photos or pictures are the best way to store and enjoy our memorable moments, there are many types of images are available like jpg, jpeg, png, gif, etc but all are doing same job store our images in an efficient way and without corrupting it. According to their type they are little bit different from each other but the main job is to store and present our captured pictureswith a high quality of image resolution. If you are using any camera to capture any image then they first capture and store the images in raw format and after capturing the image it take few seconds to convert a captured image to any general image type.
We know that a camera store the captured images in memory card, memory card is one of the important part of any camera because it can help to store lots of photo on it. Memory cards come in different shapes, size and type.
It helps us to store our important images in it. But when all the captured images get deleted accidentlythen it is very difficult to recover them because all images are deleted by manually. Take an example that you are a new with your camera and not know the complete functions and options of it and suddenly you execute deleted all option and all the pictures are deleted from memory card. This is very irritating situation for you because all your important pictures or images are deleted by your own silly mistake. Accidental deletion can also occurs with skilled users because sometime removing unwanted or junk photos from the camera or memory card of camera you might end up in deleting important photos from your camera.
Some Other Photo Deletion Scenarios:
Due to any virus attack- Virus infection is very common problem and it can affect ours captured photos also. This situation may occur when user connects their media card or SD card to any virus infected computer system. When SD card is connected with any virus infected computer then due to infection all the stored images get corrupted or inaccessible. To avoid this scenario avoid connecting memory card to any infected computer/ laptop. Always use an updated antivirus program in your computer system.
Due to memory card formatting- At times people unintentionally or intentionally format their memory card to free up space and later discover that the lost data are important. This is also a common way people loss their valuable stuffs from memory card.
Because of "Delete All" option – Memory card can get corrupted or unreachable due to any internal memory error. To recover any corrupted memory card is very difficult for any user manually because without taking help of any third party tool they can't recover the stored data or their memory card. Memory card or SD card can get corrupted due to virus attack, due to occurrence of bad sector in it, unwanted power flow etc.
Improper system shut down- If you connect your memory card to your computer to create its backup or for any other task and during its work suddenly power cut occurs and due to improper task closing or interruption all the stored images are get corrupted. To avoid improper system shutdown due to power failure you can use a power backup tool such as UPS, it will protect your system from power failure issue.
Unexpected Removal of Memory Card– If you connect memory card to any computer system and during process remove the memory card then due to this memory card gets corrupt. Always remove memory card from any device such as mobile and computer properly, if you are dealing with the computer system then use safely removal process to remove any external memory card.
Due to damaged Memory card- If memory card gets damaged due to any problem then due to physical damaged memory card can also affect the stored images. A slight crack on the memory card can make it inaccessible and when you check its property then it shows 0 bytes. So it is also necessary to protect memory card from physical corruption.    
How to Recover Deleted Photos and Pictures
To recover the deleted photos or picture from memory card you can apply any third party picture recovery tool, this tool is specially designed for the rescue of deleted pictures. It is very efficient and fast tool that can able to recover all types of data from memory card on Windows as well as Mac. This tool is designed for the normal user and one can operate this tool without knowing any technical knowledge. This picture recovery tool is very easy to use because it is full with graphical instruction so that one can operate this tool without needing any user manual. To Download this tool and rescue your deleted pictures that gets inaccessible from whatever reasons.

User Guide:
Step 1– Download, install and run this recovery tool.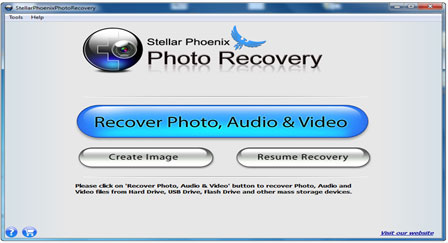 Step 2– Select your media device from where you want to recover photos, click on "Scan Now".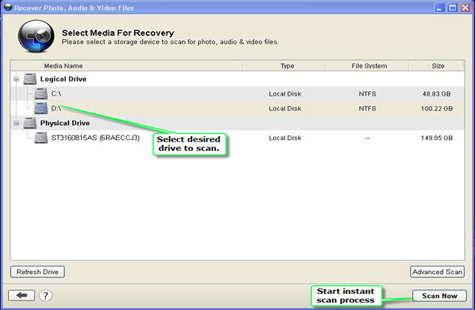 Step 3– Select those photos that you want to recover and click on the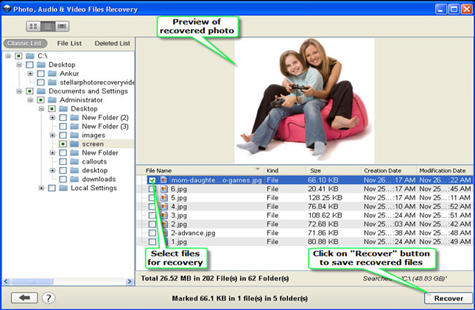 Step 4– After it select those photos that you want to recover. Enter the path location where you want to store the recovered photo.