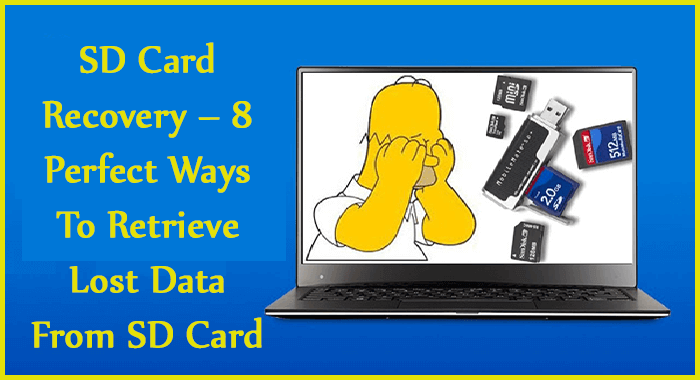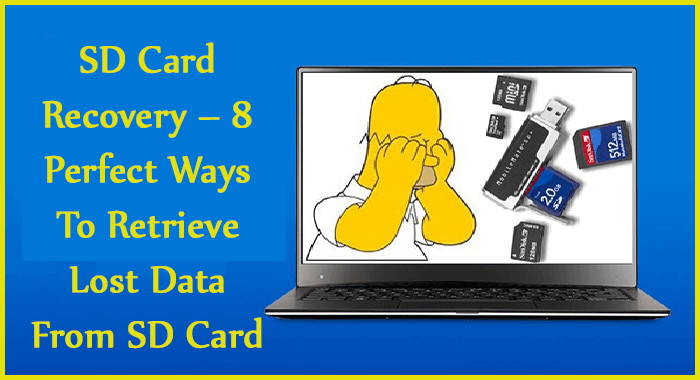 Summary: If you have accidentally or unintentionally lost or deleted your important data such as photos/videos/music files from SD card that you wish to recover then you don't' have to worry at all now. This is because here you will get the complete solution for SD card recovery solution. Here, you will get to know how to recover deleted files from SD card with ease. So, do not waste time in looking for the ways to restore deleted files from SD card. But before that, we will learn something about SD card.
Secure Digital or SD card is a flash memory card that is widely used in digital cameras, smartphones, camcorders, etc to store data like photos, videos and music files. It is often used in removable devices like pen drive, USB drive and other external storage devices for storing important documents. But sometimes, data loss becomes very common when you don't handle it carefully.
If your SD card is damaged or you have corrupted SD card then data loss issue will occur that can cause lots of trouble for the user. The moment you realize that you have accidentally deleted the important files or documents or format memory card accidentally then it is the most heartbreaking moment. We remain blank because we don't have any way to get them back.
Scenarios where Photos Deletion Takes Place Accidentally 
Imagine a scenario where while using your device you accidentally formatted SD card or your card have corrupted somehow.
For example just take one real practical scenario of the user!
Practical Scenario 1: User Accidentally Formatted SD Card
Accidentally formatted my SD Card- How to recover?

So, In a hurry, I stupidly formatted an SD card and thus lost a crucial video file. Been looking up ways to recover videos, and have tried a few, not many to any degree of workable avail. Anyone had a similar problem and found a workable solution? Thanks a lot.

– Original Post From Fxhome forums
Practical Scenario 2: User Lost Photos After Formatted SD Card
Recovering pictures of SD card after formatting?

My sister was messing around with my camera (it's a Canon PowerShot SD960 if that helps?) and I'm pretty sure she accidentally formatted the SD card through the camera's settings menu thinking she was editing the pictures. Now the camera says the SD card is empty and all the photos are lost.

I've tried 5 different data recovery programs (Remo, EaseUS, Paretologic Data Recovery Pro) and nothing works — they all take about an hour to scan the card, and then come up empty other than a few test pictures i stuck on it.

Is there anything else I can do? There were a lot of pictures on the card that I lost.

Thanks!

– Original Post From CNET Forums
Similarly, there are various users out there encountering with SD card data loss.
Let us know – what are some common causes that lead to the loss of files from SD card?
Causes For Losing Files From SD Memory Card
There are several reasons and causes that may lead to the deletion or loss of data from the SD memory card. Some of the common causes are mentioned below:
Accidental deletion.
Accidentally formatting the card.
Using the same card on multiple gadgets.
Connecting the card to virus infected PC or Mac.
Interruptions while transferring files from SD card to PC.
Capturing images from camera even when your device displays warning messages "battery low" or "memory is full".
Other causes are card corruption, damage, file system corruption and so on.
So, in such a situation what you should do then? The card may contain some of your memorable moments with your loved ones in form of photos or videos, it may even have your favorite track and several other things that you may heartily regret if you don't get it back.
These situations are quite horrifying and that's why people need to understand the fact that this can happen anytime with them.
But the question here is – can these issues be resolved or is it a kind of problem that has no cure of it. Is it possible to recover deleted or lost data from SD card?
Well, find the answer below!
Is it Possible To Retrieve Deleted Data From SD Card?
The short answer is "Yes", it is possible to recover deleted data from SD card with the help of appropriate SD card data recovery tool.
But you have to take care of a few things.
The first thing you should do is to stop using your SD memory card and do not add any new data on it as and when you find that your data is lost or deleted on your card. It is because adding new data to the card and continues using it then the possibility to recover the files you have lost will become less.
Now it's time to learn some most effective ways to recover deleted files from memory card that we can apply and get back out lost data.
Effective Ways To Recover Deleted Data From SD Card
You can try all the below mentioned methods to restore deleted files from SD card in easy ways. All these methods are very easy to apply and know how to recover files from SD card easily.
Method #1: Repair Undetected or Unrecognized SD Card With CMD
Method #2: Use Disk Management To Format SD Card
Method #3: Change SD Card Drive Letter Name
Method #4: Try CHKDSK Command Prompt
Method #5: Re-Install Card Reader Driver
Method #7: Format SD Card into NTFS
Method #8: Use SD Card Recovery Tool
Method #1: Repair Undetected or Unrecognized SD Card With CMD
There are people asking – How do I repair corrupted SD card that is not recognized by Windows PC? Well, if this is the case with you, then you can repair corrupted SD card and get rid of the undetectable, unrecognized or unreadable SD card issue by running CMD command.
Here are the steps that you can follow to repair SD card with CMD prompt:
Insert undetected or unrecognized SD card into card reader and connect it to Windows computer.
On your PC, click START, type "CMD" in search bar and hit ENTER. A new command prompt window will get open.
Now type the following command: "chkdsk /X /f H:" or "chkdsk H: /f" and hit ENTER. Here you need to replace H: with your SD card letter name.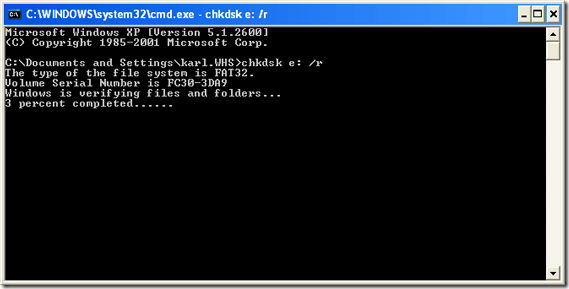 After this windows will look for the corruption and if any corruption found then it will fix SD card errors and recover data from it. On successful completion of the process, you can re-use your SD card without any issue or error.
Method #2: Use Disk Management To Format SD Card
Some people have also asked – How do I format damaged SD card that makes it unreadable or unrecognized on Windows PC, Android phone or digital camera? Well, in that case, follow the below steps to format the damaged SD card:
First, connect your damaged SD card to your Windows computer.
On Your PC, click Start and then right-click on "This PC" or "My Computer" and then select "Manage".
On the left side, click on "Disk Management".
Now right click on the SD card and click on "Format" option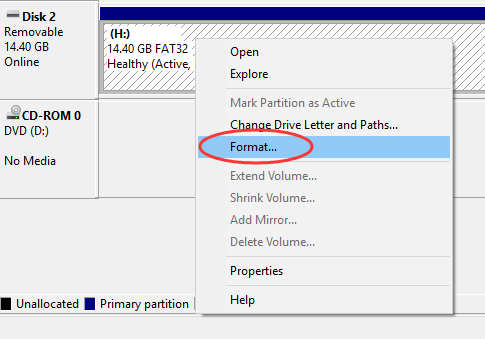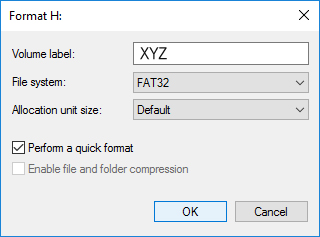 Now after performing these above steps, wait for the format process to get complete.
But, now with the help of SD Card Recovery Tool, it has become quite possible to restore lost data from SD card in an easy way. So, learn below to know what you can do to recover deleted data from SD card.
Method #3: Change SD Card Drive Letter Name
If you are unable to view your SD card but it is showing in Disk Management option, then kindly change the letter name of your SD card and the steps are given below:
First, insert your SD card into the card reader.
Then connect the card reader to your personal laptop or computer.
Go to Start menu of your system.
In the search address bar, type Disk Management.
Click and open the Disk Management
After that right click on your SD card and select the option Change Drive Letter and Paths for making changes.
Now, you can easily rename your SD card drive letter name.
Lastly, click the OK button to apply the changes.
[Note]:- Don't forget to check whether your SD card is functioning properly or not. If your issue has not resolved, then kindly reinstall your reader driver once again.
Method #4: Try CHKDSK Command Prompt
Sometimes, you might face some error issues in your SD card and it is unreadable to your personal computer/laptop, then there is another alternative option to solve your problem. What you have to do is to run the CHKDSK Command Prompt and given below are the steps to perform this: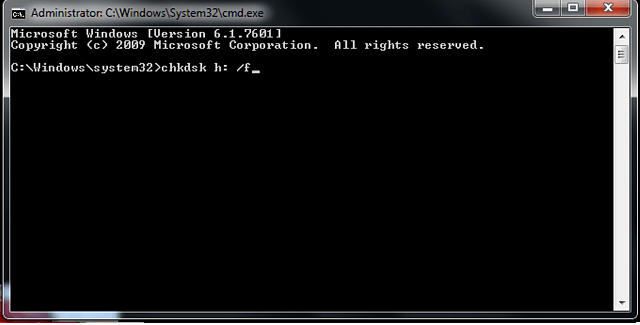 First, you have to right click on the My Computer
Go to Manage
Select the Disk Management
Locate your device in the external driver viewer and from here check whether you're SD card is readable or not.
If your SD card is readable then it's ok or if it is not detected then follow the procedure of check disk option, i.e. run the CHKDSK Command Prompt from Run
Now, press Windows + R key to open the Run
To do this, type cmd the Run command and press Enter.
Your CHKDSK Command Prompt will appear on the screen.
Here you have to type chkdsk D:/f and press Enter.
Else, you can also type chkdsk D:/f offlinescanandfix and press Enter key.
By performing this, your issue will get resolved.
Hence, your SD card is readable again.
Method #5: Re-Install Card Reader Driver
You can also try reinstalling your card reader driver to fix this issue. Following are the steps given below to reinstall your card reader driver:
Go to Start menu of your system.
Click on the option Device Manager and open it.
In Device Manager, choose the Memory technology device
From here you can note down the details of your card reader and after that, you can download a fresh copy of your drivers from the original website of the esteemed card reader.
Now, after your card reader model is enabled, then right click on your card reader and select the option Uninstall device from here.
Restart your computer or laptop after your card reader driver gets uninstalled.
After that run the setup of the downloaded card reader driver and follow the complete installation steps.
Lastly, kindly check that your SD card is displaying or not.
[Note]:- If all the above method fails to solve your issue then the alternative option left is to format memory card or SD card.
But if you will format your SD card, then you will lose all the data that are stored in your external storage drives like SD card or USB flash drive. Thus, it is suggested that you should always keep a backup of your data to other locations or any external storage devices so that you can easily perform external storage data recovery.
Method #6: Update SD Card Driver
If your SD card driver is not updated, then there is a possibility that your personal computer/laptop will not be able to detect your SD card driver. Thus, in this situation you have to update your SD card driver and make it legible again and to perform this, you have to follow the steps given below:
Connect your SD card with your personal computer or laptop and then right on the My Computer
In My Computer, choose the Manage option to proceed.
Now, just click on the Device Manager option on the left side of the taskbar.
Select the USB Serial Bus Controllers option and click on the plus "+" sign symbol.
After this, you will find that a yellow color exclamation mark will appear on your screen.
Now, choose the option Update Driver Software by right-clicking on it.
Then click on the option Search automatically for updated driver software.
Let all the drivers get installed and after the installation is completed, then kindly reboot your system.
[Note]:- Lastly, after all the steps are done then it will no longer give you error like unreadable SD card will be easily readable on your personal computer/laptop.
Method #7: Format SD Card To NTFS
After the restoration of your data from SD card, now you can proceed to format your SD card to NTFS file system for using it again and following are the steps given below to do so.
Go to Disk Management
In the Disk Management, first right click on your SD card.
Then choose the option Format.
After that select file system as NTFS.
Click on the OK button for formatting your SD card.
After the completion of SD memory card formatting procedure, make sure that from now onwards it is working properly.
Method #8: Use SD Card Data Recovery Tool
With the help of SD Card Data Recovery Tool, it has become quite possible to recover files from SD card in an easy way. So, learn below to know what you can do to recover deleted data from SD card. It is one of the suitable and appropriate SD Card Data Recovery Tool which is designed to recover deleted, lost, missing, disappeared, erased photos, videos and audio files from SD cards.
This SD memory card recovery solution performs deep scanning and recovers every recoverable digital media stored in it. It takes only a few steps to retrieve deleted data from SD card because the data on card are usually not fully deleted. Only make sure that you don't add any new file to the same memory card until it is recovered. The overwritten files are unrecoverable. It has an easy to use interface that doesn't require any technical person to operate it and hence you can now recover deleted SD card data by yourself.
With the help of this SD Card Data Recovery software, one can:
Recover deleted, lost, erased, disappeared photos, videos and audio files from SD card with ease.
Retrieve files from formatted, virus infected, damaged, corrupted, dead SD card.
Extract files from SD card used in Android phones/tablet, digital camera/camcorder, mobile devices, mp3 player, etc.
Support various types of memory cards including SD card, miniSD, microSD card, SDHC, SDXC, MMC, TF, CF, Eye-fi card, memory stick, etc.
Support SD card manufactured by various brands such as SanDisk, Transcend, Lexar, Strontium, Verbatim, HP, Toshiba, Kingston, Apacer, Samsung, Sony, etc.
Preview recoverable files within software before you proceed to save them on computer.
Read-only program, 100% safe & clean and easy to use.
Steps To Recover Lost Data From SD Card
Step 1 – Install "Photo Recovery" software and launch it on your computer. Click on "Recover Photo, Audio & Video" tab to recover photos, videos and audio files from any SD card, external USB drive or computer hard drive. Connect the media to your computer and then perform the process.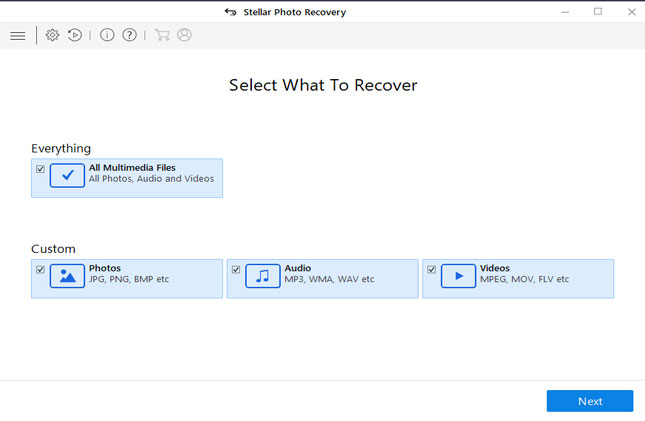 Step 2 – Select the drive from which you want to recover files. All the hard drive and external media will be shown in the list. Now select the desired drive to scan and then click on "Scan" button.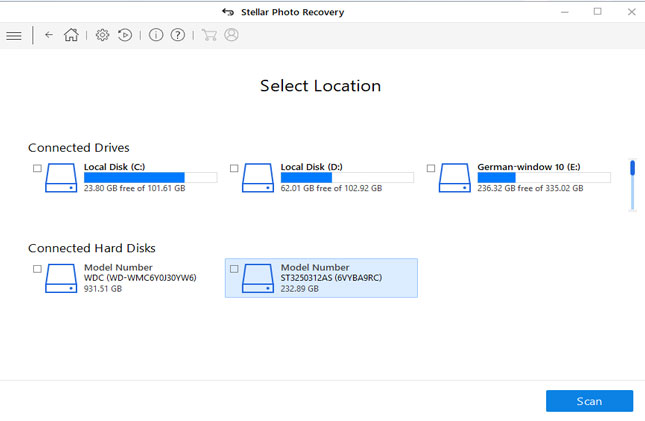 Step 3 – Once you click on "Scan" button the software will show that scanning is in progress. The software will search for all multimedia files from your selected drive or attached media.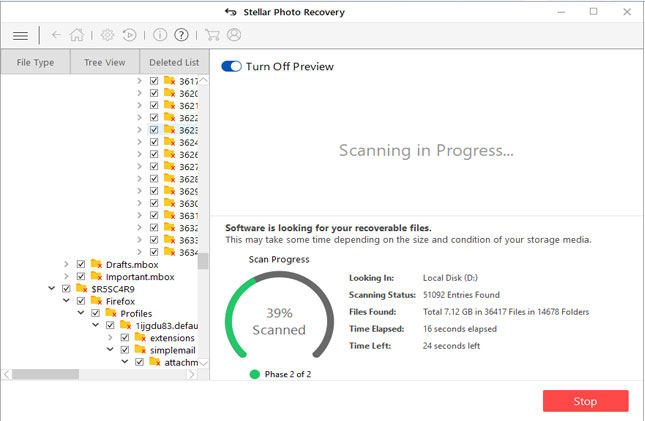 Step 4 – After scanning, all the files that are found in the selected volume, hard disk or other storage media devices are listed. You can now select the files to preview them and then you can click on "Recover" button to finally save them on your computer.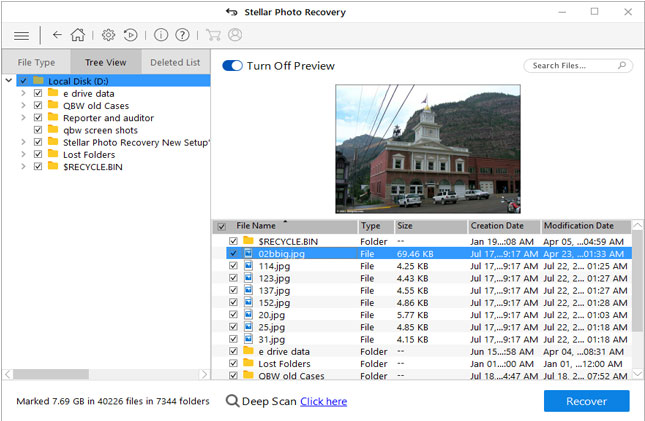 Tips To Prevent SD Card Corruption Or Damage
To take care of your SD card you have to apply some precautions, there are many tricks and tips are available that will help you to protect your SD card from corruption and other types of damage. Some tips to protect SD card from corruption are given to apply them and protect precious SD card data.
Always use a strong antivirus program: If you want to transfer or copy the SD card data on any computer system then check for virus before connecting. If the computer is infected with a virus or doesn't have any antivirus tool then don't connect your memory card with that computer. Always install any updated and strong antivirus program in your computer system. If your computer has an antivirus tool then it is not enough because updating on a regular basis is required to avoid virus attack.        
Remove SD card Safely: Safely removal of memory card is also necessary to avoid corruption and damaging. Impolitely removal of memory card from a computer system and other devices like mobile phone, tablets etc can harm your SD card and make it inaccessible. So use safely removal option and defend SD card from inaccessibility.
Don't use in Low battery: Low battery can harm your SD card, if your camera or any other device display low battery warning but you ignoring it and clicking images or doing memory card related task then it affects the memory inserted SD card in that device. It happens because the device gets unable to execute task completely due to lack of power and incomplete task make memory card inaccessible.
These given three tips will help you to avoid SD card corruption and save memory card from harm, so apply them and make your SD card data completely secure.      
Follow more useful links to maintain SD memory card, avoid errors and corruptions and best practices on how to use SD card for its last long life:
Conclusion
After reading the complete post I hope you have learned many things about SD Card such as how to recover deleted files from SD card and other possible scenarios, causes and more.
I hope the above solution will definitely help you restore deleted files from SD card with ease. All you need is to perform the steps mentioned in the above section and you will be able to recover deleted SD card data with ease.
So….All the very best to you!!!!

Summary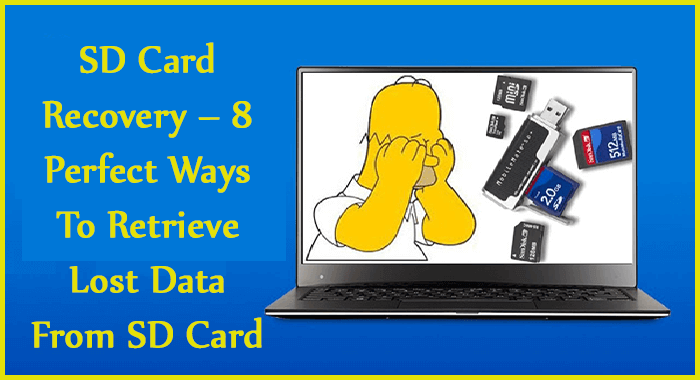 Article Name
SD Card Recovery – 8 Perfect Ways To Retrieve Lost Data From SD Card
Description
Learn how to recover photos, videos, music files & more from your SD card. Get back lost or deleted data from your phone or digital camera microSD cards.
Author
Publisher Name
Publisher Logo