In this era, almost every person is using USB devices to store their crucial data and move information among several users. But recently many users have experienced and reported an error 'unknown USB device port reset failed' while using their USB devices. Moreover, they have said that when this annoying message occurs they can't do data transportation & even unable to access the stuff stored within it.
Thus, if you are currently going through the same issue then this post will definitely be going to help you. In this guide, you will get 7 tried and tested ways to fix unknown USB device (port reset failed) error code 43.
However, while applying the fixes mentioned here if you find your important USB drive data gets deleted, you can use the best USB Drive Data Recovery Tool to bring them back.
Rated Excellent on

Trustpilot
Free USB Drive Recovery Tool.
Recover data from USB drives, Pendrives, SSDs, HDDs, and other devices on Windows. Try now!
So, without wasting any more time, let's get started…
What Does Unknown USB Device Port Reset Failed Mean?
Unknown USB Device (Port Reset Failed) error occurs in the Device Manager when you expand the Universal Serial Bus controllers section but your USB device won't recognize by your system. It simply means that your Windows PC can't detect the connected USB drive or USB won't function aptly.
The root cause behind the occurrence of this USB error is hardware issues. Besides, there are some other reasons that can also lead to unknown USB device port reset failed code 43, they are as follows:
When the USB flash drive is not properly connected to the PC.
USB drive is using corrupted or outdated drivers.
Windows may unable to find a description of the USB device.
If your external hard disk contains the bad sectors.
Using an outdated version of the Windows OS can refuse to identify the USB.
As you have known the common reasons, now it's time to fix this problem by applying the solutions mentioned in the next section.
How To Solve Unknown USB Device Port Reset Failed (Error Code 43)?
Way 1: Unplug USB & Restart Your PC
Let's start with the simple and basic method to fix USB port reset failed error. The very first, you need to unplug your USB then restart your computer. Once your device restarted, plug in your USB back to the PC and check if you can access the data stored in the drive.
Way 2: Try the Different USB Port
There is a huge chance that you are encountering this error message due to USB port malfunctioning.
So, all you need to do is to check all your available USB ports one by one. By doing so, you'll be able to outline if the error is due to a USB port or not.
Way 3: Connect Your USB To Another Computer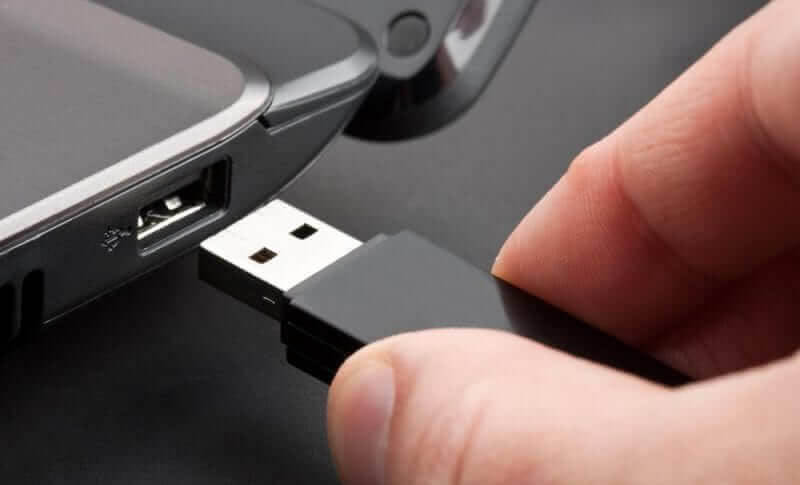 Another basic trick that you can try to resolve unknown USB device (port reset failed code 43 Windows 10) is to connect and check your USB on another computer.
It might possible that your PC contains bad sectors or has outdated drivers. In such a case, you should try another computer to connect your USB and check if you are getting the same error on another PC or not. If it's detectable, then it means there was an issue in the earlier PC, not in the USB device.
Way 4: Update A USB Driver
As I have already mentioned above, corrupted or outdated USB drivers can result in an unknown USB device port reset failed error message.
Thus, if you want to update a USB driver, follow these steps:
Start 1: First, go to a 'Start' menu >> click on 'Device Manager' in order to open Device Manager.
Start 2: Then, browse & expand the 'Universal Serial Bus Controllers' option.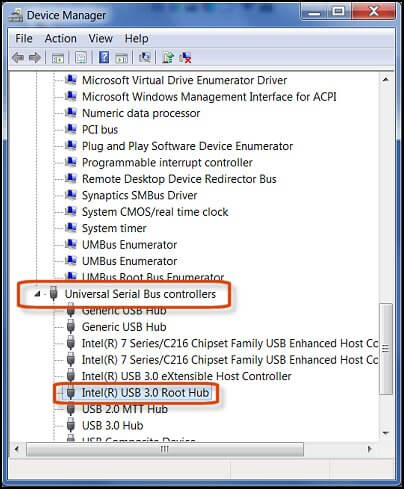 Start 3: Make right-tap on a 'Generic USB Hub' option >> choose 'Update the Driver Software'.
Start 4: Here, you'll get the pop-up Window 'Update Driver Software Generic USB Hub'.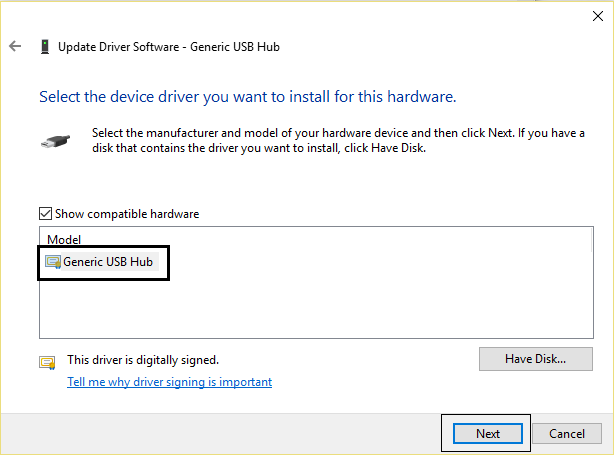 Start 5: Check for driver software offered for your system.
Now, you can easily locate & install driver software.
Way 5: Run Hardware & Devices Troubleshooter
The USB device not recognized port reset failed error mostly takes place due to hardware issues. Hence, running the Windows troubleshooters can assist you to solve it. Although, many users have found this method helpful in USB device not reorganized errors or issues.
For this, you have to follow the beneath steps carefully to get rid of the USB port reset failed problem:
Go to Start then Settings
After this, find Update & security option and tap on it.
Go to Troubleshoot tab >> check in a Find & repair other problems.
Then, make sure to click on Hardware & devices troubleshooter option by following the on-screen instructions.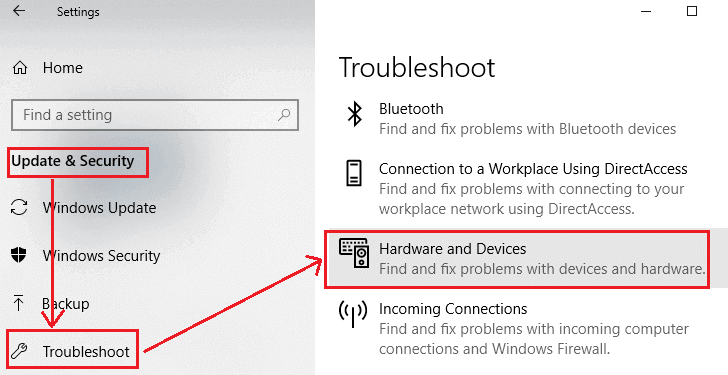 Finally, you need to check if the issue has been solved & if an error warning still appears!
If this tip doesn't help you simply try the next one to solve an unknown USB device (port reset failed) Windows 10.
Way 6: Uninstall & Reinstall A USB Driver
A corrupted driver is another foremost reason that can cause such errors. Henceforth, uninstalling and reinstalling a USB drive via Device Manager can help you to tackle the situation.
Follow the below steps to uninstall the drivers:
At first, go to search box & type 'devmgmt.msc' Tap 'OK' button. Doing so will launch a Device Manager.
Then, expand Universal Serial Bus Controllers From numerous options, find the USB device which is not being detected. You can easily identify the faulty USB drive through its yellow exclamation sign error.
At this time, right-tap on that drive >> choose 'Uninstall'
Now, restart your PC as quickly as the drivers uninstalled successfully.
Certain Windows operating systems can reinstall drivers automatically. Else, you need to reinstall drivers manually.
Way 7: Disabling The Quick Startup To Fix Unknown USB Device (Port Reset Failed)
Enabling the quick startup can sometimes hinder to access the data saved in the external data storage media that is connected to your PC. So, in such a case, disabling the quick startup could assist you to solve this error and access the stuff saved on it.
In order to deal with the "USB device descriptor request failed" or "USB device port reset failed" issue, simply disable the quick startup.
Step 1: Go to "Start" button >> enter the "Power plan".
Step 2: Choose the option "Select the Power Plan".
Step 3: Tap on the option "Change plan settings". Moreover, select one more option "Change the advanced power settings".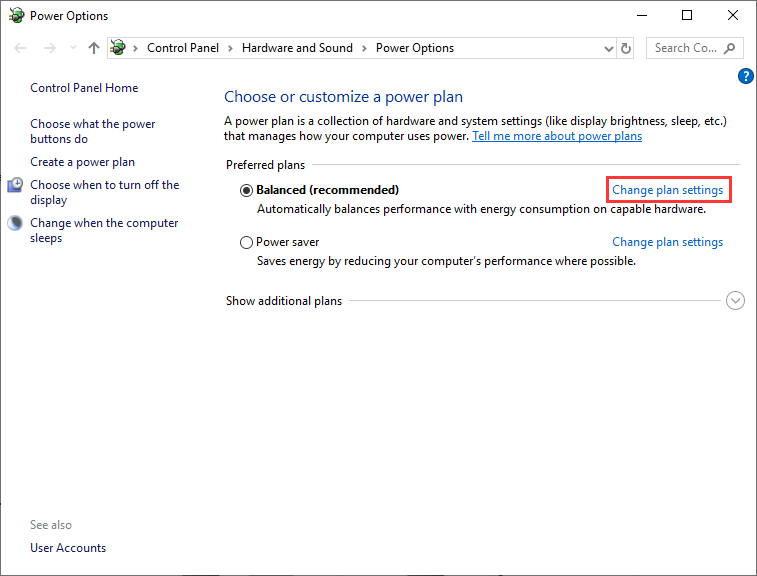 Step 4: Then, expand the "USB Settings" simply by tapping on a box via plus sign.
Step 5: Once expanded, choose the option "USB Selective Suspend Settings" >> click on "Connected" option.
Step 6: At last, go to a dropdown menu >> select "Disabled" option. Now, click on "Apply" then "OK".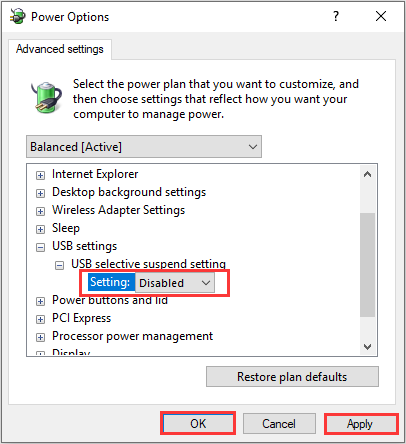 This will help you to disable a quick startup & restore an unknown USB drive.
Way 8: Update Windows OS
Since you are receiving this error after connecting your USB flash drive to PC, then it might possible that there is an issue with the computer that you are using. At times, you have to first make sure that your Windows OS is updated.
Thus, if you want to update your OS and fix an unknown USB device (port reset failed) Windows 10, press the Windows + I keys together. After that, go to the Update & Security option then Windows Update. Choose "Check for updates" option.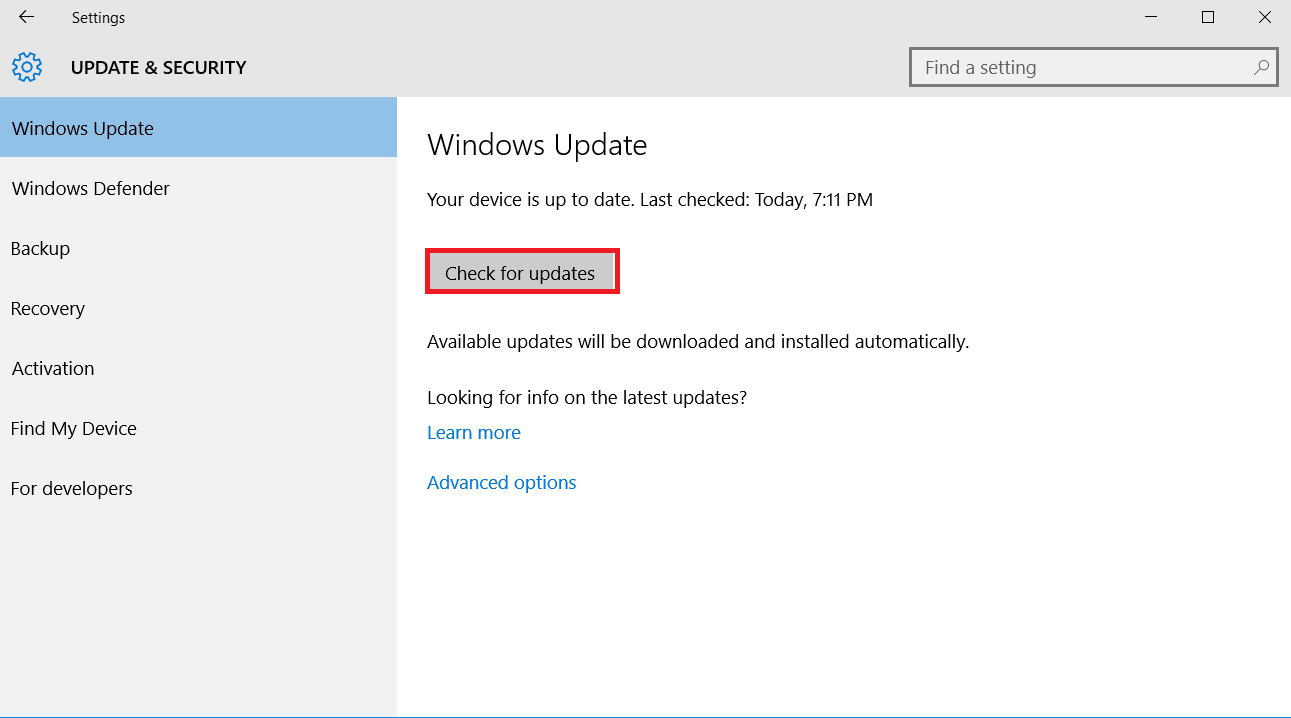 Now, the Windows will download & install the latest version automatically.
Also Read: 7 Best Ways To Fix 'The Directory Name Is Invalid USB' Error
Way 9: Change The Setting Of Power Management To Solve Unknown USB Device Port Reset Failed
Sometimes, Power Management can also result in the USB drive problems. So apply the below steps to stop the PC from "managing" the power to the USB controller devices.
Here is how you can change the setting of Power Management and fix unknown USB device port reset failed:
First of all, under Device Manager, in the "Universal Serial Bus controllers" category you have to double-tap on "USB Root Hub" device.
Then, go to a tab Power Management. (If there are more than one or two USB Root Hub devices, then repeat the same instructions for each one.)
Now, disable the option "Allow the computer to turn off this device to save power" >> click OK.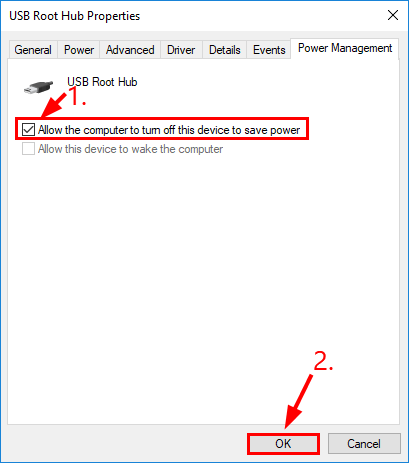 Recover Data From USB After Fixing "USB Device (Port Reset Failed)" Error
While applying the above fixes or if somehow your USB drive data gets deleted then you should try USB Drive Data Recovery software. This versatile tool will assist you to recover deleted files like pictures, videos, music, and more from USB or other external data storage devices.
It has enough capability to deeply scan your drive & shows a preview of the recoverable file for free. The best thing about this utility is that- it's available for both Windows & Mac PCs.
Rated Excellent on

Trustpilot
Free Hard Drive Recovery Tool.
Recover data from USB drives, Pendrives, SSDs, HDDs, and other devices on Windows. Try now!
All you need to do is to download this software on your PC and follow the step-by-step guide to get back deleted files from USB in 3 simple clicks.
Pack Up
So, those are some of the best fixes which will surely help you to tackle unknown USB device (port reset failed) driver error. The solutions mentioned above are very effective and don't even require any high-tech skills.
So, just try them and fix the unknown USB device port reset failed issue instantly.
That's all…
Alex is an expert technical writer with 7+ years of experience. His in-depth knowledge about data recovery and fascination to explore new DIY tools & technologies have helped many. Alex has a great interest in photography and loves to share photography tips and tricks with others.