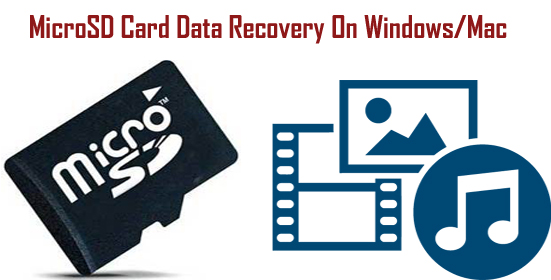 MicroSD Card Files Recovery Software To Restore Lost, Deleted, Erased Pictures!!!
Overview – Are you looking for an easy way to retrieve deleted, lost, formatted image files from microSD card? Have you accidentally lost or deleted your important pictures from your microSD memory card? Do you want to restore those valuable photos? If "yes" then Digital Media Recovery Software will help you to regain back those deleted images from microSD card efficiently.
This Media File Recovery Tool will help you to:
Effectively retrieve lost, deleted, formatted, erased photos, videos and audio files from microSD card
Recover media files from various kinds of memory cards such as SD card, SDXC, SDHC, miniSD, microSD, MMC, CF, TF, xD, Eye-fi SD card, etc
Support microSD card of various brand such as SanDisk, Toshiba, Transcend, Kingston, Kingmax, Apacer, Strontium, Samsung, HP, Toshiba, Sony, Lexar, etc
Also restore files from digital camera & camcorders, mobile phones & tablets, USB flash drive, memory stick, computer internal & external hard drive and many more
Compatible on both Windows & Mac OS as it comes separately for both OS
Read-only program, 100% risk-free & easy to use
Free Download microSD Card File Recovery Tool



* Free version of the program only scans and previews recoverable objects.
MicroSD card is one of the best example of technology, a small chip where we can store lots of data in it. Nowadays if you are using any smart phone or multimedia phone then SD card is the part of your life because all of your phone data like images video songs and other data are stored in it. Along with mobile phones and tablets this data storage card is also used in the digital cameras to store captured images. It is very famous data storage card because it take very small space in any device and can also able to store lots of data in it.
But along with plenty of features it can also gets corrupted easily and due to corruption you're all stored data can also gets inaccessible. Some time accidentally deletion can also make your all data inaccessible which is such a very difficult situation for any user. If you don't have any recently created backup file then it is very difficult to recover your deleted or corrupted data. There are no any manual recovery method is available to recover SD card, but if you are searching on the internet "how to recover Micro SD card" then you can find many tools to recover your SD card but all are unable to give you perfect recovery so try nay best MicroSD card recovery tool and recover your deleted data.
Some Scenario of MicroSD card Data Loss
Due to Formatting all data erased from Memory Card
Accidental formatting will format your entire memory card and delete all of your stored data, it generally happens when user is new with the device and by selecting format option memory card gets formatted unintentionally and all data become inaccessible. Once you Perform SD card formatting then similar to the Delete all option it can also clean all the data from the SD card. But you can still able to recover your formatted data by applying MicroSD card recovery tool. This tool will able to recover formatted item but only if the memory card is not be overwritten.
Due to Delete All Option
This happens due to the wrong operation of the user, when user presses "Delete All" button accidentally then all the stored data gets deleted from the memory card. It is the biggest scenario   that happens with almost the users. This option will clean all the data within the few seconds. But the good news is this option doesn't wiped all the data or unable to delete data completely. So you can recover them with ease, you can recover your deleted data only if the memory card not be overwritten.
Due to the corrupt micro SD card
Memory card corruption is also very difficult situation for everyone because in this case all the data become totally inaccessible and it is also very difficult to recover data or repair any corrupted SD card to recover data. It happens due to many problems such as improper use of memory card, virus attack, power surge etc. If this happens with you then it is very difficult to recover data if you are using any manual method, manual method may also delete data permanently.
An Error message Force you to Format SD card
When you connect your memory card to your computer system and it display an error message like "card is not formatted, do you want to format it now" if you press "yes" then your memory card get formatted. Due to this error you can't access memory card without formatting it and after formatting your all data will be erased. This happens if your memory card is used in more than one device.
Some other causes of MicroSD card Corruption
There are many causes due to a microsd card gets damaged or inaccessible such as due to infection of virus and computer malware, improper removal of SD card from computer system or any other device, connecting memory card to any virus infected computer, using a single microSD  card  in more than one devices (mobile, digital camera ) and more. By avoiding the given sdcard corruption reasons we can protect our precious data and files from corruption. So it is recommended that use sd card carefully to avoid corruption.
How to Recover Deleted Micro SD Card Data?
To recover microSD card you can apply any manual method but this method is very difficult for the normal user, if any small error occur while executing manual method then your SD card may also get corrupted permanently. So to recover data from your memory card without affecting it apply any third party microSD Card Recovery. One of such software is Digital Media Recovery Tool – is very easy to use so that one can easily recover their precious data without affecting it.
So it is recommended that use any third party MicroSD card recovery tool and recover data from your memory card without affecting it.  This recovery tool is also very easy to operate and it is the safest option to recover your inaccessible data from SD card.
You might Also Be Interested In:
Steps to Recover Deleted Files From Micro SD Card
Step 1 – Install "Photo Recovery" software and launch it on your computer. Click on "Recover Photo, Audio & Video" tab to recover photos, videos and audio files from any SD card, external USB drive or computer hard drive. Connect the media to your computer and then perform the process.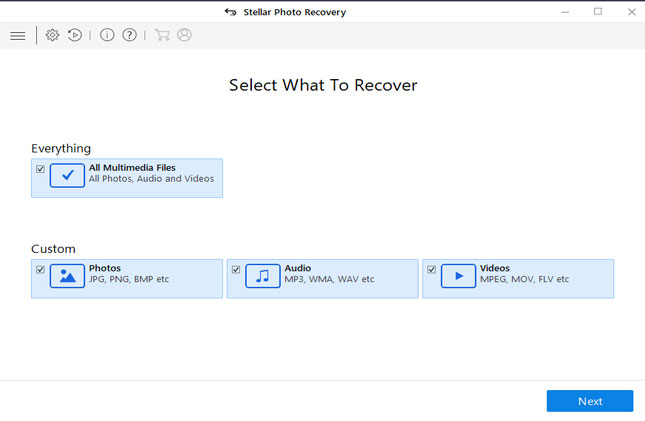 Step 2 – Select the drive from which you want to recover files. All the hard drive and external media will be shown in the list. Now select the desired drive to scan and then click on "Scan" button.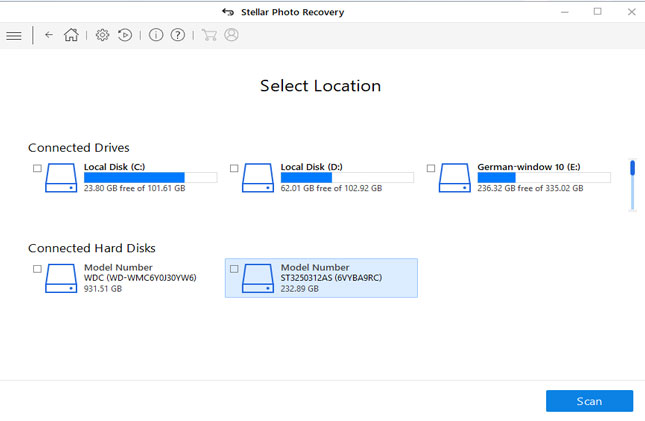 Step 3 – Once you click on "Scan" button the software will show that scanning is in progress. The software will search for all multimedia files from your selected drive or attached media.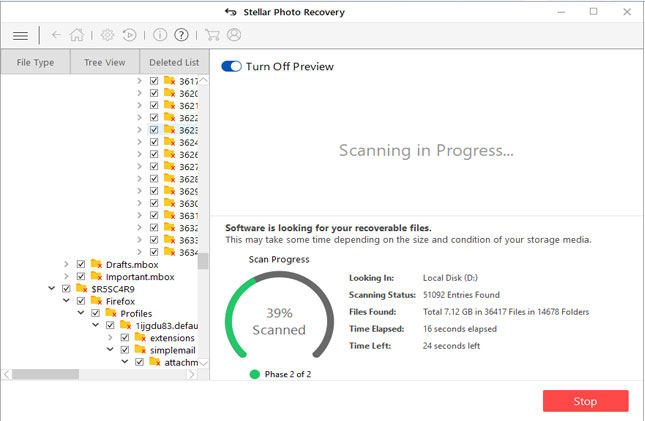 Step 4 – After scanning, all the files that are found in the selected volume, hard disk or other storage media devices are listed. You can now select the files to preview them and then you can click on "Recover" button to finally save them on your computer.