Recently noticed that your SDHC card is not recognized by a digital camera or system while connecting? Struggling hard to fix SDHC card not reading error? If yes, then just go through this article.
Well, fixing SDHC card not recognized error is no longer difficult. Therefore, here in this post, we are going to provide you some effective solutions that can help you to repair SDHC not detected or unrecognized errors and recover data using the best tool.
Rated Excellent on

Trustpilot
Free Hard Drive Recovery Tool.
Recover data from USB drives, Pendrives, SSDs, HDDs, and other devices on Windows. Try now!
But before that, let's know something more about the SDHC card…
Something About SDHC Card
The Secure Digital High Capacity (SDHC) card is the most commonly used storage device. They offer high capacity, removable storage for compatible devices like smartphones, cameras, and computers.
SDHC card not only provides plenty of storage for storing data like HD videos and images but also offer a speedy transfer of data. It is a small and portable data storage device just like SD card.
But when you get errors like 'SDHC card not recognized/detected', 'SDHC card is unreadable' or 'SDHC card is not working properly"  due to which you are not able to access data saved within the card then it normally becomes impossible to restore data from inaccessible SDHC card.
So, now the question is:
How to repair undetected SDHC card to work?  
Just Relax! look below the fixes for micro SDHC card not detected Error …….
Solutions To Fix SDHC Card Not Recognized Error
Here are some easy and effective methods with the help of which you can fix "SDHC Card Not Recognized" error. They are very simple and easy to use and can be performed without any technical expertise. So, follow these manual ways to repair "SDHC card not detected windows 10" error and recover your lost data.
Solution #1: Check Card Reader, USB Cable or Computer USB Port
There are users asking – card reader not working windows 10/8/7? How to fix this issue?
Your SDHC card may not get recognized if there is a problem with the card reader, USB cable or computer USB port that you are using to connect your SDHC card.
So, in this situation, you must first check that your card reader, USB cable or computer's USB port are working properly. If not then replace the card reader, USB cable and then try to connect your SDHC card from another USB port of the computer. You can try to connect your card to another computer just for checking.
Solution #2: Format SDHC Card
Some people also ask – how can I format my SDHC/micro SD card to fix card not readable, undetectable or not working issues?
So, this solution is for those users whose SDHC card is detected and showing up in "My Computer/This PC" but it is not accessible, or your camera/phone is showing card but is inaccessible.
In such situation, you can directly format SDHC card or format it within the camera/phone itself as you wish.
Note: Format memory card or SDHC card into a proper file system (it is usually FAT32) that is compatible with most of the devices and computer.
Solution #3: Fix SDHC Card Not Recognized Error Using Command Prompt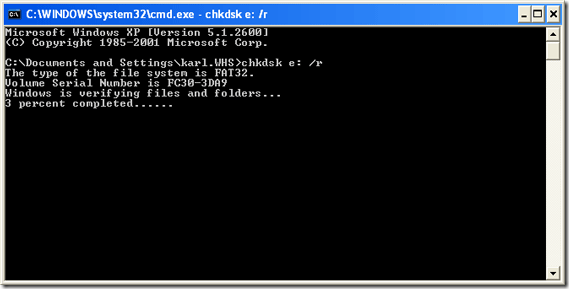 There are people also asking – How do you fix a corrupted/damaged SDHC card?
When your SDHC card is corrupted or damaged, then you should run CHKDSK command to fix the issue. This will help you to repair a corrupt memory card file system and make the card accessible. And during the repair process, all your data will remain as it is.
How To Run CHDSK To Fix Unrecognized SDHC Card Error?
You can fix unrecognized card errors by performing the steps of CHKDSK command:
Insert not recognized SDHC card into the card reader and connect it to the computer.
On your PC, click START, type in "CMD" in the search bar and hit ENTER. A new command prompt window will get open.
Now type the following command: "chkdsk /X /f G:" or "chkdsk G: /f" and hit ENTER. Here you need to replace G: with your SDHC card letter name.
Now, you have to just wait, as Windows will check and fix SDHC card reader not working windows 10. Once, the process gets successfully completed, go to 'My Computer/This PC' and you can access your memory card data with ease.
Solution #4: Reinstall The Driver Device For SDHC Card To Fix Unrecognized Error
If your Windows computer does not meet the requirement to read your SDHC card (e.g. due to lower version), then your SDHC card gets undetected by the OS you are using.
In this case, you have to reinstall the driver and thereafter your SDHC card will start working again on your computer when the operating system is compatible with it.
So, How To Reinstall The Driver?
You can reinstall the driver from the official Microsoft website. Find the proper drive device for your computer and install it on your computer to make SDHC card recognized normally. Follow the below steps to reinstall your drivers:
You can also try reinstalling your card reader driver to fix this issue. Follow the steps given below to reinstall your card reader driver:
Go to the Start menu of your system.
Click on the option Device Manager and open it.
In Device Manager, choose the Memory technology device
From here you can note down the details of your card reader and after that, you can download a fresh copy of your drivers from the original website of the esteemed card reader.
Now, after your card reader model is enabled, then right click on your card reader and select the option Uninstall device from here.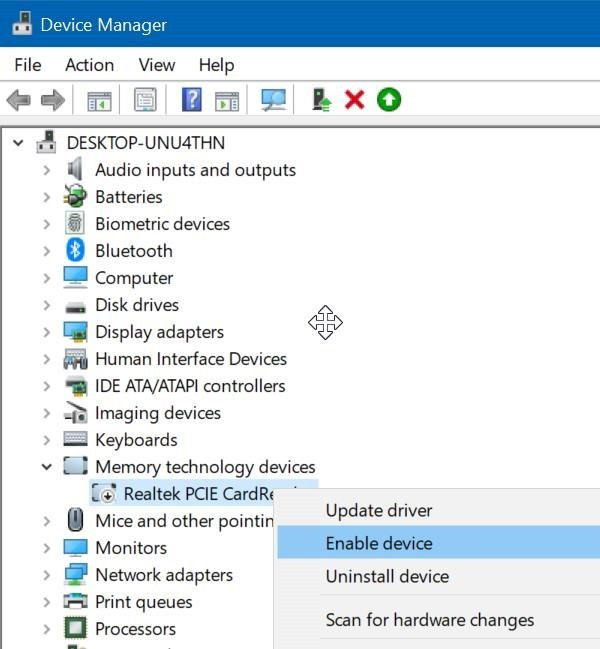 Restart your computer or laptop after your card reader driver gets uninstalled.
After that run the setup of the downloaded card reader driver and follow the complete installation steps.
Lastly, kindly check that your SDHC card is displaying or not.
[Note]:- If all the above method fails to solve your issue then the alternative option left is to format memory card or SDHC card.
But if you will format your SDHC card, then you will lose all the data that are stored in your external storage drives like SDHC card or USB flash drive. Thus, it is suggested that you should always keep a backup of your data to other locations or any external storage devices so that you can easily perform external storage data recovery.
Solution #5: Fix SDHC Card Not Detecting on Windows 10/8/7/XP By Updating Driver
Windows cannot recognize/detect SDHC card connected to your computer?
In this section, we are focusing on how to update drives devices in different Windows operating system to get fixed SDHC card cannot recognized or detect issue.
Click START > go to All Program > Windows Update (For For Windows 10 / 8 / 7 / Vista)
Click START > go to Start button > All Programs > Windows Update (For Windows 10 / 8 / 7 / Vista)
Next, click on "Check For Updates".
And then click on "Install Updates".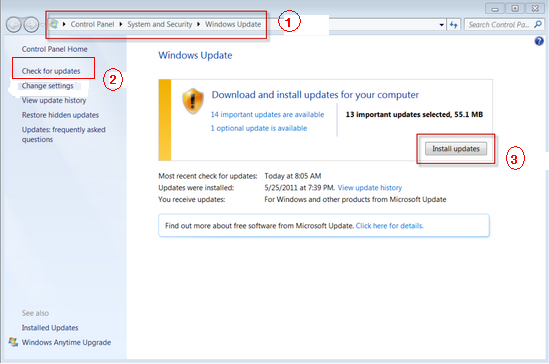 Alternatively, you can also open Device Manager to update the driver for SDHC by following the below steps:
Click "START", and then "right-click My Computer/This PC" and then click on "Manage".
Click on "Device Manager".
Now find the right disk drive and then right-click on your SDHC card and select "Update Driver" and thereafter simply follow the onscreen wizard to complete the update.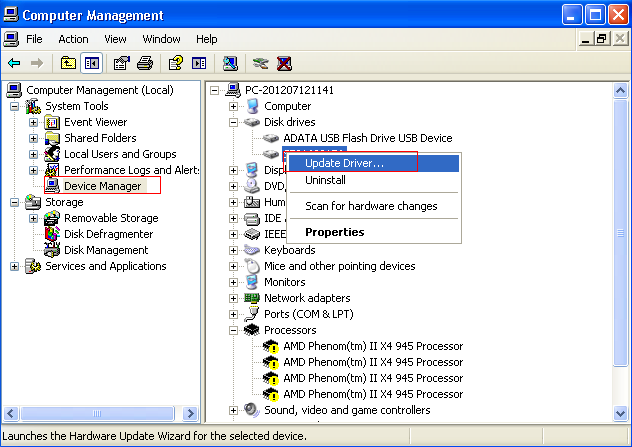 Once, completed successfully, you can go back to My Computer/This PC and you will see that your PC is able to recognize your SDHC card. Hence, you can access data stored within the memory card.
NOTE: Once you fix this issue, sometimes your data becomes inaccessible due to some reason. In that case, you can make use of SDHC Card Recovery tool to restore lost files from SDHC card.
Best Way To Recover Data From SDHC Card
You can try SDHC Card Data Recovery software that will help you to recover inaccessible digital media files such as photos, videos, and audio files from SDHC memory card that are no longer detected or recognized by the computer or any other device.
It also retrieves data from corrupted, virus infected, locked, damaged, or formatted SDHC memory cards. This data recovery for SDHC card is available for both Windows and Mac computers.
emid

emid


* Free version of the program only scans and previews recoverable items.
This tool will allow you to scan your memory card and preview the recoverable media files for free.
Besides SDHC cards, the software also recovers deleted media files from SDHC card, miniSD, microSD, miniSDHC, microSDHC, SDXC, MMC, CF, SmartMedia, and all other memory cards manufactured by various brands such as SanDisk, Lexar, Transcend, Samsung, Toshiba, Kingston, Strontium, HP, etc.
Just follow the steps below to get back photos, videos and audio files from unrecognized, undetectable or not working SDHC cards.
Steps To Retrieve/Restore Data From Unrecognized/Undetectable SDHC Card
Step 1: Select Desired Location
Firstly, select the drive, external media or volume from which you want to recover deleted media files. After selecting, click on 'Scan'.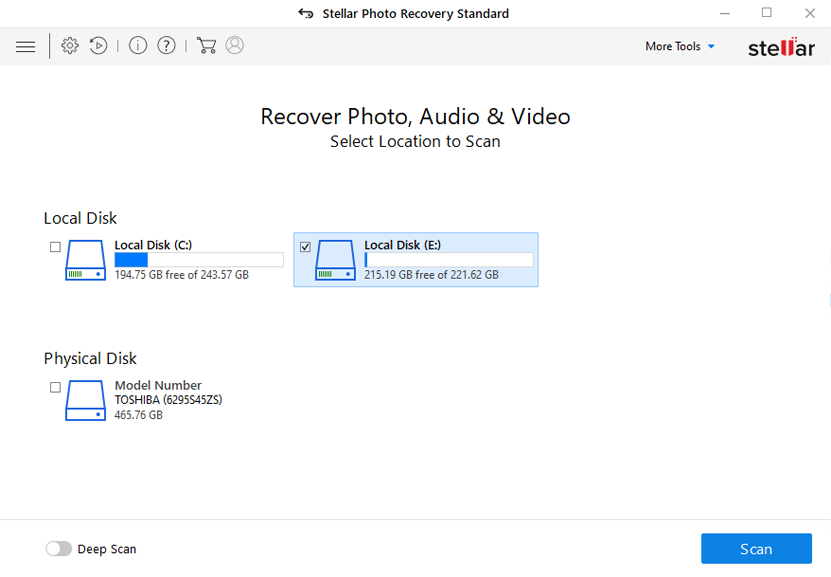 Step 2: Preview Recovered Media Files
Next, you can preview the recoverable media files after the scanning process is completed.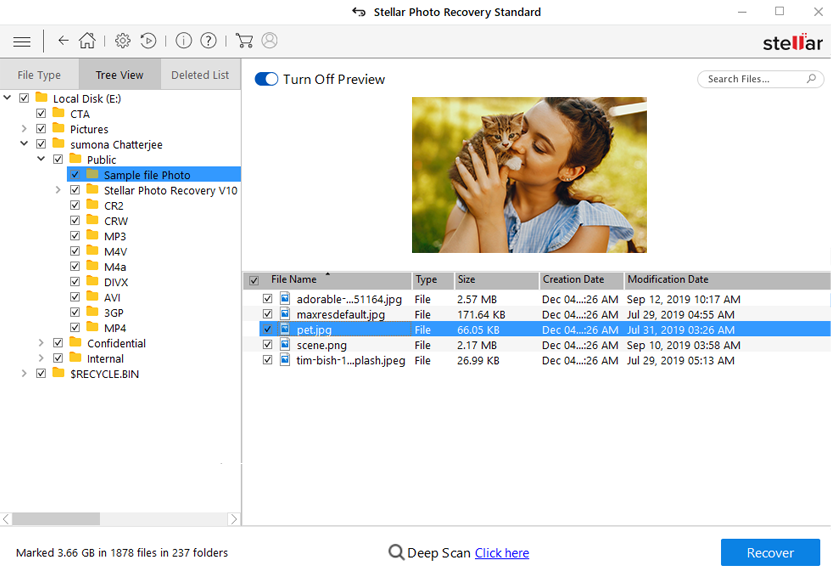 Step 3: Recover Media Files
Lastly, you can select the images, audio, video files you want to restore and click on 'Recover' option to save them at the location you want.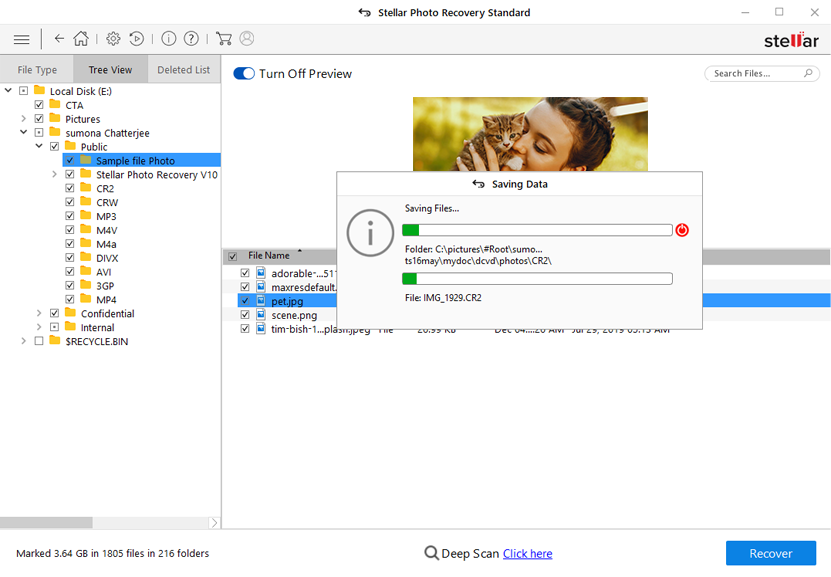 FAQs (Frequently Asked Questions)
Why Is My SDHC Card Not Reading?
There are numerous causes that can lead to unrecognized or not reading SDHC card. A few of them are listed below due to which your SDHC card is not reading: • Corrupt file system • Physically damaged SD card • Using a same SD card on different devices • Removing SD card while file transferring • Because of virus Installations • Improper removal of memory card.
How Do You Fix A SDHC Memory Card?
In order to fix a SDHC memory card, try the below troubleshooting tips: • Connect your microSD card to PC. • Assign the new drive letter. • Repair the corrupt memory card by using the Command Prompt. • Disable your SD card.
How Do I Get My Computer To Read SDHC Cards?
To make your SDHC card readable, first put your card in a SD card reader & plug it into an appropriate port of your computer. After this, open the File Explorer by pressing Windows + E key >> go to a 'This PC'. Though, in a right pane, you can see your SDHC card listed. Make double-tap on it, now you can access a content of the card.
How Do I Format A SDHC Card?
To format a SDHC card, follow the below steps: • Connect your SDHC card to PC using a card reader. • Then, tap on a Start button >> click on the 'My Computer.' • After this, right-click on SDHC card (named as removable device). • Tap on the 'Format' from a context menu. • Now, click on a drop-down option 'File system,' >> tap on 'FAT' option.
To Sum UP
Since, there could be various scenarios & unexpected errors that can make your SDHC card unrecognized, undetectable, unreadable by computer, camera, mobile devices, etc. Hence, you should always be prepared to handle such situations.
As of now, I hope you have got manual solutions to fix SDHC card not recognized error that is mentioned above. Or, you can also try to recover your lost data if it has been deleted using SDHC Card Recovery Tool if, in case you do not have any backup.
Alex is an expert technical writer with 7+ years of experience. His in-depth knowledge about data recovery and fascination to explore new DIY tools & technologies have helped many. Alex has a great interest in photography and loves to share photography tips and tricks with others.