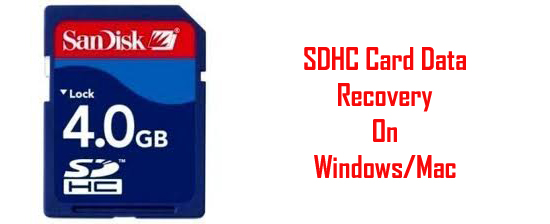 Learn How To Get Back Data, Lost or Deleted Due To SDHC Card Errors or Corruption!!!
Summary – If you have lost your precious media files like your photos of holiday trip, birthday party, wedding ceremony, etc, video files and audio files from your SDHC card due to error or corruption and you wish to restore them back, then you can efficiently get those deleted media files from your SDHC card with the use of powerful Digital Media Recovery Software.
With the use of this recovery tool, you will be able to:
Restore photos (JP/ JPEG, TIF/TIFF, PNG, BMP, GIF, RAW, PSD, etc) videos (AVI, MPG, MOV, MPEG, ASF, MP4, 3GP, MTS, M2TS, WMV, etc) and audio files (WAV, MP3, AMR, WMA, FLAC, OGG, AC3, AAC, etc) that you have lost due SDHC corruption or errors
Retrieve media files from SDHC card showing following errors – Memory Card Locked or Write Protected, Card Not Recognized, Card Shows not Formatted, Files & Folders Hidden, or Have Become Shortcuts, Forgot Memory Card Password, Deleted Photos, or Formatted Card by Accident, Memory Card Says There's No Space, Unable to Format Card, etc
Recover media files from various memory cards such as SD card, CF, SD mini, SDXC, MicroSD, MicroSDHC, MicroSDXC, MMC, xD Picture card, Smartmedia card, Eye-Fi card, TF card, etc
Support recovery of photos, videos & audio files from memory stick, pen drive, portable hard drive, USB flash drive, Digital cameras & camcorders, etc
Read-only program, 100% clean, safe & easy to use
Simple Steps To Recover Media Files from Corrupt/Error SDHC Card



* Free version of the program only scans and previews recoverable objects.
There come many situations in SDHC card in which error can come in the process of using SDHC card. It is known that SDHC card is very important as digital device cannot work without it and once the error occurs in the card, the entire data on SDHC card gets lost as well as money. However the mentioned below are the possible reasons for SDHC card errors:
You unplug the card without shutting down the devices. In such situation, as there is no initialization to storage in the devices SDHC card cannot be identified.
You may format SDHC card in wrong way. There are many SDHC cards which cannot be identified because of the wrong format. Therefore it is recommended that the SDHC card should be formatted in relevant digital devices. If SDHC card is formatted in computer or card reader then it is possible that SDHC card cannot be identified. By this it can result from the difference between the control chip of digital devices and card reader.
Sometimes while transferring the data from SDHC card to other devices, power gets off and due to this some portions gets damaged.
Errors may occur due to virus attack. Computer virus is common in digital life and SDHC card may be attacked by virus after connected to an infected computer.
When SDHC card gets corrupted due to error, then the data may be lost like videos, photos, text messages, music as this are important. However in such situation, we may not get irritated and should find some rescue measures so that you can recover all those data from error SDHC card.
How to recover data from error/Corrupt SDHC card
First, when you card gets corrupt then you cannot use it any more, no formatting and no saving. And if you keep using error SDHC card, the space where the original data is kept it may be over written and you will face problem while doing recovery of SDHC card.
Secondly, we require finding effective recovery software which can recover the error SDHC card. There is lots of recovery software available in the market and among them some are very costly but they cannot recover 100% data. Therefore you should search for recovery software which would help you to recover your important data easily.
Tips for avoiding SDHC card Error
Do not plug and unplug frequently
Do not unplug the card when the devices don't power off totally
Do not frequently transfer data to card as much as possible
Solution:
Therefore in order to recover your important data from SDHC card which has got corrupted and has error, you have to use SDHC card recovery tool which is free to use. This card recovery tool gets back your removed or lost files off in an easy, fast and safe way. It is the professional tool which can be able to recover all types of data along with images from SDHC memory card. This tool is very easy to operate as it is full of graphical instruction and also does not require any technical knowledge to use this software. Simply download this recovery tool and recover all the data from the inaccessible SDHC memory card.
You Might Also Be Interested In:
Steps to recover deleted photos, Videos & Audio files from SDHC Card
Step 1 – Install "Photo Recovery" software and launch it on your computer. Click on "Recover Photo, Audio & Video" tab to recover photos, videos and audio files from any SD card, external USB drive or computer hard drive. Connect the media to your computer and then perform the process.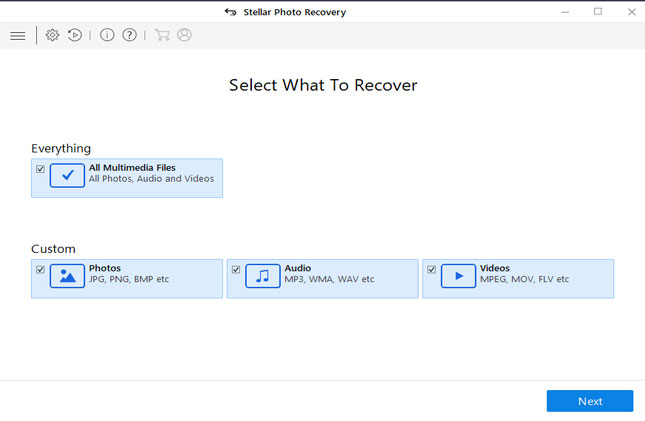 Step 2 – Select the drive from which you want to recover files. All the hard drive and external media will be shown in the list. Now select the desired drive to scan and then click on "Scan" button.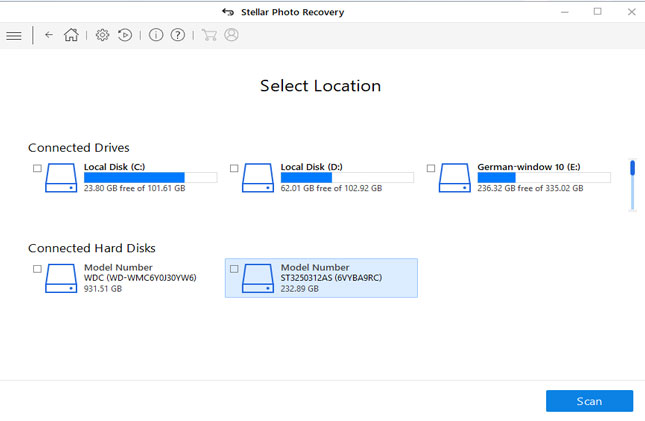 Step 3 – Once you click on "Scan" button the software will show that scanning is in progress. The software will search for all multimedia files from your selected drive or attached media.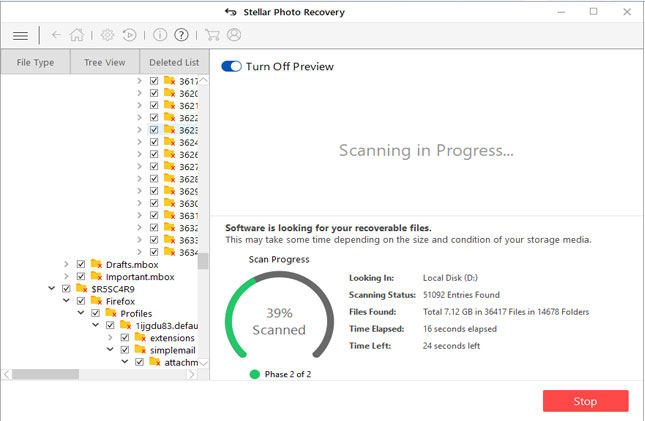 Step 4 – After scanning, all the files that are found in the selected volume, hard disk or other storage media devices are listed. You can now select the files to preview them and then you can click on "Recover" button to finally save them on your computer.