Retrieve Deleted, Lost, Formatted, Missing Pictures from SDHC Card!!!
Summary – If you have accidentally lost or deleted your photos from your SDHC card that you wish to restore, then you can potentially get back those deleted pictures from SDHC card with the use of Digital Photo Recovery Tool.
With the use of this recovery tool, one can:
Rescue erased, lost, formatted, missing, deleted photos from SDHC card
Retrieve various kind of image file formats such as JPG/JPEG, PNG, GIF, BMP, TIFF/TIF, PSD, RAW photo files, etc
The software not only restores photos but it also restore various video and audio files format
Recover photos from various kinds of memory cards including SDHC, miniSD, SDXC, SDXC, SDHC, MicroSD, MicroSDHC, MicroSDXC, MMC, CF, TF, xD, Eye-fi SD card, etc
Support SDHC card of various brand such as SanDisk, Toshiba, Transcend, Kingston, Kingmax, Apacer, Strontium, Samsung, HP, Toshiba, Sony, Lexar, etc
Also restore deleted images from digital camera & camcorders, mobile phones & tablets, USB flash drive, memory stick, computer internal & external hard drive and many more
Read-only program, 100% risk-free & easy to use
Easy Steps To Restore Deleted Photos From SDHC Card



* Free version of the program only scans and previews recoverable objects.
Secure Digital High Capacity (SDHC) cards are flash memory cards having minimum capacity of 4GB. This card has similar form factor and physical shape as that of SD card. It is SD standard extension that has storage capacity of upto 32GB. It is defined for the devices that are compatible with secure digital high capacity 2.00 specifications. The higher the capacity then the more videos these card can store. These card demands increases because it is affordable and has advanced high resolution point and shoot digital cameras.
Apart from high resolution capacity storage, it also has better data transfer speed. Secure Digital High Capacity cards are reliable and have safe storage media for photos. SDHC memory cards are really great in order to store and capture the pictures and videos which you want on shoot cameras and standard point. These memory cards are shockproof, waterproof and X-ray proof. Sometimes, your photos may get lost due to several reasons but don't worry use SDHC Card Recovery software to rescue your lost photos, audios or videos file.
SDHC Card Recovery is the leading photo recovery software used by phone and digital camera. This software can recover your deleted, corrupted, lost or formatted photos and video files quickly and effectively. This digital photo recovery software is the reliable solution that is able to retrieve digital media recovery, digital image recovery, restore photo, photo rescue, digital photo recovery etc. It provides safe and risk free recovery process. This software can perform READ-ONLY operations on your memory card. It is unable to modify, move and delete data on memory card avoiding further overwriting or damage. It will be able to get back your data from source memory card thus saves them to the destination which is specified by you. SDHC Card Recovery is cable for recovering data from Memory Stick, XD Picture Card, Compact Flash CF, Secure Digital SD, Multimedia card MMC and other memory cards types.
Reasons for photo loss:
Formatting: When you insert SDHC card to your computer then sometimes they asks you to format. At that time, you don't have any other option than formatting as a result you loses all your photos.
Virus Attack: Viruses are the major threats that results in large data loss. These viruses attack leads to the corruption of your SDHC memory card making your card to be inaccessible.
Human errors: When you are deleting some unwanted or junk pictures from your memory card then at that you may accidently delete the important picture. You may also delete all photos from the memory card while browsing through options by just pressing format option.
Power Failure: Power failure is the major factor of deleting photos while transferring your photos from the SDHC card to your system due to which your system shut down abruptly. When it is clicked in low battery condition and not saved properly then also there is a chance to lose your required important photo.
Precautions to Avoid Corruption:
There are many precautions are available through which you can easily protect your SDHC card from corruption. Some of them are given bellow:
Use an updated antivirus program– Install an updated antivirus program in your computer to protect your SDHC card from virus and other computer malware. Also avoid connecting memory card to any virus infected or malicious computer system.
Use power backup– To avoid unexpected system shutdown use a power backup option or UPS, this will protect your computer from unexpected shutdown due to power failure or any other reason.
Always use safely removal process– Avoid improper removal process of memory card because improper removal a memory card can gets corrupt. Always use the safely removal process to remove memory card from computer.
Don't full the memory of SDHC card– Always keep some space free in the memory card to avoid corruption, memory card need some free space to operate efficiently and without any trouble. So if your memory card display memory full message then immediately free some space to avoid any damaging.
Avoid capture image in low battery– If your digital camera display low battery option then avoid clicking images because due to this memory card gets corrupt or inaccessible.
How to Recover SDHC memory Card?
To recover inaccessible SDHC card or to restore images from SDHC card you can use third party SDHC card recovery tool, this tool is free to use. It is the professional tool and can able to recover all types of data along with images from SDHC memory card. This tool is also very easy to operate because it is full with graphical instruction so don't worry if you don't have any technical knowledge. Simply download, install and run this tool to recover inaccessible SDHC memory card.
You might Also Be Interested In:
Steps to recover deleted photos from SD card
Step 1: Connect via a card reader the SDHC card to your computer. Download and install SDHC Card Recovery software. Then, open the program.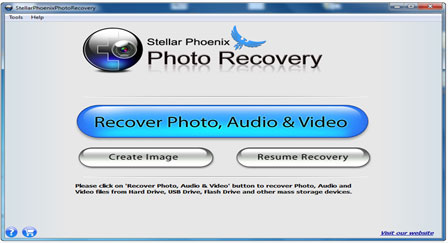 Step 2: Now, click "Start" and you can see drive list. Select the drive that represents the SDHC memory card. Then, click on 'Start Scan'.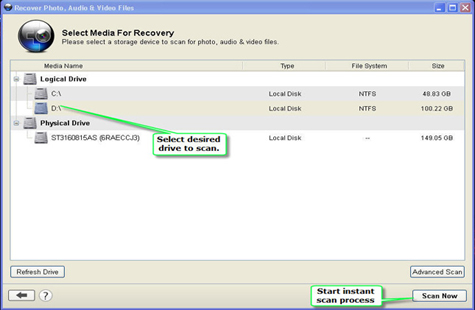 Step 3: The scan will take few minutes. After scanning, you will be able to see several photos in the lists. In the software panel, you can preview. You can recover them by checking the boxes on the left. Now, select the required files then click the 'Recover' button to save them.

Step 4: Atlast, choose the location where you need to save the recovered multimedia files.